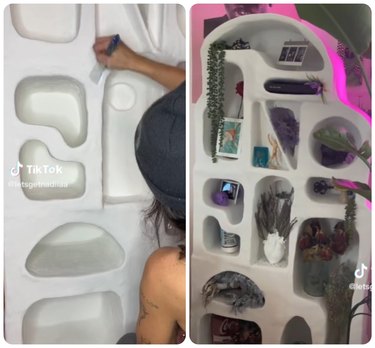 Have you ever looked at a pile of cardboard boxes and felt inspired to make a stylish shelf? If not, that's about to change — because we just came across an impressive DIY that involves just that.
Shared by TikToker @letsgetnadiiaa, the project involves taping cardboard boxes together, then cutting out openings in irregular shapes. Next, the content creator makes a shaped shelf for each one, so that they fit perfectly in the openings.
She then coats the entire fixture in plaster, followed by white paint. The result is a beautiful shelf that looks ‌way‌ more expensive than it really is.
In fact, it appears to be a handmade dupe for the Isobel Shelf at Urban Outfitters, which costs a whopping $999. Woah.
And just in case you're wondering: Yes, the shelf is pretty darn sturdy. Depending on the type of plaster, it can be made of lime, gypsum, or cement, and it dries completely hard. The material is usually used on walls or ceilings.
What's more, these cardboard shelf projects are currently trending on social media. This means you can find many variations and tutorials online, including ones in different shapes and sizes.
For example, Jaharn Quinn of Smor Home made a niche wall shelf using cardboard, joint compound, and packing peanuts. Using similar techniques, Instagram user Catherine Ong created a cube side table, while YouTuber Margie Soguilon-Datu made a mini arch version. Clearly, the possibilities are endless!
Other plaster DIY projects:
You can also coat existing fixtures with plaster, as demonstrated in our DIY plaster side table tutorial. It's an awesome way to upcycle an old or thrifted piece.
For table decor, try making this DIY plaster bowl. We used two IKEA bowls, but the project can also be made with bowls from the thrift store.