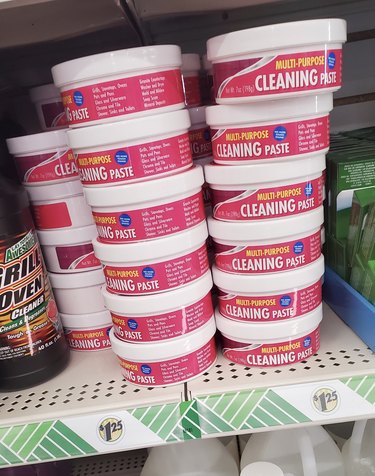 Users on TikTok are absolutely obsessed with The Pink Stuff, which is advertised as a miracle cleaning paste that cuts through grease and removes tough stains from practically any household surface — your stove, floors, and even cookware. Just slather it on, rub it in with a sponge or cloth, and wipe it off to reveal a squeaky clean surface.
While The Pink Stuff isn't terribly expensive ($5.97 for a 17.6-ounce tub on Amazon, or 33 cents per ounce), we wouldn't call it a budget cleaning option. Luckily, there's a dupe that you can get for nearly half the price.
Dollar Tree has released a competing Multipurpose Cleaning Paste that costs $1.25 for a 7-ounce tub, which comes out to about 18 cents per ounce.
Consumers are beginning to test the two products side by side to see if the less expensive dupe cleans just as well as its trendy competitor. While some say the Dollar Tree product is less effective, others note that it's worth the money.
You can see a direct comparison between The Pink Stuff and the Multipurpose Cleaning Paste in this video posted by Sue Cleans It.
They scrubbed an old pot with burnt residue on the bottom and discovered that both cleaning pastes were effective at removing the grime.
The Dollar Tree cleaning paste isn't sold online, but it's available in store at most locations. Stop by and snag yours before your next cleaning session to save a few bucks!