Ovens can get super dirty, and are notoriously hard to clean. Getting rid of burned-on stains, grime, or dark discoloration can feel practically impossible, but it can be done much easier and with a nontoxic cleaner called The Pink Stuff. (If you see what's trending on TikTok, ​you know​. #thepinkstuff) This guide will show you how to use this cult cleaning product as an oven cleaner and leave it sparkling again without requiring too much elbow grease! Bonus: this multi-purpose cleaner is super cheap too!
Things You'll Need
The Pink Stuff is a non-toxic pink paste that can be used to clean a variety of surfaces at home. It can be used to clean sinks, cooktops, ovens, barbecues, pots and pans, outdoor furniture, stainless steel appliances, rust stains, and more.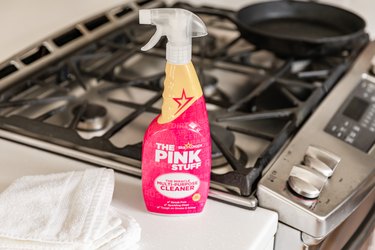 How to Use The Pink Stuff to Clean Your Oven
Step 2
Apply a layer of The Pink Stuff cleaner to the entire inside and bottom of your oven. Be sure to include the oven door and window, and oven racks. The layer doesn't have to be super thick, but it also shouldn't be translucent.
Tip
To clean your oven racks easier, remove them and place them in your bathtub to clean them. It makes it much easier to rinse them. Here's a DIY to try: Easy Way to Clean Oven Racks.
Step 3
Allow The Pink Stuff cleaning solution to dry for about an hour.
Step 4
Use a scouring scrubber to work in The Pink Stuff dry paste in circular motion. The hardened paste and scrubber work together to pull out stubborn stains, grease build-up, burned-on areas, and discoloration from the inner surfaces of your oven.
Tip
For extra burned-on areas that aren't coming off with just The Pink Stuff cleaning paste, carefully use a razor blade scraper to remove any spots.
Step 5
Use a clean, damp cloth or paper towel to remove any residue left behind.
Now your oven should be all cleaned and ready for your next meal. (This really is a miracle cleaning paste!)
More Cleaning Hacks and Cleaning Tips