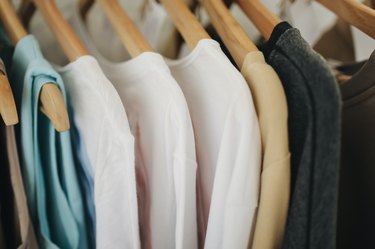 If you have metal hangers on a metal clothing rod, there's a good chance the hangers tend to snag. This can make it difficult (and noisy!) to slide the hangers across the rod, which can be a bit of a nuisance.
Fortunately, there's a simple way to fix the problem — and the answer is in your kitchen. According to TikTok user Janie Frank, who used to work in retail, all you need to do is rub the bar with wax paper.
This will give the rod a smooth and slippery surface, ensuring the hangers slide with ease. Not to mention, the hack eliminates the irritating screeching noise that happens when hangers get stuck. It can be a gamechanger if you're highly sensitive to noise (or live with someone who is).
"Incredible. I wish more stores did this! I always leave with a headache from that noise," commented one user. "You've saved my ears," noted another person.
"So I need to bring this every time I got Value Village? My ears scream every time, it's a sensory nightmare," said another indiviudal.
If you don't have wax paper on hand, no worries. According to social media users, you can still stop your hangers from catching using the following supplies:
Dryer sheets
WD40 or furniture polish on a paper towel
Bar of soap
Even chunks of leftover candle wax will work great. It also doesn't hurt that soap and candle wax will leave behind a pleasant smell, too.
Other uses for wax paper:
According to TikTok users, the hack can also be used on shower curtains and curtain rods.
Here are some other smart ways to use wax paper:
Protect wooden cutting boards by wiping them down with wax paper
Polish metal fixtures, like sink faucets
Line cabinets or refrigerator shelves
Unstick stubborn zippers