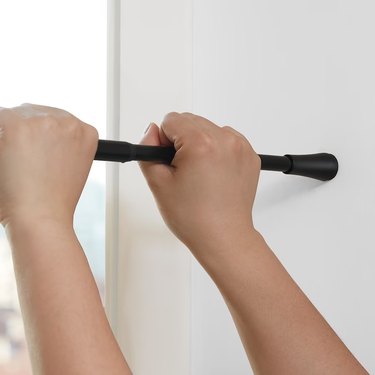 When it comes to versatile and handy items, you can't go wrong tension rods. They're inexpensive, removable, and available in a wide range of sizes and styles. And though the item is typically used to hang window treatments and clothes, Instagrammer @byjillee recently proved it can do so much more.
In a recent video, the content creator shared several tension rod hacks that will elevate your organization game. The first idea involves using small tension rods to create mini shelves in a closet or bookcase, essentially creating extra storage. Love it.
The second hack uses longer tension rods in the back of a spice cabinet. The result is a mini shelf for smaller spice jars. (Oh, and if the tension rod isn't long enough for your needs? Add a piece of Magic Eraser to one end, as suggested by @byjillee.)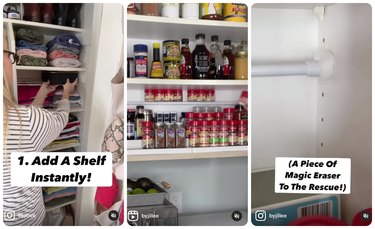 For the third idea, install tension rods vertically in your cupboard or pantry. This will help organize larger dishes while making it easier to remove each one.
The fourth tip is ideal if you have a small space or need a temporary drying rack. Simply install a tension rod in your doorway or shower and use it to hang your clothes.
If you're a fan of jewelry and accessories, you'll appreciate the fifth hack. It involves placing tension rods along the side walls of your closet and adding S-hooks in various sizes. This way, you'll be able to hang items like necklaces out of sight.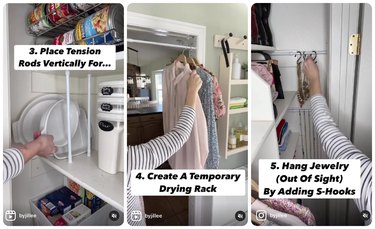 "This is brilliant, so much unused space gone to waste," commented one user on Instagram. "Wow, I never thought to use them in the pantry like that," said another person.
Needless to say, we won't be looking at tension rods the same way again. You can buy inexpensive tension rods at retailers like Dollar Tree, Walmart, Target, IKEA, and Amazon. Happy organizing!