Tension rods are a versatile do-it-yourself tool. They can be used to gather up cleaning supplies to hang neatly under a kitchen or bathroom cabinet. Or you can install larger ones to hang drapes over a window or swags across a wall to add ambiance to a room. Installing and adjusting curtain rods takes a bit of know how and can be a welcome and space-saving addition to any room.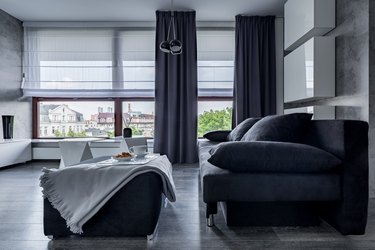 How to Install a Tension Rod
Installing tension or spring rods gives you the freedom to surpass installing curtain rod hardware and potentially damaging walls. Two facing flat surfaces position the rod and hold it in place. The rod has two interlocking shafts that cover a sturdy spring. The tighter the spring, the better the hold. The caps on each end of the rod keep from damaging your walls and adds traction for a better hold. If you are replacing a shoddy tension rod, you may need to adjust the length in order to remove it without damaging the walls.
How to Adjust a Tension Rod
If it is too short, you can adjust it by twisting the two halves of the rod counterclockwise to make it longer and vice versa if the rod is too long for your window or shower stall. Before you place anything on the rod, check it first. If it simply won't hold, you more than likely need a longer rod. The longer a rod is extended, the more ability to maintain tension between the two main surfaces is lessened because the spring is not tightly compressed.
Why Curtains Are Useful
Long tension rods work best for curtains, drapes and larger areas. Curtains can help to make a small room feel more expansive without taking up precious square footage. Hanging a curtain with a tension rod, no matter the width or height, can open up ideas for your space.
A curtain can raise the eye up, giving the sense of a larger space. It can also close off cramped quarters to leave the impression that a space is singularly used and clutter-free. When selecting a curtain color, opt for lighter shades to open up a space. Darker hues will close off a space – and possibly the room depending on its position and installation. If you bend toward darker colors, you can include them in trim around more mellow colors, such as pale green, yellow and blush for a dramatic look that keeps the idea of sweeping space in the room or cabinet area. Although heavy drapes add drama, they also add weight to a room and give it a cozy feeling as well as reducing the sense of size. Sheer curtains or window shades, high, simple valances and thin-slat vertical blinds are best to showcase a streamlined space.