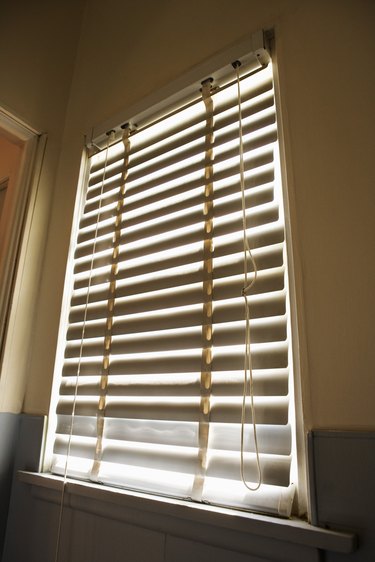 Hanging blinds normally involves mounting rods on your window frames with screws or bolts. If you want to enjoy your blinds without putting holes in the window frames, you can opt for spring tension rods instead. These rods are held in place by an adjustable spring, and they can be taken up and down without leaving any marks or holes on the window frame. That makes them a good choice for apartment dwellers and others who do not want to risk damaging the window frames when hanging their blinds.
Step 1
Measure the length and width of the window from one side of the inside window frame to the other. Purchase a set of blinds in the proper length and width for each window. Choose blinds that work well with the existing decor.
Step 2
Choose a spring tension curtain rod that adjusts to the proper size for your window. The advantage of spring tension rods is that they are adjustable by size, and you can adjust them to fit into your window frame.
Step 3
Lay the spring tension rod down on the table. Place the blinds flat on the table as well. Insert the rod through the hole in the top of the blinds and run it through.
Step 4
Place one end of the spring curtain rod against the left side of the window frame. Press that end against the frame, then push the other end of the curtain rod to compress it. Pull the rod toward the other side of the window frame and press it into place.
---
Based in Pennsylvania, Bonnie Conrad has been working as a professional freelance writer since 2003. Her work can be seen on Credit Factor, Constant Content and a number of other websites. Conrad also works full-time as a computer technician and loves to write about a number of technician topics. She studied computer technology and business administration at Harrisburg Area Community College.