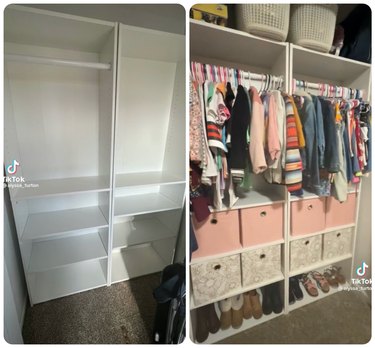 If you ask us, an organized closet is one of life's simplest pleasures. But unfortunately, not all closets are created equal, and you may have to get creative if your closet is small or if you rent and have to work around those pesky wire rods and shelves. Fortunately, TikTok creator @alyssa_turton has an affordable dupe that will have you running to your nearest Target for some closet customization.
In the TikTok video, the creator takes two white five-shelf bookcases from the Target brand Room Essentials and places them in a closet. Instead of spacing out the shelves like you would for a bookcase, Turton creates three small shelves on the bottom of the bookcase, leaving the top half wide open. The creator then adds a rod for hanging clothes at the top of the bookcase and adds shoes and baskets for storage to the shelves on the bottom.
The end result looks very similar to an IKEA Pax wardrobe but at a fraction of the price. Each bookcase costs just $37, which is a steal compared to similar wardrobes that would cost over $100.
After lots of questions in the comment section, the creator made a second TikTok video explaining how to install the closet rod. Instead of drilling the rod into the side of the bookcase, Turton simply uses the pins that normally hold up the shelves. The pins fit perfectly into the closet rod screw holes, which in turn fit into the holes in the bookcase. The result is a curtain rod instead of a shelf. Chef's kiss!
It's important to note that the middle shelf on this Target bookcase isn't able to move, so this hack would work best with children's clothing — that way, the items you hang won't drag on the shelf below them. It's a wonderful option if you're working with a budget, and the bookcases also come in espresso brown and black.
This hack just made our spring closet clean out a little more interesting.