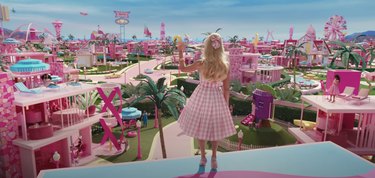 It's Barbie's world and we're all living in it. This summer's highly anticipated ‌Barbie‌ movie by filmmaker Greta Gerwig, which stars Margot Robbie as the eponymous character, has had some surprising real-life implications — namely, a shortage of pink paint.
In an interview with ‌Architectural Digest,‌ the film's production designer Sarah Greenwood notes that they used so much fluorescent pink Rosco paint during production, there was an international shortage of the product. CNN confirmed the shortage with Rosco, though a company spokesperson noted that part of the shortage was also due to global supply chain issues.
The paint was used all over the set of the film, which was constructed on the Warner Bros. Studio lot near London. Greenwood and set decorator Katie Spencer used Palm Spring's midcentury modern design, and particularly Richard Neutra's 1946 Kauffman House, as the inspiration for the oversaturated Barbie world — an appropriate era for Barbie, as her first-ever Dreamhouse was released in 1962.
Greenwood and Spencer even purchased a Dreamhouse to study its dimensions. "The scale was quite strange," Spencer told ‌Architectural Digest,‌ with Gerwig noting that the ceilings are low and the spaces are narrow.
To see the flamboyant sets in action, catch ‌Barbie‌ in theaters on July 21. And in the meantime, try out some Barbiecore decor ideas in your own home.