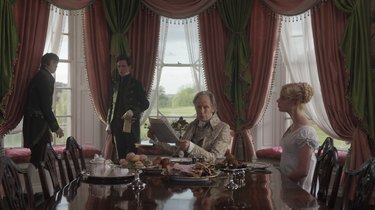 This year had us hunkered down in our homes more than usual due to the ongoing global pandemic, so it's only natural that many of us used this time to redecorate and re-organize our space. Whether adding minor touches here and there or completely re-decorating, we've needed all the interior inspo we could get.
Staying home also meant consuming a lot more movies and TV shows so, of course, why not use pop culture to spark some decor ideas?
Whether you're into pink hues or patterns; books or vinyl records; or traditional over contemporary looks, there's something for everyone here. Check out some of our favorite pop culture interiors from 2020.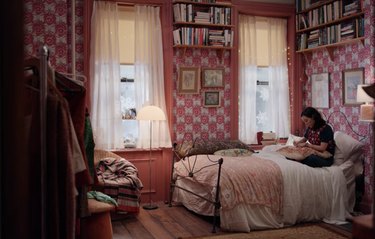 Netflix's Christmas rom-com series, ​Dash & Lily​, is both a love letter to New York City and one of its most magical places, Strand Book Store. And for all the bibliophiles watching, Lily's room is a dream. With its salmon pink colored bedroom walls and high bookshelves, Lily's room seems like the perfect place to cozy up to read. Not pictured: Her fireplace which also doubles as a bookshelf. A fire hazard in a NYC apartment? Maybe. Bookshelf inspo for viewers at home watching? Most definitely.
Two years after the publication of her second novel, Sally Rooney once again had us obsessing over ​Normal People​. But this time it was the TV series adaptation, streaming on Hulu, that had us engrossed — especially when it comes to seeing where both Marianne and Connell lived. While the interior design for the series wasn't over-the-top, it was relatable to see such lived-in spaces on-screen. You'll definitely be in the mood to hit a thrift store and shop secondhand for home decor to mimic Marianne's college apartment.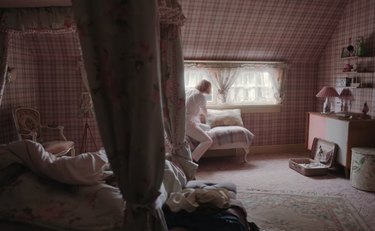 This Netflix historical drama about a fictional chess champion named Beth Harmon, played by Anya Taylor-Joy, isn't binge-worthy simply because of its captivating storyline but also (and maybe most importantly) because of its interior decor. Set in the 1960s, ​The Queen's Gambit​ gives us vibrantly patterned wallpapers, velvet chairs, pretty pastel colors, the ever-iconic canopy bed, fantastic floral designs, and just about anything you'd want to redecorate your home with. For starters, Beth's bedroom is a millennial pink lover's dream. If we lived there, we'd never leave.
​Little Fires Everywhere​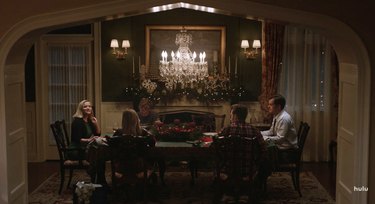 ​Little Fires Everywhere's​ production designer, Jessica Kender, transported us back to '90s suburbia. Based on the book by the same name, the Hulu adaptation didn't veer too much from its source material when it came to replicating the interior design taste of its protagonist, Elena Richardson. To recreate the Richardson mansion, Kender told ​Architectural Digest​ that she found a "Tudor-esque house built in the 1920s" as the backdrop for extravagant chandeliers, balloon shades for windows, marble kitchen islands and countertops, and impressive hallway arches.
If you thought the mansion in ​Little Fires Everywhere​ was larger than life, wait until you watch ​Rebecca​ on Netflix. According to ​Architectural Digest​, ​Rebecca​ was filmed on location at eight different homes and estates in England. While there's literally too much ground (and interior) to cover, the master bedroom's color scheme and unique ceiling design stand out the most. The wood wall paneling walls pair perfectly with the moss and olive tones used in the furniture, rugs, and bedding.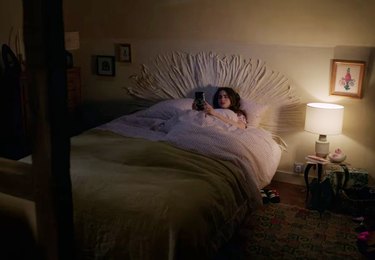 Of course, we can't all live in an English estate. But like Emily from ​Emily in Paris​, we might as well try. While the Netflix show, starring Lily Collins, made us daydream about a trip to France, it also sparked plenty of home decor ideas. In particular, Emily's chic faux headboard caught our eye. It ​looks​ lavish but, TBH, it's a DIY project waiting to happen.
Rob's spacious apartment in ​High Fidelity​ gives off a rugged look and feel that we're totally into. The laidback record store owner, played by Zoë Kravitz, effortlessly adorns her apartment with vinyl records and photographs. But our favorite part about Rob's apartment might be how well it all comes together with her rose-colored walls, black curtains, and black fireplace mantel.
​The Haunting of Bly Manor House​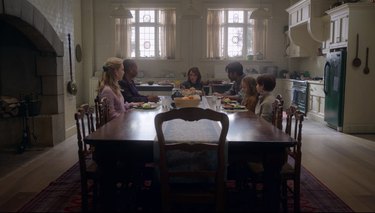 Haunted as it may be, the house in ​The Haunting of Bly Manor​ is perfectly ​splendid​. The impressive space in the English countryside looks straight out of a fairytale and the ivy-covered country home is just as breathtaking on the inside with its grand double staircase and beautifully decorated rooms. However, it's the kitchen in Bly Manor with its open fireplace and long dining table with enough room to feed a mob ( ... of ghosts?) that made it onto our list of interior goals.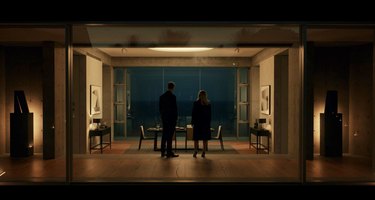 Given the premise of the 2020 film, ​The Invisible Man​ mansion might not be the homiest place to live in, but it sure is swoon-worthy. According to ​Screen Rant​, the exterior shots of Adrian's home in ​The Invisible Man​ were filmed at the Headland House, which was designed by Atelier Andy Carson. We'd definitely add this contemporary home with its grand glass walls and sleek vibe to our Pinterest board.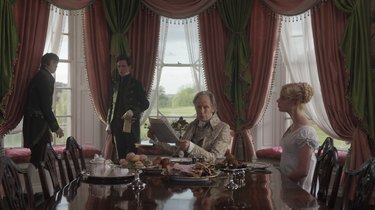 It's safe to say that ​Emma​ has been one of the most visually appealing films of the year. Every single room in the film, based on Jane Austen's 1815 novel of the same name, is filled with bright and punchy colors, as well as different textures and patterned fabrics. Everything from vivid corals, oranges, and pinks to more muted pastel colors help bring each scene to life. Excuse us while we repaint all of the rooms in our house.
This isn't the first time we've drooled over the modern and contemporary properties for sale on Netflix's ​Selling Sunset​. Earlier this year, we went ahead and ranked all the houses for sale on the reality TV show so you don't have to. While many of the homes in ​Selling Sunset​ may be out of our budget, it doesn't hurt to look, right?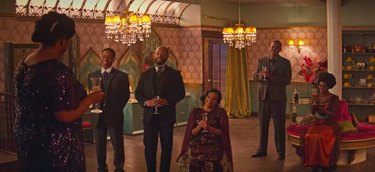 In case you missed it, we've already gushed about the production design of Netflix's ​Self Made: Inspired by the Life of Madam C.J. Walker.​ Britt Doughty, the production designer for the show, spoke to Hunker earlier this year about the inspiration behind the decor. "There was an amazing amount of research done, but in particular, recreating the wallpaper," Doughty said. "They were all based on patterns of that era but we elaborated on the colors to bring them into a more saturated color palette."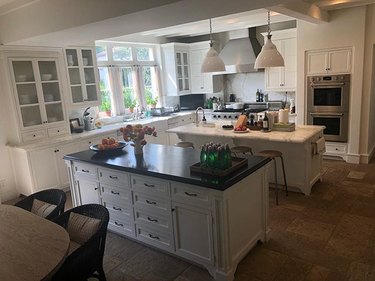 Director of ​The Parent Trap,​ Nancy Meyers, has blessed our eyes with beautiful interior decor in many of her classic films. So it's no surprise that her IRL interior design taste would imitate her art. Earlier this year, the writer and producer shared a photo of her kitchen on Instagram. A double kitchen island? Say nothing more.