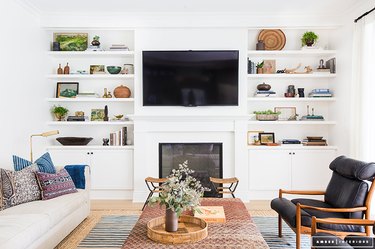 Styling a bookshelf to represent your personality and decor sensibilities plays an important part when curating your space. It's similar to how a great bag and pair of shoes can put the finishing touch on an outfit. As an interior designer, people often ask me for the secret sauce of styling. Here, I'm sharing a few ways that you can add decorative accents to your bookshelf, in addition to general design rules to keep in mind as you get started.
Take inventory of what you have.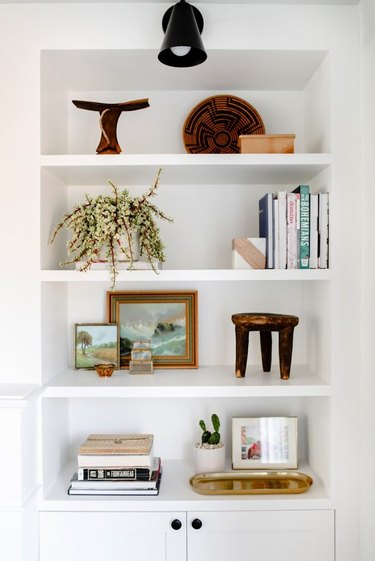 The first thing you want to do is start with a clean slate. Whenever I style my clients' shelves (or refresh my own), I remove all items and place them on the floor in groups based on color, material, and size. Then I measure the shelves so that when I'm out and about I don't end up purchasing something that won't fit. Next, I take inventory of what we have. Often people think they don't have enough stuff to fill their shelves, when in reality they have too much! It sounds counter-intuitive, but having enough negative space and giving items "room to breathe" is just as important as the things that you are displaying.
Create a consistent look and feel.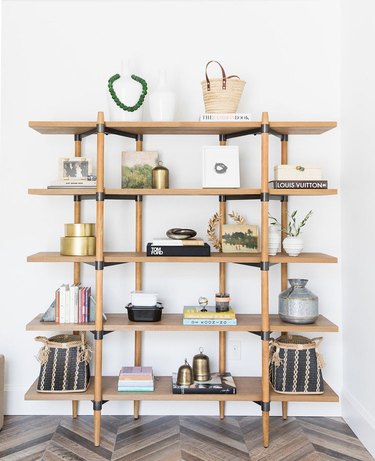 You want your accessories to reflect the overall style and look of your home. For example, if your decor style is traditional, with dark stained woods and fitted fabrics, you would want to select items with a classic feel like brass bookends, leather covered books, oriental vases, or a bronze eagle. Symmetry can also play an important role, so keep this in mind when placing your decorative accents on your bookshelf. Similarly, items in wood, stone, and natural materials will be at home in a room with a more casual vibe — think bohemian or beach chic. Select items like woven baskets, earthy ceramic vases or terra-cotta pottery, driftwood, or geodes, and keep the arrangement loose and asymmetrical.
Put together vignettes and collections of objects.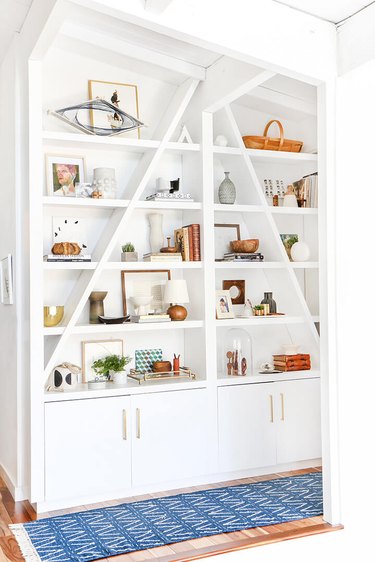 Mix objects and pretty knick knacks to create small vignettes. I try to limit my arrangements to clusters of three to five items because odd numbers are naturally more pleasing to the eye. If you have a collection of something, this is the perfect place to showcase it – don't overlook affordable (or even free) items like the seashells you've gathered on your family vacations, pine cones you collected in the mountains, or interesting desert rocks. You can also use the back of the book shelf to lean pictures or artwork, trays, or a small mirror.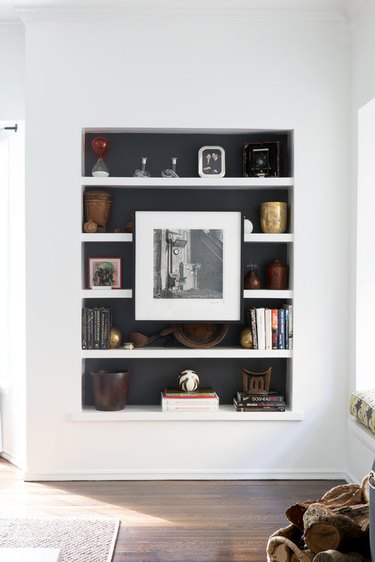 Hanging artwork off the front of a bookshelf is often untapped real estate and a great way to take up space while adding dimension to a room. I also love to use boxes for storing practical but unsightly things like matches, cords, and stray papers.
Of course, add books.
Art, architecture, photography, or design books, and large hardcover travel books are great options for styling. Alternate horizontal and vertical stacks of books and the height of your accessories to keep the eye moving. Grouping books by color is another fun way to create visual impact and bookshelf organization.
Take your time and enjoy the process.
Remember: Don't be in a rush to style your shelves. When you're styling with decorative accents, I always advise my clients to wait until they find things they LOVE. A house always feels more like a home when things are collected over time and from different parts of your life.