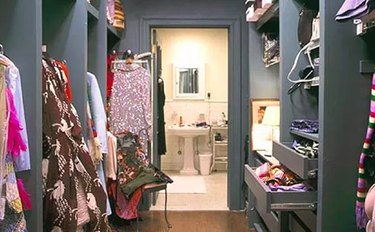 Today in "things that will make you feel beyond old": Sex and the City has just turned 20. The HBO show is mostly remembered for its iconic fashion (all hail the great Patricia Field) that was so central to each character, but the sets also spoke so much to the time period and the stories. Here, just the 34 most memorable decor moments from the show (and a few from the movies as well):
1. Carrie's apartment in the pilot episode.
Carrie's apartment is crazy different in the pilot. She's portrayed as something of a slob with clothes strewn everywhere and those painted white brick walls are almost a bit too NYC-real — which is maybe why Carrie's more polished apartment in following episodes really embodies more of a fantasy.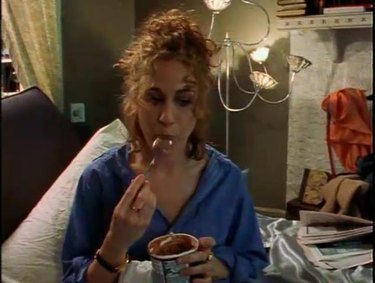 2. The Ross Bleckner.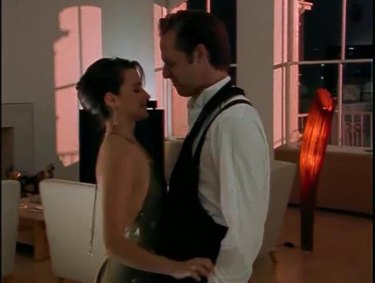 In this episode, some no-name guy manages to lure not only Charlotte, but also Samantha — in the same night — to see his Ross Bleckner. Who, btw, is a real artist. But also, that Soho loft is the picture of '90s bachelordom.
3. Carrie's collection of Vogue magazines.
Phew. That's more like it. Here's Carrie's apartment as we know it — complete with a bookshelf stocked full of Vogue magazines. Also, kind of digging that bench-in-the-middle-of-the-room move.
4. Carrie's bedroom.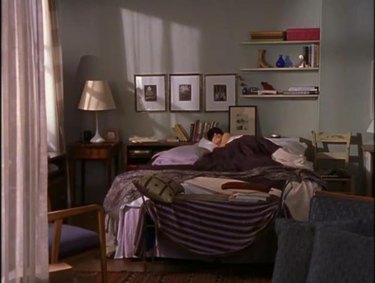 Carrie's bedroom doesn't change too much over the course of the show. That off-center trio of prints and the mismatched furniture pieces reflect her personality — she's chic, but she likes to do things a little bit differently.
5. Charlotte's bedroom during her single days.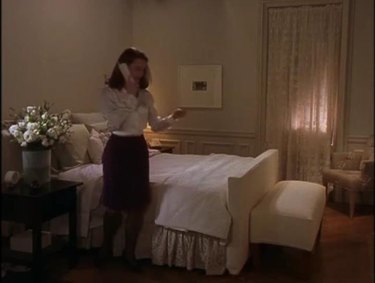 Of course a perfectionist would have ALL WHITE EVERYTHING.
6. Big's apartment.
7. Samantha's Upper East Side apartment.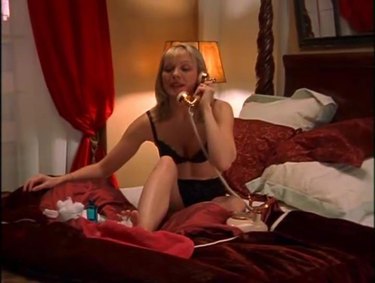 During the first few seasons, Samantha's home style is actually rather lush and traditional — heavy textiles, rich colors, a dramatic four-poster bed. It's definitely a sexy look (also, note the mirror above the bed hehehehe.)
8. Big's bedroom.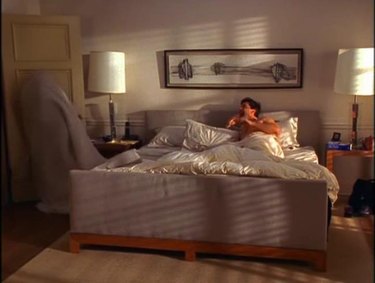 It's modern, classy, but also a bit non-descript — just like Mr. Big.
9. The frog statue the decorator gives Miranda.
10. Miranda's Upper West Side apartment.
When Miranda moves up in the world, she also buys a substantial piece of real estate — a classic, pre-war apartment on the Upper West Side.
11. Miranda's surprisingly feminine bedroom.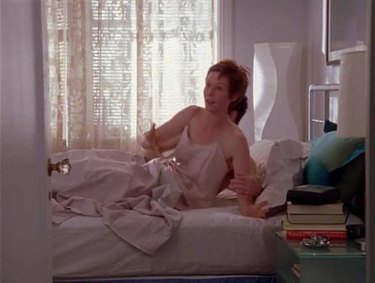 We totally remember that metal bed frame that dominated the Pottery Barn catalog, and feels like an item we'd expect of the uber-serious Miranda. But there are surprising girly elements to her bedroom — like lace curtains and pink sheets that make multiple appearances.
12. Carrie's takeover of Big's medicine cabinet.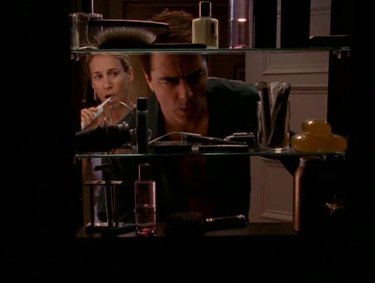 Maybe if she had thought a bit more about bathroom storage and organization options they wouldn't have had an issue.
13. The pastry chef's kitchen.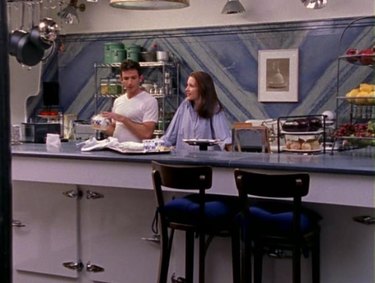 It was Charlotte's dream kitchen — and also the site of an unfortunate, relationship-killing incident with a mouse.
14. THE CHAIR.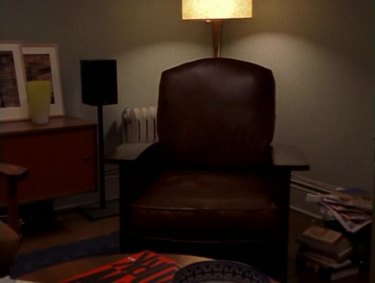 Purchased with Carrie's "designer discount."
15. This guy's doll collection.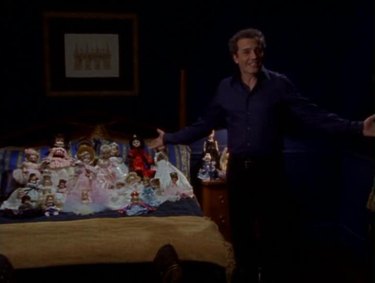 Remember when Stanford dates this weirdo who keeps his doll collection on the bed? So unsettling. And a love-making nightmare.
16. The cafe.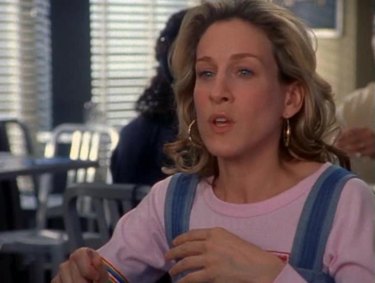 So clearly a set, and pretty bland as far as decor goes, but for some reason, those metal cafe chairs totally anchor everything.
17. Samantha's studio in the Meatpacking.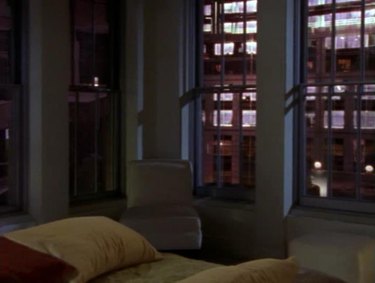 In the third season, Samantha packs up and moves downtown to a studio in the Meatpacking district. It's modern-meets-industrial and was a very wise investment.
18. The Hollywood Hills house Carrie and Vince Vaughn check out.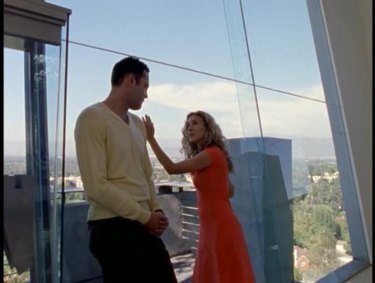 In the L.A. episodes in Season 3, Carrie has a brief fling with Keith Travers (aka Vince Vaughn) — a rando posing as a Hollywood agent, who takes her to tour a hideous home in the Hills.
19. Big's red wall.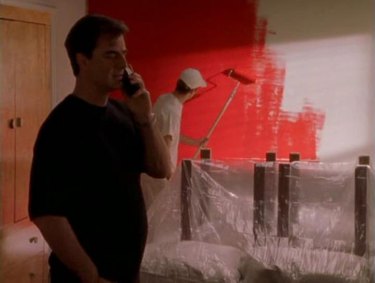 "Is red a mistake?" Big asks Carrie in a surprisingly bold decor move. We say yes.
20. Charlotte shopping with Trey and Bunny for a new mattress.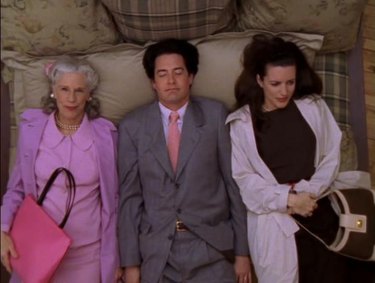 "My dear child, you cannot not have a dust ruffle."
21. The moment Charlotte realizes Trey has horrible taste.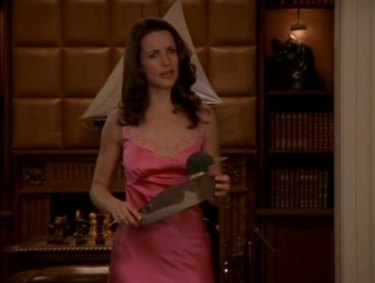 The most horrible taste is having no taste, because then your mother will come and decorate your home with terrible things like expensive chess sets and mallards.
22. Aidan's cabin.
Rustic. Definitely rustic.
23. Charlotte's redecorated apartment.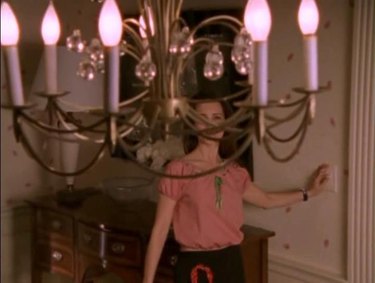 She really loved those dimmer switches. Though we gotta say, years later, that wallpaper holds up.
24. Aidan's renovation attempt.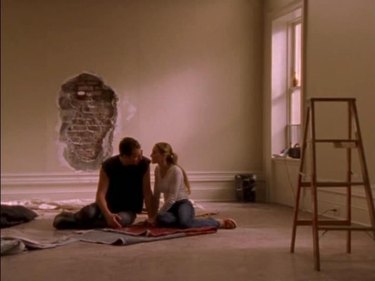 That would have been an amazing apartment. Just sayin'.
25. The bachelor pad.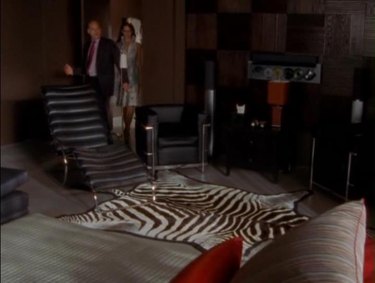 Aw, Harry. So cute to think he could win Charlotte over with leather furniture and a zebra skin rug.
26. The nightclub called "Bed."
27. The Russian's apartment.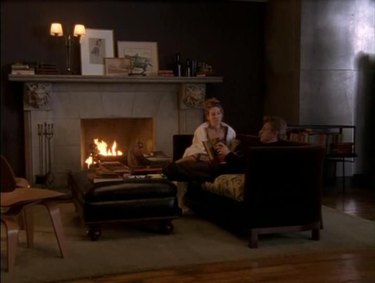 Aleksandr Petrovsky's apartment was by far the most impressive on the show. His style was exactly what you'd expect from a European artist with refined taste — an urban building filled with a mix of old-world luxury and streamlined contemporary design.
Dang on those windows, though.
28. The Brooklyn brownstone Steve and Miranda buy.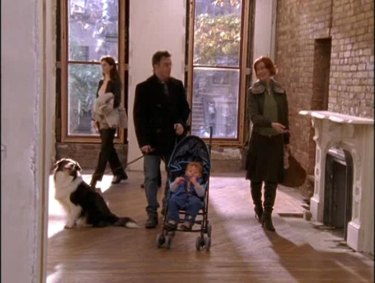 When you're looking at a property that is going to need work, you need to be able to see its potential. Even if the cabs don't go there.
29. The Paris hotel room.
Louis XIV-inspired furniture, heavy drapery, gilded mirrors: It's very Parisian aristocrat. Honestly though, this place is wayyyy too fancy to live in. It just doesn't feel normal. (Clearly.)
30. The penthouse apartment from the first movie.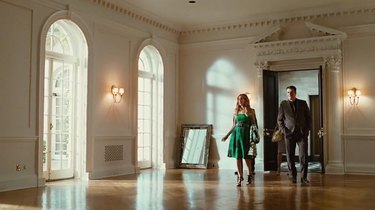 31. And the tiny closet.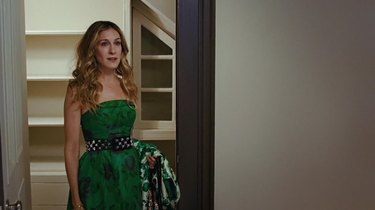 32. But then the HUGE closet.
It's really too bad this space never worked out for them.
33. Carrie's apartment makeover in the second movie.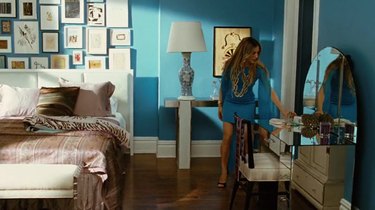 That distinctive blue influenced everyone's decor choices for years. YEARS.
34. Carrie and Big's apartment in the second movie.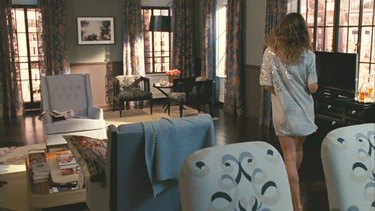 Carrie's presence here is clear — the decor is very fashion-forward.