It's the time of year when the law requires you to set aside two-and-a-half hours to watch Love Actually. This 2003 film follows multiple love stories and a dozen characters. Fortunately, to help you keep up with this intricate plot, Love Actually takes place in spaces as different as the characters who inhabit them. Between a minimalistic duplex, a loft stuffed with art supplies, and a lakeside cottage (complete with a swan!), a lot of ground is covered in this movie. Continue on to read our ranking, from worst to best, of all the Love Actually spaces.
9. Joe's Bachelor Pad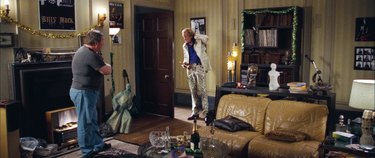 Joe (Gregor Fisher) is the manager of Billy Mack (Bill Nighy), and you can definitely tell from the look of his apartment — the walls are covered in framed pieces of Billy Mack memorabilia.
Above the fireplace is a samurai sword to match the samurai figurine that sits to the side of the hearth. As for seating, Joe has a tan leather couch that's meant for two (though he lives alone). Between the sad seating, lack of personality, and Billy Mack mementos, Joe's apartment is the least inspiring. Hence, last place.
8. Mia's Boudoir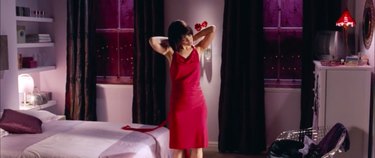 As cheesy as it is, Mia's purple palace is unforgettable. To match this character's sensual vibe, Mia (Heike Makatsch) lives in an apartment decorated in different shades of purple. She even has sheer purple shades covering her windows so that the street lamps give her home a Barney the Dinosaur glow.
7. Karen and Harry's Family Home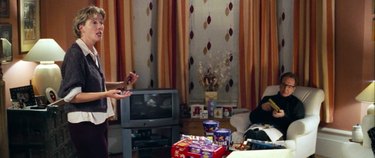 Like most family abodes, Karen and Harry's place is an amalgamation of many things. Played by Emma Thompson and the late Alan Rickman, Karen and Harry have two children and a crumbling marriage — thanks to Harry's assistant, Mia, who is succeeding at seducing him. Their home reflects this chaos with its mismatched furniture, scattered children's drawings, holiday cards, and random '70s-esque leaf print shades.
6. Peter and Juliet's Flat
Chiwetel Ejiofor and Keira Knightley play Peter and Juliet, newlyweds who live in a homey duplex. While we don't see much of their place, we do catch a glimpse of an elegant white staircase wrapped in fairy lights. They also have a fluffy grey sofa covered in pillows, a coffee table big enough for their pasta, wine, and beer, and a built-in storage space for their photos, records, and books.
5. Mark's Artist Loft
Mark's loft is the definition of industrial. To hit home the fact that Mark (Andrew Lincoln) is an artist, his expansive apartment has an entire wall dedicated to canvases, a basic black leather couch, and shelving for CDs and DVDs. In one corner, you can spot a quick pop of color in the form of a sofa covered in a pink cloth.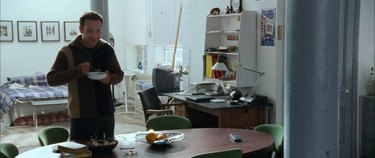 During the beginning of the movie, we also catch a glimpse of Mark's living space, which is fairly basic aside from the plaid bedding and eye-catching chartreuse dining chairs.
4. Sarah's Duplex
Laura Linney's character, Sarah, calls a simple duplex home. With white floors and walls, sparse furniture, and a few wall art accents, Sarah's apartment is minimalism at its best. Though she doesn't have much — and her patterns do clash — what she does own seems to have been curated for joy and comfort.
3. Daniel and Sam's House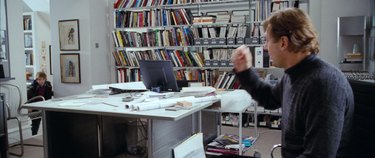 Daniel (Liam Neeson), who recently lost his wife, must now care for stepson Sam (Thomas Sangster) in what looks like a cool-toned bachelor pad. All over the home are hundreds of books housed in built-in shelves, which are especially concentrated in Daniel's office. There, he has a drawing table and separate island desk.
The family room features various grey tones, but is made more welcoming with a plaid (grey) fabric sofa and shelving that displays trinkets and family photos. Interestingly enough, the most telling part of the family home is the hallway, which showcases Sam's drawings, family portraits, and, yes, more books.
2. The Prime Minister's Quarters
David, the Prime Minister played by Hugh Grant, lives and works in a home that's made of movie magic. Though it's meant to look like the Georgian style 10 Downing Street — where the actual Prime Minister of the United Kingdom lives and works — David's lodgings are in fact a set built at Shepperton Studios. And a convincing one at that.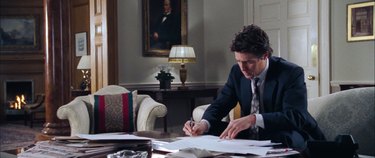 Part residence, part office, part government headquarters, Love Actually's 10 Downing maintains a stately atmosphere with dark wood furniture, historical portraits covering every wall, and a mix of different design styles (such as Rococo and Victorian) depending on which room you're in.
1. Jamie's French Cottage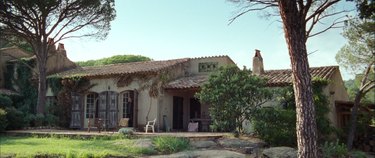 Jamie (Colin Firth) knows that decamping to a French cottage is the only way to get back at an ex who cheated with your brother. Especially if said cottage has half-circle archways and alcoves, French doors, and casement windows that overlook a picturesque lake.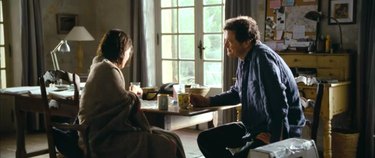 Aside from the dreamy architecture, the cottage is also filled with the makings of a cozy time. There are books, board games, and the type of worn furniture that makes you want to take a nap. So, it's basically the best place to spend the holiday season.