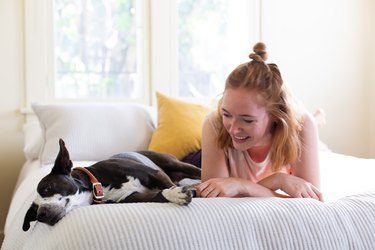 Who: Kate Edwards
Where: Pasadena, California
Style: Scandinavian-inspired vintage bungalow
As the woman behind Create Dinners, a collaborative dinner party by and for creative women, it's no surprise that Kate Edwards' favorite place in her 100-year-old Pasadena home is at the dining room table. In a pinch, she can seat 12. But she relishes her quiet time, too. "It's also a dreamy room to spend time in alone when the sun first comes up," says Edwards, who lives by herself. "I often make my coffee and breakfast and write or pray sitting in the stillness at the table before the day gets going."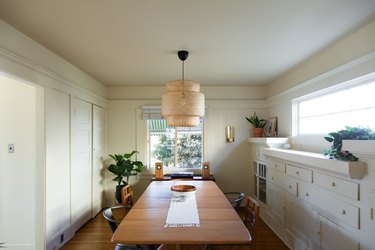 Originally from Coppell, Texas, Edwards has lived in Los Angeles for the past decade — working as a producer for a marketing agency, and photographing weddings and other events on the side. Create Dinners, however, is her passion project — it's a way for busy, young, creative women, most of whom don't know each other, to find community. Each dinner is held at a different locale, and 16 different creative women, from all disciplines and backgrounds, are invited to attend. "Each person brings something — literally and figuratively — to the table," Edwards says.
For her part, Edwards brings a sense of Southern hospitality, a photographer's eye, a taste for all things Scandinavian, and a wide-ranging collection of flatware, plates, and glasses for entertaining. Create Dinners #9 took place in the backyard of her bungalow, which is filled with mementos of trips to Norway, Sweden, Denmark — and Brooklyn, for good measure — as well as a relatively spare mix of vintage and modern decor. It was a very personal dinner, and, unlike most events, it was attended by friends and her beloved dog, Otter. The feel was familial.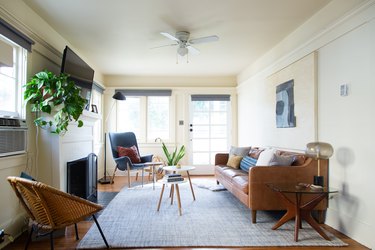 "There are so many things that drew me to my house, but honestly, it's the way it felt," says Edwards, who had moved in shortly after a personal tragedy. "I immediately felt at peace there." And now that she has put her mark on the space, it feels very much hers.
"The house literally looks like me," she says, "I'm really fair-skinned and the house interior is a light off-white. A lot of my furniture and decorative items are in the same color palette as my wardrobe. I've been told by people who visit that the house feels like me, too. We've got the same calm energy, but are also outgoing and inviting."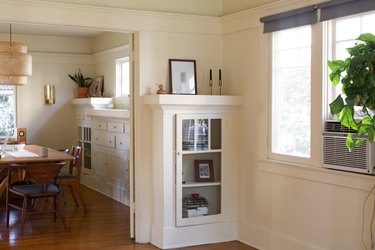 "The house was built in 1916 and has so many characteristics that make it appealing and give it charm," says Edwards, including various built-ins and nooks. The hanging IKEA Sinnerlig pendant lamp seen in the dining room aligns with her Scandinavian vibe.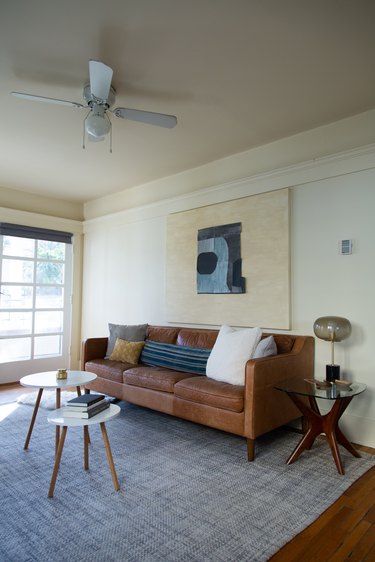 "It's got a ton of natural light and windows, giving it a great bright energy," she says.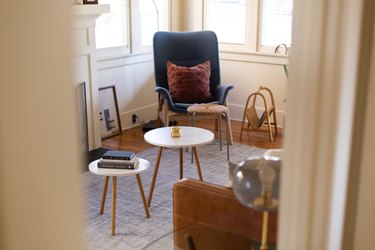 Edwards' taste in furniture leans Scandinavian, modern, spare, and simple.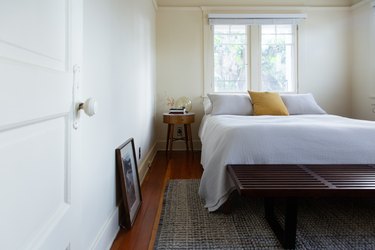 The palette throughout the home is neutral, with small pops of color — including here, in the bedroom.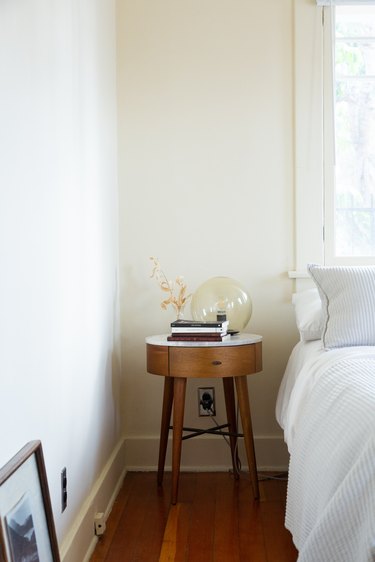 Edwards heavily edited her accessories and accent pieces when she moved from nearby Glendale, California. "I only kept things if they had meaning and took my time acquiring new items," she says.
"Many of the objects that fill my shelves and rooms were once my grandparents' or are pieces collected from various trips, so I can always remember my adventures — little wooden birds from Denmark, vintage vases from Sweden, ceramic mugs handmade by friends, rugs and fabric from Brooklyn, and foliage prints from Norway," she says. "I've filled the walls with artwork that's made by myself or friends and have framed meaningful poetry."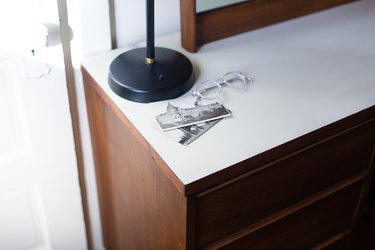 Her personal touches make the space feel unique. "There is a mixture of modern midcentury and vintage pieces, and overall feels really open and pretty minimal," she says.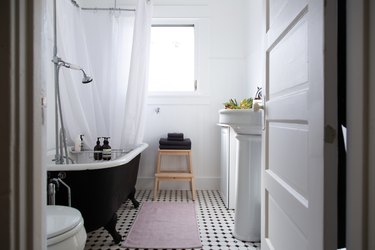 The clawfoot tub was also a draw.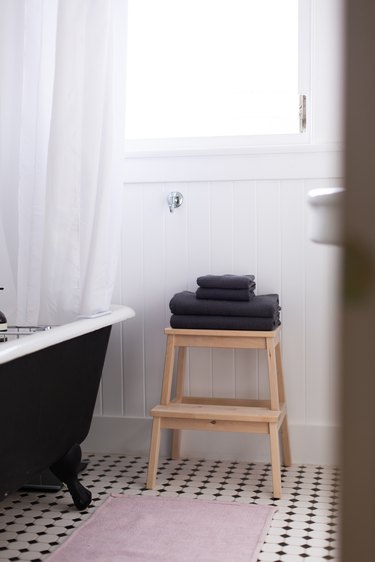 Edwards keeps the bathroom palette simple and classic with black and white.
"This house creaks, has clearly been through a lot in its life, and has a lot of imperfections, but that's really what makes it beautiful," she says. "I'm slowly learning to see myself in the same way."