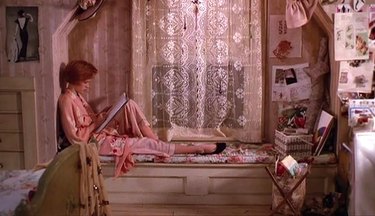 The teen movies we grew up watching during the '80s, '90s, and 2000s were aspirational for a variety of reasons. Sure, many of the characters we adored in movies like Mean Girls and Clueless wore fashionable outfits and got into crazy adventures, but a lot of them also had cool-as-hell bedrooms. These teenage sanctuaries often gave us a glimpse into the characters' lives and personalities, serving as secret messages for us to better understand them (props to the set decorators and production designers!). Ahead, 12 iconic teen movie bedrooms that we're still coveting today.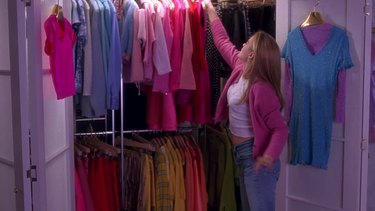 Cher Horowitz (Alicia Silverstone) was a Beverly Hills princess with access to pretty much everything, so it was expected that her bedroom would have much more pizzazz than the typical teen. A fireplace, gilded mirrors, a dressing area, and ample space for her clothing and shoe collection were just some of the things you can find in her private space. In fact, it was Cher's wardrobe setup that makes her bedroom so memorable 25 years later. While the rest of us plebes wearily rack our brains figuring out what to wear, Cher would just pull up the virtual closet program on her computer to mix-and-match the right look. Afterwards, she'd head to her closet, switch on its revolving rack, and simply grab her outfit for the day.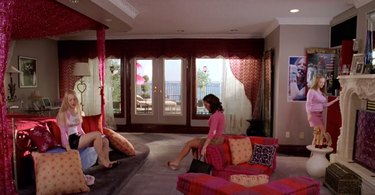 The bedroom in which a high school's queen bee and her cohorts devise their evil teenage schemes has to be anything but ordinary. When Regina George (Rachel McAdams) walks into her room with The Plastics, we see a four-poster canopy sitting on a platform, a pink lounging area, and, just beyond the Avril Lavigne poster (it was early 2000s, after all) French doors that open up to a stunning balcony patio. There's also a dressing area with a Roman-style bathtub in the middle. When Cady (Lindsay Lohan) asks, incredulously, "This is your room?" Regina replies, "It was my parents' room, but I made them trade me." Touché.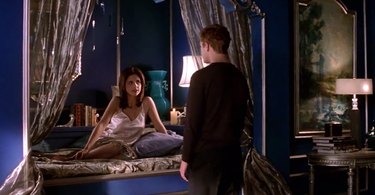 Average bedrooms are for average teens (seeing a theme here?), which Cruel Intentions' HBIC, Kathryn (Sarah Michelle Gellar), certainly is not. Out of all of the teen movie bedrooms, hers is probably the most mature, as there's nary a pink furry pillow in sight. Instead, Kathryn's bedroom is painted in a rich, cobalt blue, with silver accents, ornate furniture, velvet drapes, a chaise lounge, and, finally, a Louis XIV-style canopy bed. We'll never forget the scene in which Ronald (Sean Patrick Thomas) is found hiding inside of the bed's pull-out drawer. (Imagine how much bedding you can store in there!)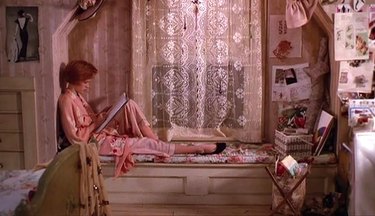 Andie Walsh (Molly Ringwald) was creative and artsy, and her bedroom reflected that. Mondrian posters adorned the walls, but it also had a vintage vibe, with lace curtains, floral wallpaper, and a vintage bed frame. We can't forget the daydreamy window nook where she'd sit and sketch. Window nooks — so underrated!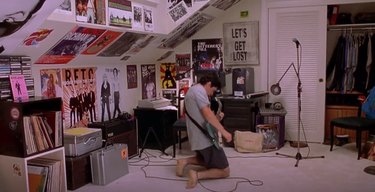 Out of all of the teens in the cheerleading flick Bring It On, the most interesting bedroom actually belongs to Kristin Dunst's character's love interest, Cliff Pantone (Jesse Bradford), the new boy at school (and brother of fellow cheerleader, Misty) who was into punk. He had a million music posters on his walls, a decent-sized vinyl collection, and space to rock out on his guitar. Makes us want to listen to The Clash.
6. Welcome Home, Roxy Carmichael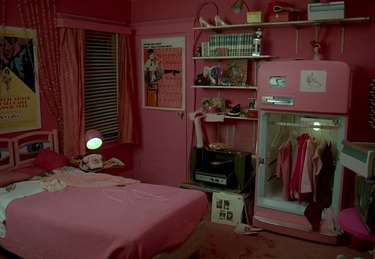 This may be one of Winona Ryder's lesser-known films, but if anything, the bedroom that belongs to the title character (not Winona) is something that will camp out in your memories. Whether it's due to the candy-pink walls, the pink refrigerator that doubles as a closet (hats are kept in the freezer), or the headboard that has two eyes painted on it, you can't argue that this is one of the most unique teen bedrooms ever seen on film. No wonder Winona's character locked herself inside of it in one scene.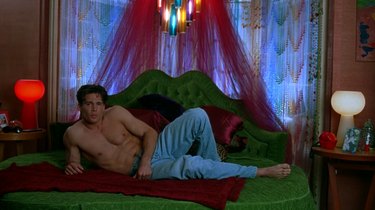 In Jawbreaker, Rose McGowan's character, Courtney, is similar to Sarah Michelle Gellar's in Cruel Intentions, as they are both evil and seductive, and their bedrooms have more of a boudoir vibe than that of a normal teen. Courtney's, however, has a vintage feel, and is a favorite for lovers of kitsch. With the beaded curtains, tulle canopy, multiple lava lamps, red lips phone, and a rare, round velvet bed, her style can be summed up as '60s-meets-'70s-meets-'80s. Sounds a little out-there, but it works.
8. 10 Things I Hate About You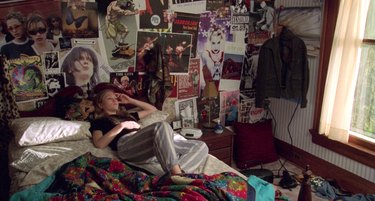 Minimalists, please turn away. An important part of '90s teen bedroom decor was the art of the collage. If you were allowed to put up as many posters you could fit on your bedroom walls, you could probably relate to Kat's (Julia Stiles) decor of choice in 10 Things I Hate About You. It was the perfect creative expression for the angsty, music-loving, non-conformist teen.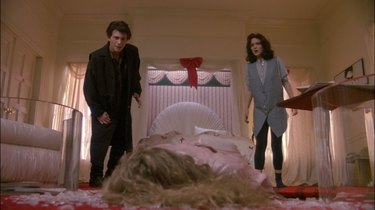 Heather Chandler's (Kim Walker) bedroom is yet another one fit for the most popular girl at school, except '80s style. It's bright, and spacious with Patrick Nagel posters on the walls, and white and glass furniture, including the table that she fell through when she was poisoned by J.D. (Christian Slater) and Veronica (Winona Ryder). We'll always have a mental image of her waking up in her bed, which featured a large, accordion pleated headboard and white, satin comforter accented with red ribbons that matched both the one in her hair and on her "suicide note."
If you find good, old-fashioned thrift store kitsch irresistible, Enid's (Thora Birch) bedroom in Ghost World is surely at the top of your list. It's filled with all kinds of quirky decor, like nun figurines, random knick-knacks, pictures of cakes from the '70s, clown paintings, a motion-moving waterfall picture, animal print furniture, and more.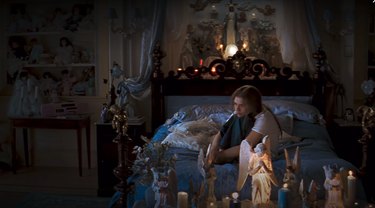 There are enough gold cherubs and Virgin Mary paraphernalia in Juliet's (Claire Danes) bedroom that would creep out an atheist and make a devoted Catholic Grandma proud, but there's something irresistibly romantic about her heavenly haven. (That might just be due to having Leonardo DiCaprio in her bed, though.)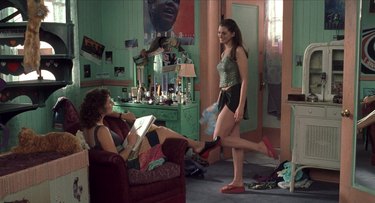 Last but not least, Mia Thermopolis's (Anne Hathaway) bedroom in The Princess Diaries. First of all, she and her mom lived in an old firehouse in San Francisco, so you know that space was already going to be something special. Secondly, her mom was an artist, so the entire place had a super creative, bohemian thing going on. Mia's bedroom was two-story, with a spiral staircase decorated with stickers and string lights that led up to an attic painted like a blue sky with clouds. That's where she kept her books. The rest of the bedroom was mint-green and peach, with cute vintage furniture. The final cherry on top? To get to the living room, she'd slide down a golden fire pole. It hurts our backs just thinking about it now, but for a teen, that whimsical method of getting downstairs was a dream.