36. Cinderella's Bedroom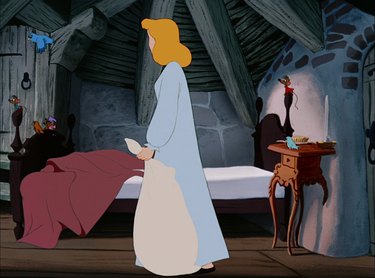 We guess you could call this "rustic-minimalist"?
35. The Dwarves' Cottage in Snow White
With all the hand-carved detailing, with a bit of work, you could totally flip this country cottage and boast its restored historic features.
34. Sleeping Beauty's Bedroom (?)
Not sure you can call this a "bedroom" as it seems like it's more of a prison, but still, it's got good bones — you could definitely turn this into a five-star hotel.
33. Prince Charming's Palace in Cinderella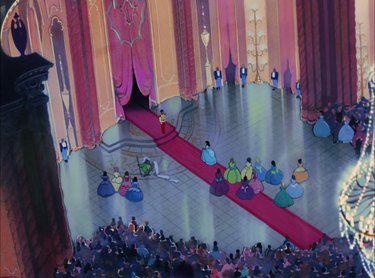 This is sort of palace vibes does basic bitch-style: We get it, you're rich ... and don't have much decorative imagination.
32. Judy's Room in Zootopia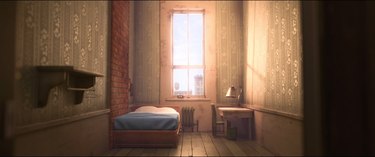 Officer Judy Hoppes' little boarding room actually showcases a thing that's kind of happening these days in decor: a touch of traditionalism, a few simple but rustic pieces, and not much else.
31. The Nursery in Peter Pan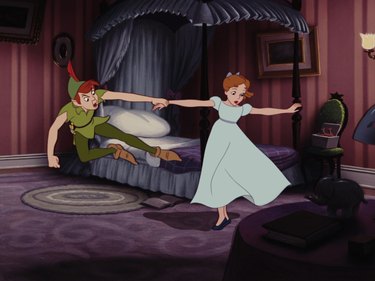 It's trad decor all around in the Darlings' nursery: cozy vertical stripe wallpaper, canopied beds, and lush rugs.
30. Belle's Room in the Beast's Castle in Beauty and the Beast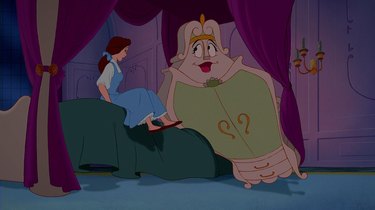 Nice digs! We like the classic French moldings on the walls. But for some, this might be taking voice activated technology too far.
29. Charlotte La Bouff's room in The Princess and the Frog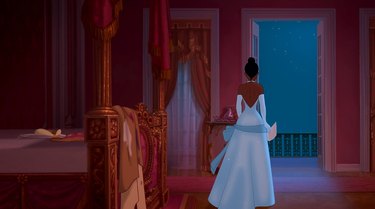 Here we see Tiana gazing out of her BFF's Charlotte's window. There's a lot to love about the New Orleans setting of this 2009 classic, including Charlotte's uber-girly digs.
28. Yzma's Dining Room in The Emperor's New Groove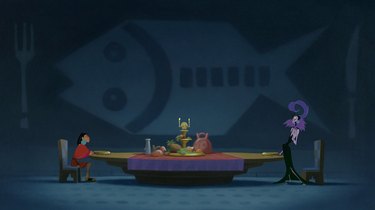 This moody — and admittedly kind of creepy — dining setting is intriguing us from a decor perspective, with motifs we don't usually see these days (an oversized fish mural is surely Insta-friendly). The minimalist-meets-intimidation vibe reminds us of Kim and Kanye's house.
27. Preston Whitmore's Study in Atlantis
If anything smells like money, it's the eclectic maximalism of millionaire Preston Whitmore's grand study.
26. Rapunzel's Tower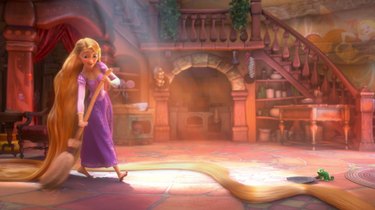 Sure, it's technically a prison, but she's really made the best of it with plenty of DIY touches to complement the rustic Italian-like architecture.
25. The Fairies' Cottage in Sleeping Beauty

This would totally fetch a prime rate on Airbnb.
24. The Beast's Den in Beauty and the Beast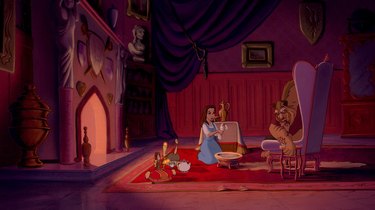 How many homes have you been in with a fireplace that's taller than you? We can feel an Architectural Digest spread in the works ...
23. Roger Radcliffe's Bachelor Pad in 101 Dalmatians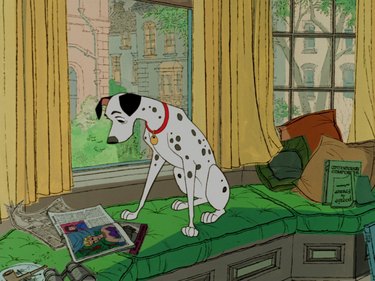 Ignore the complete mess and chaos of Roger's London flat, and you realize how much you could do with such a classic apartment.
22. Roger and Anita's Home in 101 Dalmatians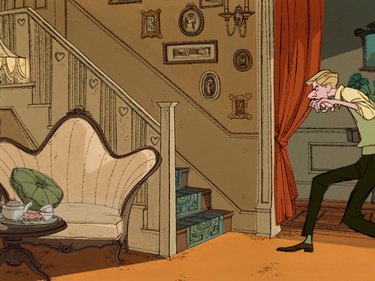 Done in basic Victorian decor, there are still some touches that stand out, like a perfectly dignified gallery wall, and the rust-orange curtains are a nice pop of color.
21. Elsa's Ice Castle in Frozen
Not much in the way of decor, but architecturally speaking, damn impressive.
20. Madame Adelaide Bonfamille's Bedroom in The Aristocats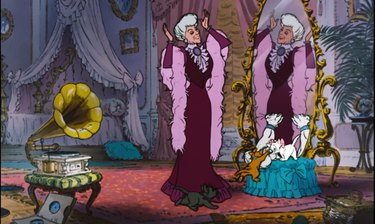 19. The Parlor in The Aristocats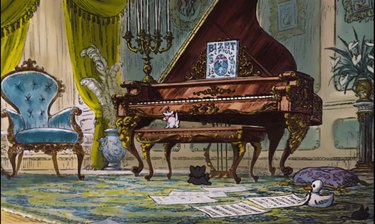 A little fussy for our tastes, yet we would very much enjoy a cultured evening in one of those Louis XIV chairs.
18. The Music Room in Cinderella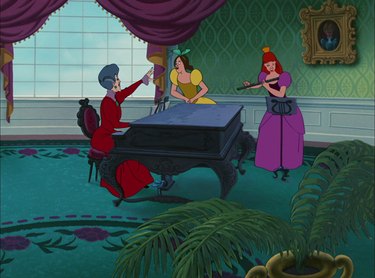 This would be just another average Disney living room except that oversized window is really selling it.
17. Jim Dear and Darling's Living Room in Lady and the Tramp

We love the layering of textures in this room — from the plants to the fabric on the mantel to the cozy rug.
16. King Triton's Music Hall in The Little Mermaid
We're no expert in underwater architecture, but we're guessing King Triton's undersea theater is the mer-people equivalent to the Bolshoi.
15. Jasmine's Room in Aladdin
Just casually chillin' in my colorful boho bedroom with my pet tiger, HBU?
14. Art Room in Frozen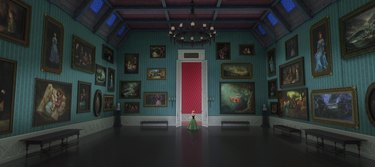 Not that any of us normals would ever have, like, a legit museum in our homes ... but a girl can dream.
13. Lady Tremaine's Bedroom in Cinderella
There's something really interesting going on with the wallpaper here. And while we ordinarily wouldn't pair lime green and purple together, somehow it's kind of working really well?
12. Prince Eric's Dining Room in The Little Mermaid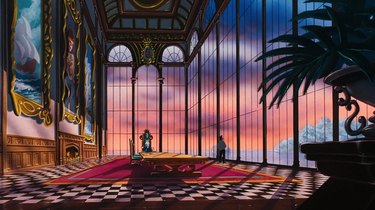 Okay, we get it. You got a big-ass dining room and it's gorgeous.
11. The Hallways of Jim Dear and Darling's Home in Lady and the Tramp
Lady's parents really deserve some credit for their power-clashing decor abilities: We count no less than seven patterns in this space. And they get extra props for all that rug layering.
10. The White Rabbit's House in Alice in Wonderland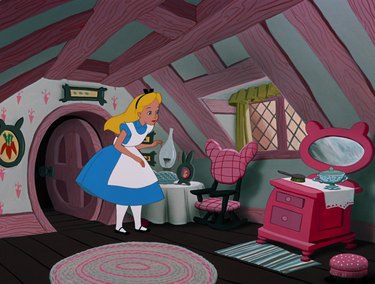 This dude's home might give off cartoony vibes (well, maybe, because it is), but there are certain details that we could see standing out in a contemporary setting, like that chair with an '80-esque grid print, the rug with neon pink detailing, or that adorable vanity. (We always love a vanity.)
9. Fix-It Felix's Penthouse Apartment in Wreck-It Ralph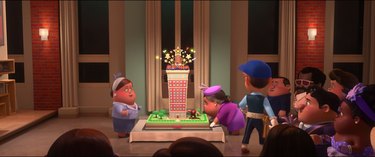 As far as Disney movies go, Fix-It Felix's home probably feels the closest to real-world living. In the corner, you can make out what looks like a cool custom plywood shelf and the neutral finishings feel very upscale-urban.
8. The Church in The Princess and the Frog
We ranked this one pretty high because it's supposed to be an actual real place: The St. Louis Cathedral in New Orleans!
7. Elsa and Anna's Room in Frozen
As far as kids' rooms go, this is pretty much a dream. As far as adults' rooms go: also a dream.
6. Ariel's Room in The Little Mermaid
Whoa. We gotta say: Whoever decorated Prince Eric's castle was WAY ahead of their time. Adding a plantscape above a headboard is seriously next-level.
5. Jim Dear and Darling's Kitchen in Lady and the Tramp
Is that ceramic tile? Linoleum? Either way we are DOWN with this bold lime-mint kitchen floor combo.
4. The Boudoir in Mulan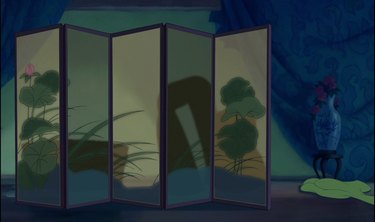 Mulan might not really be into her makeover (and neither are we), but we gotta say — the room she does it in is really impressive, with what looks like a hand-painted screen and beautiful decorative pottery.
3. Tiana's Restaurant in The Princess and the Frog
Belle Epoque vibes reign supreme in Tiana's New Orleans restaurant. It's luxe and rich — a paradise you'd surely spend hours and hours getting drunk in.
2. The Hallways of Arendelle Castle in Frozen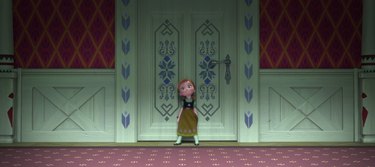 Dang those tradish Scandi prints are good! From the wallpaper to the stenciling to the carpet — those shapes and colors are totally enviable.
1. The Library in Beauty and the Beast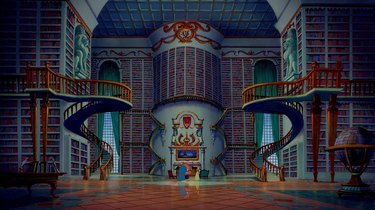 And at #1: The Beast's library because hellooooooo lottery money. This is exactly what we're doing once we hit the big time.