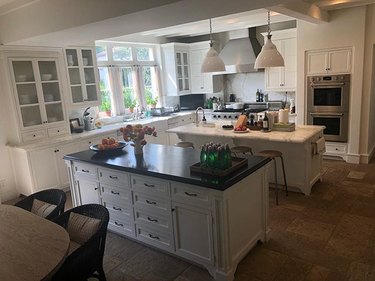 Writer, producer, director extraordinaire Nancy Meyer has given us so many classic films — and beautiful interiors in these cinematic gems, to boot. We're obsessed with finding inspiration in everything from rom-coms to Netflix series, so no surprise here that we've often swooned over the spaces in Meyers' movies.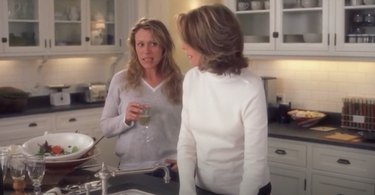 Now, we can add Meyers' own home to our list of interior goals. Just recently, she posted a peek of her kitchen on Instagram and the Internet is basically freaking out.
First off, we can only dream of a double kitchen island. And we can't help but swoon over the all-white dishes on display in the cabinets, as well as the chic hanging lighting fixtures. Of course, there are fresh flowers, fruit, and what looks like sparkling water on hand.
Don't mind us while we spend the rest of the day dreaming of our own rom com in a chic space like this.