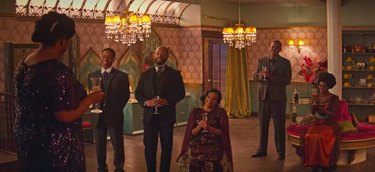 If you're looking for more Netflix shows to watch, _Self Made: Inspired by the Life of Madam C.J. Walker _is a great choice for both its spotlight on an important woman in history and its design. Starring Academy Award winner Octavia Butler, the short series is based on the life of Madam C.J. walker (aka Sarah Breedlove), the first female self-made millionaire in America.
The story takes inspiration from the biography On Her Own Ground: The Life and Times of Madam C.J. Walker written by Walker's great granddaughter, A'Lelia Bundles; it follows Walker's journey from her small salon at home to her beauty empire. And it's all reflected in the sets of the show.
"Sarah didn't have much money in the beginning as most of her things were handed-down pieces," Britt Doughty, production designer for Self Made, tells Hunker.
Decor items like lamps in the shape of the iconic Tiffany ones indicate the series' time frame of the early 1900s through around 1918. Doughty and team mined the archives to bring a realistic setting to life — down to the smallest details.
"There was an amazing amount of research done, but in particular, recreating the wallpaper," Doughty says. "They were all based on patterns of that era but we elaborated on the colors to bring them into a more saturated color palette."
In New York, Walker set up a residence and salon in one space; The Dark Tower later became the name of daughter A'Lelia Walker's gathering space for creatives.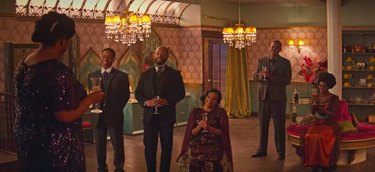 At the beginning of episode four, a group toasts to Walker's successful business and new stay on the East Coast. Hanging chandeliers, patterned wallpaper, billowing curtains, and carved panels all lend an air of art nouveau that fits the financial success of Walker at this point in her career.
"We focused mainly on American colonial, with a touch of Victorian style," Doughty says. "Later, we leaned towards art nouveau, especially for the Dark Tower sets."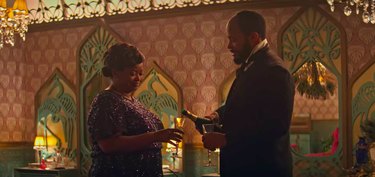 Doughty says the team referenced old Sears catalogues; she often finds inspiration in design books and architectural tours.
Yet some of the elements in the show feel familiar to anyone who loves vintage shopping or grandma chic aesthetics, a sure sign that most things come back in vogue in one form or another.
"As a design sense, I love a mash up between vintage and modern," Doughty says. "We worked to bridge those two worlds with Self Made but still keep within our time period."