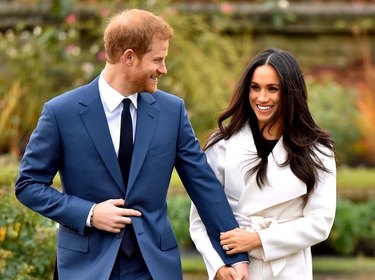 Prince Harry and Duchess of Sussex Meghan Markle aren't strangers to the spotlight. When you're literal royalty, living within the flashbulbs of paparazzi and under the microscope of the public comes with the territory. The new Netflix docuseries ‌Harry & Meghan‌ goes even deeper, offering a more intimate point of view of the couple by pulling back the curtain on their lives and relationships. In doing so, it reveals some never-before-seen aspects of their journey together.
One of the most surprising newly revealed details in the show is the first-ever home Harry and Meghan lived in together: Nottingham Cottage. While located on the grounds of Kensington Palace, photos of the abode indicate humble, bare-bones living quarters that don't necessarily scream "royal." The $33.5 million mansion in Montecito, California where portions of ‌Harry & Meghan‌ were filmed is definitely more in-line with what one would expect for a prince and a duchess.
However, there's something heart-warming about even the likes of Prince Harry and Meghan Markle starting their lives together in a two-bedroom, one-bathroom cottage. Royals, they're just like us!
Harry lived alone in the modest house from 2013 to 2017, at which point Meghan moved in with him just after their engagement. At 1,324 square feet, Nottingham Cottage, known as "Nott Cott," is one of the smaller houses on the Kensington Palace grounds. Along with the two bedrooms and a single (carpeted!) bathroom, it has nothing more than a kitchen, a few small living spaces, and a little garden in the back. It's clear from home video footage in the docuseries that there is limited closet space and the ceilings are quite low — especially for Harry's tall frame. He even says that the house has a "slight lean."
Harry and Meghan are among a handful of royals who have resided in Nott Cott over the years, but they're far and away the highest profile of the bunch to live in the modest house. They've since moved on to bigger and more luxurious dwellings, but we'd bet they sometimes miss the simplicity of their former lives in this quaint cottage.