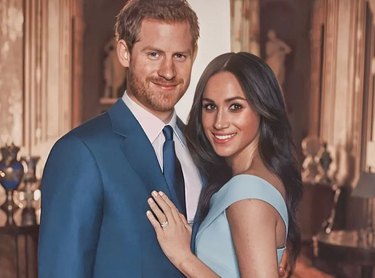 Many of us grew up with fantasies of living like royalty in luxurious castles surrounded by moats with high-ceiling interiors filled with glistening chandeliers and spiral staircases. However, most of these images are a bit dated. So, what does it actaully look like to live like modern-day royalty?
Well, now's your chance to find out. One of the houses where ‌Harry & Meghan,‌ the hit Netflix docuseries about Prince Harry and Meghan Markle, was filmed just hit the market for a cool $33,500,000. 888 Lilac Drive in Montecito, California, located within Santa Barbara County, is a dreamy oceanside oasis fit for a prince and duchess — literally.
The property is composed of a 12,805-square-foot main house (five bedrooms, five full bathrooms, and one half bath), plus a 794-square-foot guest house (one bedroom, one full bathroom, and a kitchenette) situated on just over two acres of land. It was built in 2006 by architects Don Nulty and J.F. Brennan, and builder Jay Hanseth, with interiors designed by Natasha Baradaran.
The estate boasts vast ocean and mountain panoramic views, among a laundry list of amenities including two game rooms, a gym and sauna, a theater, a pool and spa, a lawn that abides by Wimbledon standards, five chicken coops, a private well, a generator, and solar panels. The exteriors of the main and guest houses are covered in lush ivy throughout for an old-world earthy look that helps to make the estate feel at one with its natural surroundings.
Inside, sky-high ceilings and arched entryways set a tone of regal decadence with expansive rooms that feature floor-to-ceiling windows, seamlessly blending the outdoor environment with the home's interior spaces.
A crowning feature of the exquisite structure is the house's loggia, a covered outdoor corridor, which spans the entire length of the residence and links the main level spaces with the outdoors. It serves as an extension of the living, dining, kitchen, family rooms, office, and primary suite, and is thus a critical connective element throughout.
While 888 Lilac Drive might not have turret towers and a drawbridge, it sure has plenty of other jewels worthy of royalty.