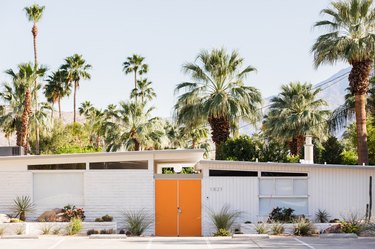 If you're looking for a mecca of midcentury modern design, you'll find it in Palm Springs, California, a desert oasis that sprung up in the 1920s as a haven for Hollywood stars and Los Angeles elites. That A-list crowd brought with them a bevy of pioneering modern architects to design their homes. Among them were William F. Cody, Richard Neutra, E. Stewart Williams, John Lautner, Albert Frey, and Donald Wexler.
Over the course of several decades, these luminaries built midcentury modern Palm Springs houses in a style that what would eventually become known as Desert Modernism, a riff on the midcentury modern movement. While both architectural styles share a few similarities —such as a focus on low-profile exteriors and blurring the lines between indoor and outdoor — Desert Modernism is more adapted to, you guessed it, the desert landscape.
We gathered six of the defining characteristics of midcentury modern Palm Springs houses.
1. Horizontal Lines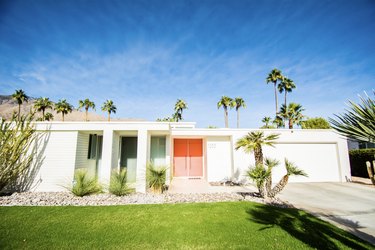 Like the midcentury modern ranch homes found across the country, residences in Palm Springs feature low-slung profiles with prominent horizontal lines. Not only do single-story dwellings stay cooler than their two-story alternatives, but they also blend better into the landscape — a major tenet of Desert Modernism.
2. Glass Walls or Large Windows
Furthering the connection to the landscape, glass walls or large glass windows were used to connect interiors with the outdoors, offering residents and their guests expansive views of the mountains and the desert.
3. Dramatic Rooflines with Large Overhangs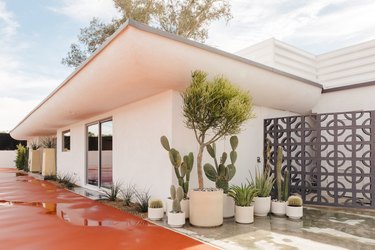 Though Palm Springs homes often have low profiles, their roofs are a bit more dramatic. This makes for some photo-worthy silhouettes — and they're also a practical choice to provide extra shade from the desert sun.
4. Indoor/Outdoor Living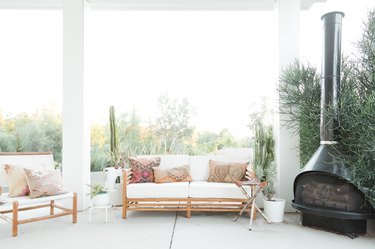 5. A Mix of Man-Made and Natural Materials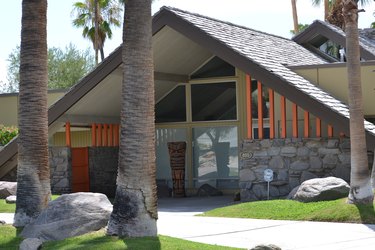 While glass and steel are common in all midcentury homes, Palm Springs residences additionally feature natural materials like stone, again drawing a connection to the landscape.
6. Minimalist Interiors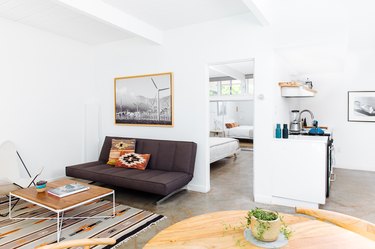 Given that the focus for Palm Springs homes is the landscape outside of them, interiors are left pretty minimalist with open floor plans to maximize views and white walls so as not to distract from those vistas. Decor-wise, a few statement pieces — usually ones with Southwestern desert flair — are enough to keep the interiors interesting.