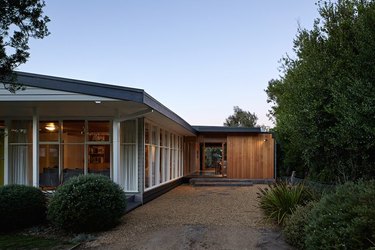 When it comes to midcentury modern ranch homes, we pretty much have one man to thank for them: Cliff May. The California architect is credited with popularizing the style beginning in the 1930s. The style took inspiration, as you might have guessed from its name, from real ranches in the United States, which themselves were inspired by single story Spanish style homes designed to beat the heat in the Southwest.
May blended the Spanish Colonial style with arts and crafts style to create a modern, single story dwelling that suited the California landscape and climate. But it's also important to note the derivation of the midcentury modern ranch style from Frank Lloyd Wright's Usonian homes. These single story dwellings were designed to be affordable suburban housing for the masses. Wright built the first one in 1937 and designed numerous models until his death in 1959.
Given the population boom and subsequent growth of the suburbs in the postwar era, affordable ranch houses became the most popular type of home in the country from the 1950s, when nine in 10 new residential builds featuring the style. But soon after, two story homes came back in vogue, and ranches became a piece of design history.
1. A Single Story or Split-Level Style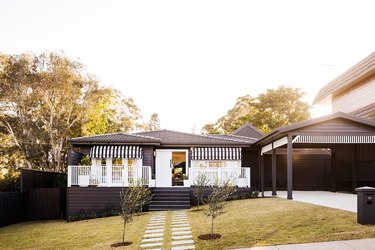 The most important trait of a ranch home is its one level plan, although it's not necessarily a hard and fast rule. One level split homes are more popular because they provide compact layouts to fit into smaller plots of land, thus making them more budget friendly. But split-level ranches also exist; they're built on sloping terrains found in suburbs across the United States.
Unlike a true two story home, these homes have more unified floor plans, given that the floors are only separated by a few steps rather than a full staircase. In a typical split-level ranch, there are three floors: a lower floor with a basement and garage; a ground floor with a living room, dining room, and kitchen; and a top floor with bedrooms. None of them are stacked atop one another.
There's also the raised ranch, which is similar in that it has three floors, but instead of having them staggered throughout the overall floor plan, the top and bottom levels often are stacked. You can make the distinction between a raised ranch and a split-level ranch by what's behind the front door. In a raised ranch, the entryway opens into stairs: you immediately have to choose whether to go up or down. In a split-level ranch, the entryway opens directly into the main living floor, without any stairs.
2. An Asymmetrical Floor Plan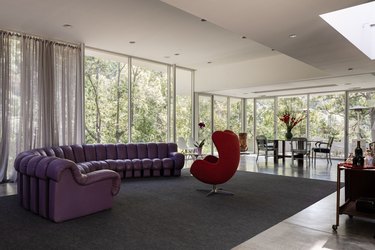 Most ranch homes are not a simple linear plan: They oftentimes take on L shapes or U shapes surrounding a back courtyard or patio. Since ranches were often built on small plots of land, these layouts maximized the amount of interior space in the homes.
3. Indoor Meets Outdoor Living
Ranch homes are all about connecting residents with the outdoors — Cliff May wanted to utilize the beautiful California weather, while Frank Lloyd Wright was more or less infatuated with nature. Thus, most ranches have floor-to-ceiling windows (at least in the back of the houses, given the lack of privacy) and sliding glass doors that erase the line between inside and out.
4. A Back Patio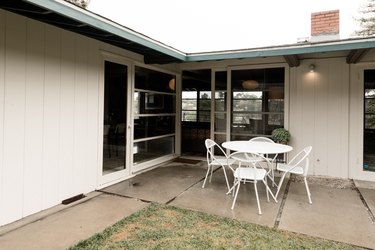 Just as important as an indoor living space is an outdoor one. Many midcentury modern ranch homes — at least the ones in warm weather climates — have furnished patios or finely landscaped backyards.
5. Picture Windows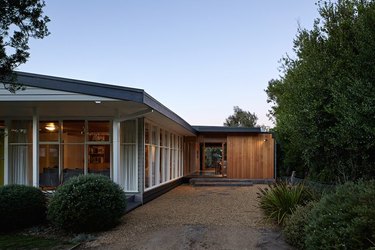 While floor-to-ceiling windows were popular in the back of the house, many ranches featured at least one large picture window in the front of the house, oftentimes placed in the living room.
6. A Low-Pitched Roof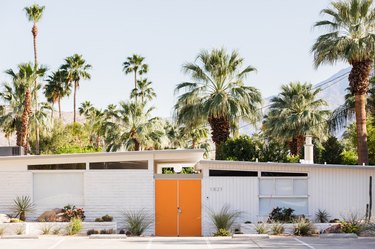 When they first hit the scene, ranch homes veered from the popular styles of the time, like Queen Anne or Greek Revivals. That means steeply-pitched gables were removed in favor of low-pitched or flat roofs.
7. An Attached Garage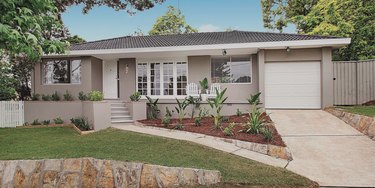 As car ownership became common for middle class families in the postwar era, attached garages became more of a necessity, thus many ranch homes featured at least one, if not two.