When the term "Spanish-style homes" is used, it typically refers to Spanish Colonial homes that were built by the Spanish colonizers in the United States. These homes are common in the southwest, including California, and Florida.
These homes were constructed from the 1600s all the way into the mid 1800s, and their style is widely mimicked today. Spanish style homes all have similar architecture, are made from local materials and feature small windows, and feature ornate archways and the classic wooden-beam roofs with which most people are familiar.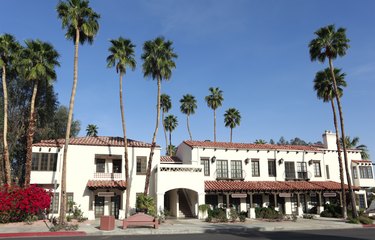 Spanish-Style Homes Overview
The Spanish style of home is still popular throughout the United States, though it's particularly popular in warmer climates. These Spanish revival homes are easily recognizable due to their thick walls, white stucco and adobe brickwork. True Spanish Colonial homes don't have glass windows. Originally, they relied on small holes in the walls for light and air that would be covered with wood shutters during the cold or in storms.
Spanish-Style Homes Construction
Spanish-style homes, specifically Spanish Colonial homes, are made from indigenous materials. This means that the traditional adobe wall is extremely common in Arizona, but you will find that coquina rock walls are more plentiful in Florida. The most important thing to note is that these homes follow the same basic build style and use materials that come from the region in which the house is being built.
Another very common feature in Spanish Colonial homes is the use of thick, stuccoed walls. This keeps the home as comfortable as possible during the day and the night. Thick walls absorb heat during the day, and that heat escapes into the home at night. Likewise, the cool night air provides insulation from the heat during the day.
Characteristics of Spanish Architecture
Spanish Colonial homes tend to have small windows. Some of these windows do not have glass and instead use wrought-iron grates to provide security and allow a breeze to move freely in the home. These windows are traditionally closed with wood shutters that are mounted inside the house. These shutters are to protect the home from bad weather and storms and are not decorated unless they are principal windows.
Ornamentation, in fact, is sparse in Spanish Colonial homes. These one-story homes typically have elaborate arches, interior hallways and entryways. This isn't to say that decor was never present in Spanish Colonial homes. More affluent families had detailed chimney masonry, intricate tile work and detailed window dressings.
Another obvious feature in these homes is wooden support beams. These beams can project over any exterior wall, giving it an iconic Spanish-villa look. More expensive homes also make use of inner courtyards, which were traditionally used for cooking when it was too hot indoors.
What Does Spanish Revival Mean?
Simply put, revival architecture is the practice of emulating past architectural styles. If the home was not built during the period of time from the 1600s to the mid 1800s, then it is not a true Spanish Colonial home. Newer builds that emulate that specific architectural style are known as revival houses. In many developments throughout the Southwest and Florida, you will see Spanish revival homes.
What Is a Mediterranean-Style House?
Mediterranean homes differ from Spanish Colonial homes in a few ways. First, they tend to have open floor plans and large exterior windows. Mediterranean homes also tend to be larger than Spanish Colonial homes, some having two or more floors.
While they differ in those ways, Mediterranean-style homes also have many elements inspired by the Spanish Colonial aesthetic. For instance, they often have elaborate archways, verandas and stucco walls with low-pitched roofs.