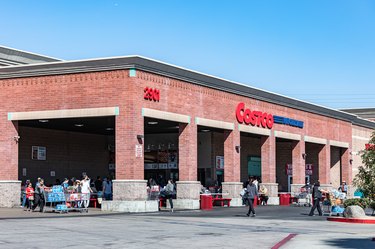 Per Costco Buys on Instagram, the all-butter pound cake is infused with sour cream and topped with a sour cream and vanilla icing. It also has an affordable price tag of $7.99.
On Instagram, shoppers were quick to share their adoration for the treat. "Just picked this up today ... everyone loves it," said one user. "I tried it this morning! It's really delicious," raved another person.
If you've never heard of sour cream pound cake, the bakery item might sound a bit strange. But as it turns out, the dish is a classic Southern pound cake — and it's delicious.
When used in baked goods, sour cream adds a mild tangy flavor. It also makes the finished product wonderfully moist and rich. We can only imagine what it tastes like in a pound cake, which already has a delightful texture.
As the sour cream pound cake is a brand new item, it might not be available at all warehouses just yet. You can check if it's in stock by calling Costco; its item number is 1719752.
Ways to eat sour cream pound cake:
If you decide to buy the pound cake and want to spruce it up, try these tasty ideas:
Top with whipped cream or Greek yogurt
Garnish with fresh berries or jam
Pair with lemon curd
Sprinkle chopped nuts on top
Add a scoop of ice cream and chocolate sauce
Top with bananas, nuts, and peanut butter
Drizzle with honey or maple syrup
Sprinkle with ground cinnamon
For a simpler take, warm a slice of pound cake in the toaster oven or microwave. So good!