Who: Jon and Maša Kleinhample
Where: Arts District, Downtown Los Angeles
Style: Modern industrial function-over-frills
Located in Los Angeles' Arts District, the 3,000-square-foot studio of design duo Jon and Maša Kleinhample embodies the prevailing ethos of their design agency: no frills, quality materials, and constant innovation. While their approach to designing for clients calls for precision and attention to detail — managing everything from 3D renderings to material options — their move to LA from Antwerp, Belgium had them diving into large scale projects immediately, so their workspace had to be malleable. "The strategy was to keep the good bones exposed and just consciously populate them with our own pieces," says Maša. "Today, the space serves a multitude of our needs: We fabricate, package, dance, cook, host, meet clients, draw architecture plans, test new furniture pieces. It's a living space with moving items in it."
The open space warehouse features high ceilings, a built out mezzanine level previously used as their bedroom (now a space for prototypes), a side ground level bay of storage rooms, concrete floors, and a garage door inviting the outside in. "We got lucky finding this spot," Maša shares. "It's the ultimate California bow-string truss construction."
The biggest renovation involved ripping out the old kitchen and replacing it with a stainless steel work kitchen that they painted black. They also added two moveable 8 feet by 8 feet walls as partitions to accommodate different occasions. Much of the space is populated with their own custom furniture and decor pieces. Their most prized possessions include a vase Jon made for his mother years ago, which he reclaimed since she passed. "It reminds me of her, our past, and the great reward in making real objects," says Jon. Maša also loves their Zhu Ohmu's ceramic vase sculpture. Aside from their own pieces, the couple loves to shop at local spots like Stahl+Band, Hammer & Spear, Garde, and Galerie Half. For plants, they love Sanso.
They originally chose the Arts District to be closer to their fabrication teams so that they could spend more time working on the details and supervising the process. They also appreciated the "Wild West" attitude of the neighborhood. "There are literally no sidewalks or road lines on the streets," says Maša. "The neighborhood felt oddly familiar; there was something European and homey about it." Over the past three years, they've witnessed the area in its state of flux. "The Arts District is the one place in the city that truly still feels [like] the manufacturing past of the city, while still allowing a community to grow and reimagine it as their own. From its humble beginnings of artists searching for cheap, large spaces to work to today's development, we see great potential in its ability to capture the rebellious spirit that defines East LA."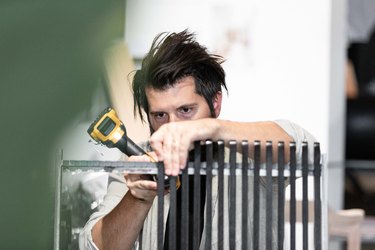 Jon, an architect by training, is the lead designer, while Maša is the driving force behind the business operation and handles clients, fabricators, finances, and press. They collaborate on the design of furniture and spaces together. Every day is different. "One day you spend designing behind a computer, the next, you're negotiating the price of stone in a stone yard and cutting leather for a custom furniture piece," says Maša. Their combined design expertise and European influences set them apart from more traditional design agencies, with a broad range of offerings like interior design, architecture, furniture making, and "creatively rethinking the way in which people dwell."
They became highly attuned to the way a space can make you feel from years of hosting dinner parties for creatives. They pay attention to everything "from light, windows, and flooring to the texture on your switch plates, the finish on the underside of your dining table, or your bespoke sink," says Maša. "It's everything haptic, everything we touch and feel — consciously or not. That's why, in our projects ranging from small objects to large spaces, we work to deliver integrity through a rich appreciation for raw materiality no matter the scale. The same goes for our furniture. It's all about materials, their engagements, and the details of how those come together."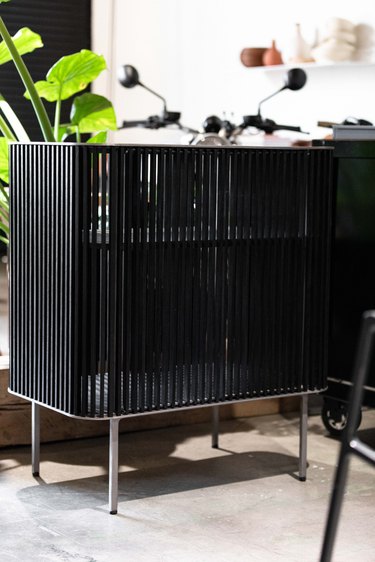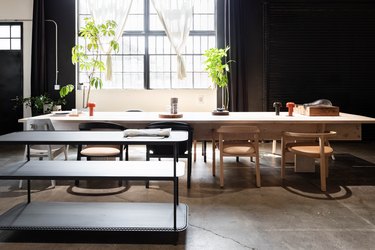 Much of their work is within the hospitality, retail, and residential space. They work for clients like tokyobike, Highly Likely cafe, and Bon Temps, and each one comes with their own unique challenge. According to Maša, "Hospitality is a beast like no other. It's fast [and] highly regulated by the city, but it's also so widely open to be creative in. We are just now working through our first larger residential projects and those are much more delicate, longer processes. They are personal, and it's wonderful seeing your work literally transforming people's lives. The two are very different; I'd say at this point, we don't pull favorites. We love them all." The couple have managed to maintain their distinct style across all of their projects while also satisfying their clients' visions. They attribute that to working with clients who trust and love what they do best. They thrive in the push and pull of collaboration without having to compromise.
Their Klein Home furniture collection launched six years ago in Belgium, driven by their vision of stripping furniture down to focus on materials, performance, and engagement. "We pushed for restraint and worked to find balance and softness in materials," says Maša. The result is the harmony between masculine and feminine, hard and soft, precision and chaos. "We dwell in relationships between materials; there is something calming and elegant in seeing how a heavy metal, translated through a digital 3D model into a computer driven laser, cut and formed, rubs against the handworked simplicity of wood or naked leather."
As they've worked to plant roots in LA over the last three years, they've found a strong sense of community within the LA design world. "It's definitely more open, cooperative, and supporting compared to our European experience," Maša shares. "We love manufacturing in LA. You can make anything here. The industry is here, [and] people are wonderful and open to working through new ideas." For them, it's all about channeling the energy of the city and finding ways to contribute to it with good design informed by quality materials, meant to last.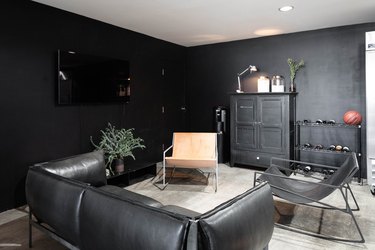 Locals Know Best