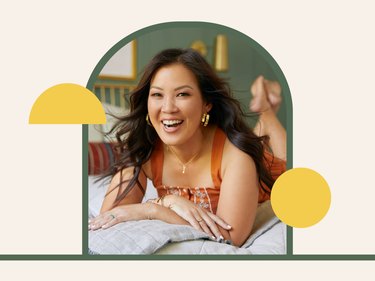 "I want people to renovate for a deeper purpose," says Anita Yokota. "Because for me, it's not just a house. It's a home. But we don't want to just say it superficially. I really want people to own that."
Anita, who is also a licensed therapist, says that she uses "the psychology of intention to design functional homes where we can deeply connect." Basically, she's making therapeutic homes a thing.
In this conversation, Anita shares how she toggles between her two professions when working with clients, and how the professions complement each other.
She believes each of us have different narratives and intentions for what we want our home to be. And so, she teaches her clients how to identify zones in their spaces to create that intentionality and help it come alive.
She is passionate about how therapy helps people to learn how to live authentically — and now as an interior designer, she has an opportunity to show people how to do it at home in a tangible way using home decor and design.
In this episode we also talk about:
When working as a social worker, she was able to use design as a home therapy tool while doing home visits through observation of home environments.
She talks about her Home Therapy Method, which will be a big focus in her book coming out next year, helping people at whatever stage in life they are in.
How people can create healthy environments at home where they can thrive.
How she helps people know their reason ​why​ for when they want to renovate their home, to help ground people and get them through the stressful times.
She shares her own personal "why" behind the big kitchen renovation she recently went through in her home.
She talks about how much of what she learned about design was through osmosis, watching her dad as an architect.
Growing up, she would go to open houses with her dad and mom (her mom was a real estate agent). Design and DIY brought her parents together and was their hobby.
Anita's partnership with her husband – Mr. Meticulous – and the many DIYs they do together. (They're both self-taught DIYers.)
How knowing her husband's Love Language (and vice versa) help them when working together.
The space that she has created in her home that serves as a communication hub and how we all can use our home as a therapeutic setting – and how it relates to something she had growing up.
Learn More About Anita Yokota
If you want to learn more, read more, discover more about Anita Yokota, visit any of these places:
​Being Home With Hunker​ ​is a new podcast where we explore the idea of "home"​ — ​not just as a place where you live, but as an expression of your identity. Each week we talk with designers, creatives, and artists about who they are, how they create meaningful spaces, and what "being home" means to them.​
​If you like what you hear, please rate and review the podcast, hit subscribe/follow, and share with a friend. When it comes to podcasts word of mouth is how most people will find the show. It really does help. Visit​ ​Hunker.com/podcast​ ​where you can find, follow, and listen to our show.​