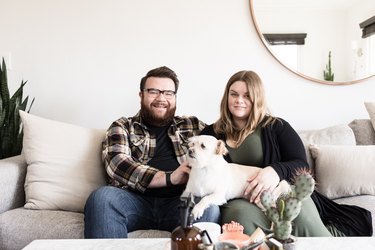 Who: Ashley Hosmer and Matty Sumida
Where: Los Angeles, California
Style: Plant-centric California modern
Lifestyle blogger Ashley Hosmer had amassed a very lengthy wish list by the time she and her husband, Matty Sumida, were on the lookout for their next space. "We were looking for a central place with a washer and dryer in unit," she says. "It had to be dog-friendly, have plenty of street parking, have central AC, and ideally have hardwood floors." Most people would be happy to find a spot with one or two of those amenities and gladly compromise on the rest. But Hosmer, fortunately, didn't have to compromise.
Sumida found a 1,000-square-foot, Mid-City one bedroom that checked all the boxes, although that didn't mean Hosmer was automatically sold. The apartment was beautiful but lacked storage, so she had to be a little imaginative and picture the possibilities. "I started problem solving in my head," she says. "Once I started mentally furnishing, it was game over. We had to get this apartment, and we did!"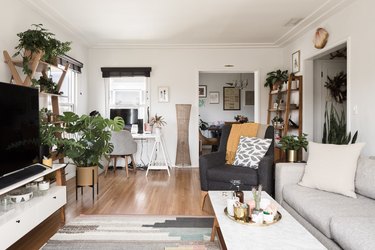 Hosmer, who is the content manager at Nutribullet, and Sumida, who runs digital content at TMZ, also wanted to make sure the home was a good fit for their dog, Mia. "We wanted to live on a street with plenty of grass to walk Mia," she says. "When I saw the street, I started to see what our life could be living here."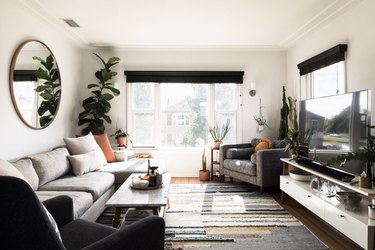 After an initial shopping spree at West Elm for some foundational pieces, such as the bed, sofa, and coffee table, Hosmer focused on adding pieces more selectively. "Matty calls it my design showroom, and he's right," she says. "I've filled our home with plants, blankets, candles, and unique pieces created by women artists." They've lived in the apartment for two years and Hosmer has decorated the space gradually. "In the past I've decorated for the sake of finishing, now I try to take my time and only buy pieces I truly love."
Plants are a huge part of the design. In fact, Hosmer describes the apartment as a "comfortable, plant-centric retreat." Greenery fills every room from the living area to the bathroom. "Every time I haul our plants to the kitchen to water them, I notice what a huge impact they make in the room," says Hosmer. "I feel like our plants make our apartment our home. They add character and just make me happy."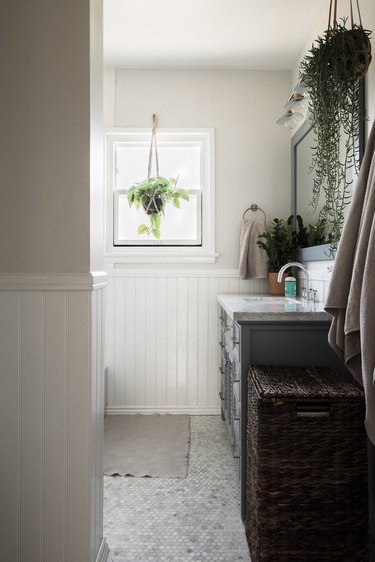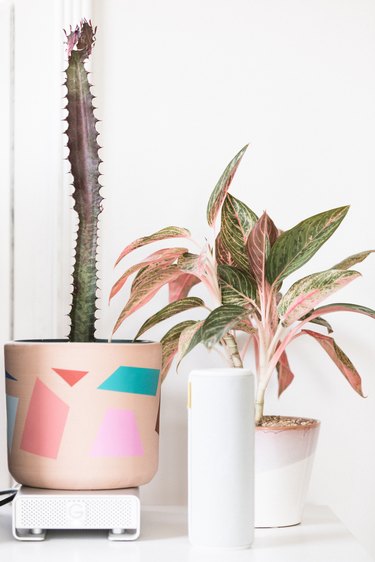 Most of the furniture was purchased for the apartment, but the custom dining table was one piece they kept from their old space. Comfortable seating, perfect for long leisurely dinner parties, surrounds it.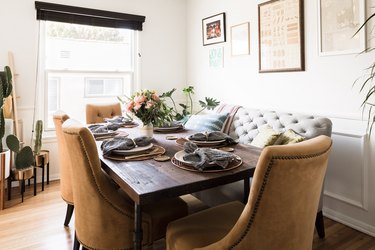 The kitchen is Sumida's domain. "He's also a great cook. He will pour over YouTube, watching cooking videos and come home and prepare a mashup of everything he's watched," says Hosmer, who is the designated cleaner. "He destroys our kitchen and I put it back together. It's a fair tradeoff especially since I can barely boil water let alone cook a meal."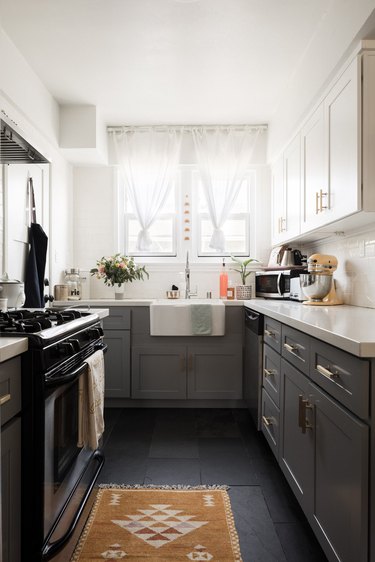 Pops of muted mustard and yellow hues appear in the kitchen and throughout the apartment. The shade adds a sunny and warm contrast to some of the cooler tones that dominate the palette.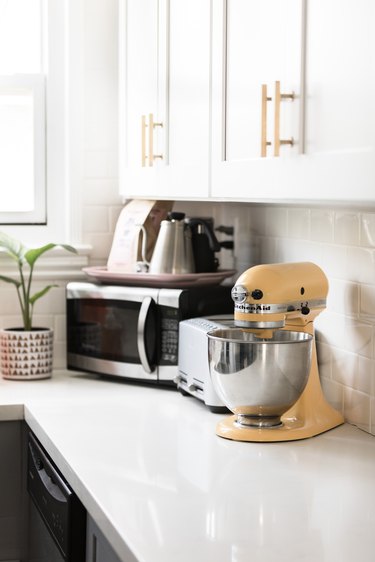 Hosmer's favorite space in the apartment is the bright and airy bedroom. "I wanted our bedroom to feel like a sanctuary." The centerpiece of the room is the custom weaving by Sunwoven above the bed. "I have crystals on both our nightstands and plants taking up space in every corner," she adds. They chose to keep the TV in the living room, so the bedroom feels like more of a retreat and a place to unplug at the end of the day.
The couple has filled the space with things that they love and recently went through a Marie Kondo–inspired purge. "We Marie Kondoed hard after binging her Netflix show Tidying Up and everything that sparked joy stayed and everything that didn't was donated or banished to the garage," says Hosmer. "What's left is a home that sparks joy and is quintessentially us."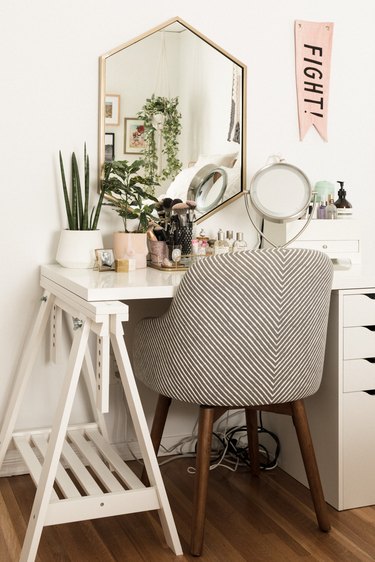 The two self-professed homebodies have created a space where everyone can happily do their own thing — or nothing at all. "We are our most happy when we are home," she says. "Him cooking in the kitchen, me curled up under a blanket on the chaise of our sectional with Mia in my lap, my phone open to Instagram, whatever show I'm binging playing on the TV, and a candle burning."
Locals Know Best
Favorite piece of design or architecture: "We live near LACMA and never tire of driving past the Urban Lights."
Best farmers market: "Mar Vista. It's not as crowded as Hollywood."
Best happy hour: "Petty Cash. It's every weekday and their kale cauliflower nachos are amazing!"
Best cheap and cheerful restaurant: "Joy in Highland Park has incredible food and the friendliest staff."
Best coffee shop: "Highly Likely. I get an iced horchata latte and the seedy granola. It's my favorite breakfast in L.A."
If I were to have visitors, I would take them to: "Los Feliz for brunch at Atrium followed by shopping at Bell Jar, Otherwild, and Skylight Books. Then see an early showing of whatever movie is playing at Vista Theatre, my favorite movie theater in all of L.A. Go and you'll understand why. Then I'd drag them to York Boulevard in Highland Park for passionfruit black tea and scallion bread at Joy and burnt maple ice cream at Scoops. We'd end the day on Fairfax getting the best samosas I've ever had at Badmaash and then head next door to Jon & Vinny's for the spicy fusilli and a glass of orange wine."