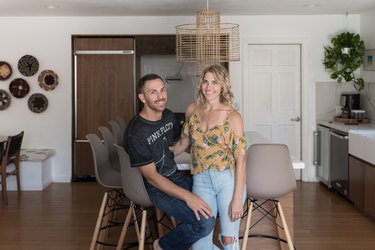 Who: Denise and Andrew Palma, owners of Eclectic Goods
Where: Huntington Beach, California
Style: 1964 modern eclectic ranch
When visiting Denise and Andrew Palma's home in Huntington Beach, you instantly feel like family. The '60s ranch-style home, where they have lived for five years, greets you with its grassy play area framed by a modern wooden fence out front.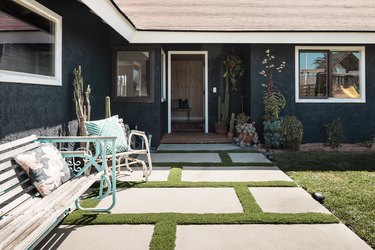 The house invites you in with a handmade wood-planked stoop and an always-open front door.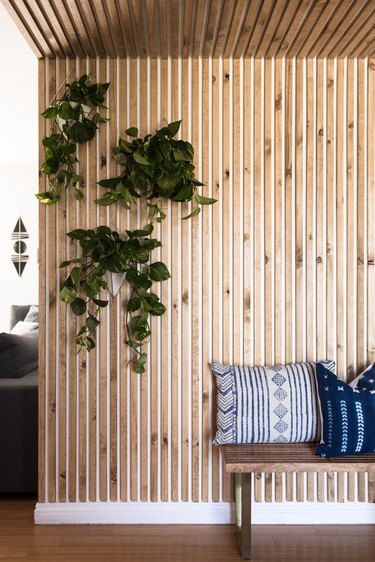 The entry hall continues the pine-strip detail and extends onto the ceiling and walls, flowing right into the open kitchen-family room.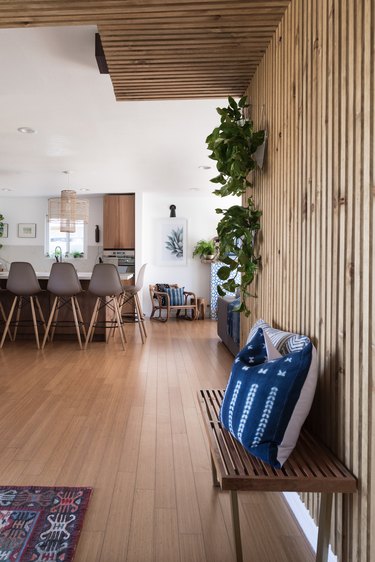 About the unique detail, Denise says, "We wanted something to tie the indoor and outdoors, and Andy, who's super handy, was inspired to do it himself."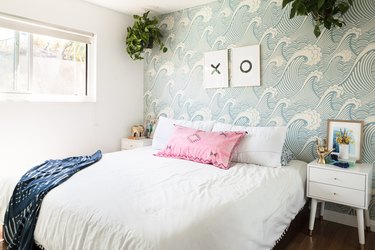 The modern beachy vibe is accented with boho textiles and tones to reflect the couple's lifestyle and work. As the owners of much-loved Eclectic Goods — a furnishing and housewares website and design business — they're all about blending work and family life in style. The couple work from home, allowing both parents to be involved with field trips, classroom duties, and school events. But with four daughters, including a set of twins (plus a dog), keeping balance is a team effort. To say the Palmas make the snug space work is an understatement. "Andy is a minimalist. He is our very own Marie Kondo," Denise shares.
The 1270-square-foot, four-bedroom, two-bath home is the heartbeat of the neighborhood, with kids and friends constantly popping in for a hello or to hangout. One of Andrew's favorite things to do is open the garage door while he's working on a project and greet neighbors as they walk by, all while the kids run in and out doing arts and crafts, "It's an awesome social space. The house is so tiny that we have made every inch of it as livable as possible." Denise always wants the home to be where their four daughters and their pals hang out because she loves nothing more than hearing about their days.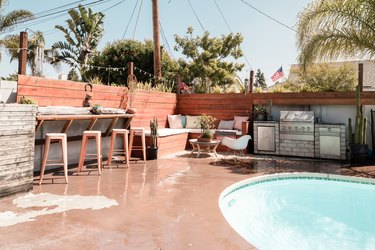 From slumber parties in the garage, to pool parties in the colorful backyard, they are entertainers at heart.
They chose Huntington Beach because it was sort of halfway between Denise's work as a designer in Los Angeles, and Andrew's work in the restaurant business in Newport Beach. In order to spend more time with Denise and the kids, he made the tough decision just over two years ago to leave a well-paying career and now runs Eclectic Goods with Denise. When they found the house (one of three within their budget), they had no idea it would wind up being in the perfect neighborhood for them. "Our kids ride their bikes two doors up and play," says Andrew. "The neighbors are teachers. We walk them to school. There are packs of kids here all the time. It's the best."
The first must-do when they renovated was to tear down the wall between the kitchen and living room. What were once two small spaces, became a great room.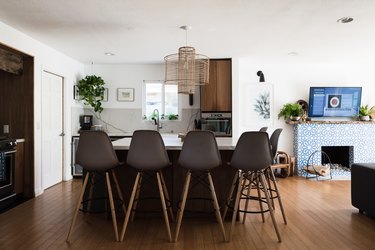 They popped part of the wall out into the garage to create an innovative area for the refrigerator and stove, avoiding the loss of floor space in the kitchen. This allowed them to install a giant island surrounded by six modern stools, bought on Overstock, where everyone congregates for meals and conversation. IKEA boxes finished with Semihandmade slab door and drawer fronts and Daltile's ONE Quartz Calacatta countertops were added, along with some found wood accents.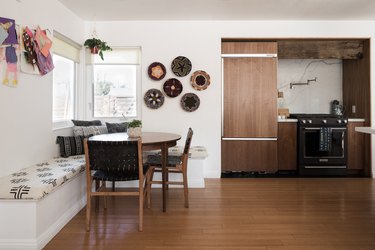 In the corner, they created built-in benches that double as storage in a chic breakfast nook.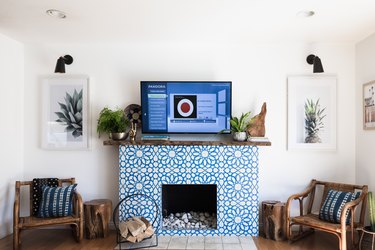 Denise's favorite detail in the house is the fireplace. Where once stood stone painted white, she reimagined it with bright blue-and-white Granada Tile, and for the mantle, added a piece of 100-year-old poplar wood they found at True America Grain Reclaimed Wood.
They also used part of the same wood slab over the stove area in the kitchen.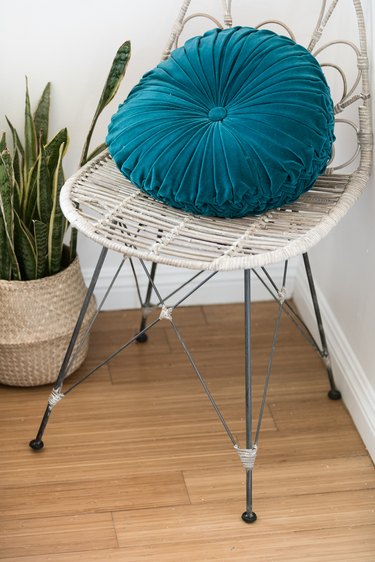 Blue seems to be a favorite accent color for the duo, as textiles and pillows in shades of the hue accessorize the house, and in particular, a roomy and comfy sectional in the living room from Eclectic Goods.
You can see that one-of-a-kind accessories and art each have particular meaning for the couple.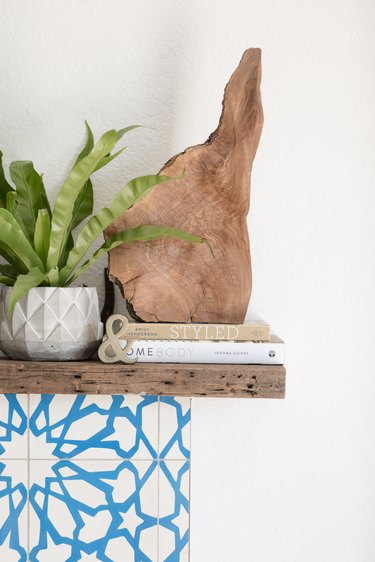 They love to collect meaningful objects that have stories. According to Andrew, their philosophy of decor and artwork is a mirror of their business approach, "Denise has a great eye and she curates some awesome stuff. We decided we would give a platform to local artists and small emerging artists to showcase their work, which differentiates us from a lot of other people out there."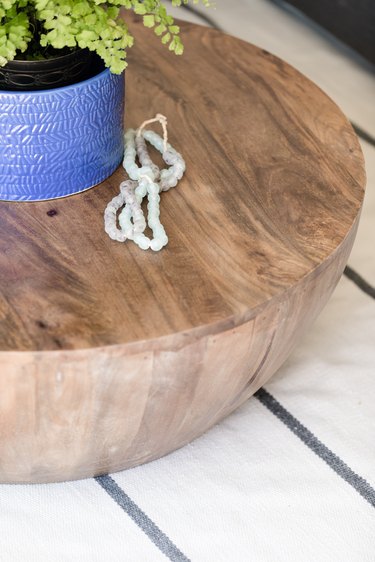 The social media savvy duo (who has 113K followers on Instagram) learned early on how to leverage relationships with lifestyle bloggers to get their brand out there, but it's still a challenge. Denise spends three to four hours a day on this alone, "We do the social media ourselves, and I try to respond to everyone who comments. I want to get to know our base." So, their home is really a place to showcase new work and enables them to keep current. "We're a little quirky. We're constantly changing things around." This all inspired them to create an online design service called Spruce by Eclectic Goods, where clients can rework a single room or rooms with handpicked items and styling tips to keep their homes feeling fresh.
For the Palmas, the crazy journey that has lead to this life is beyond worth it. "We were sitting here the other day and we overheard the kids playing and giggling out front," says Denise, "and we looked at each other and said, 'That's it.' That's the point of all of this. This house is alive."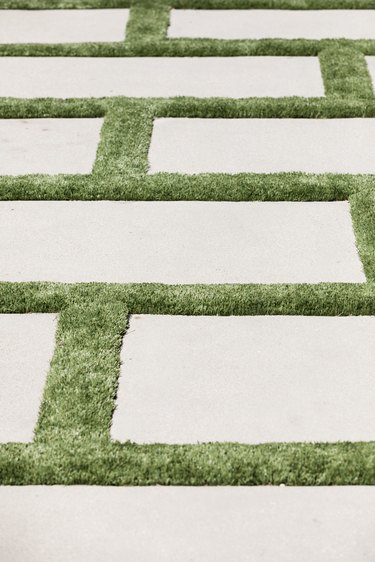 Locals Know Best
Favorite piece of design or architecture: Deane Gardens. Tract of 139 homes in Huntington Beach built in the 1960s by the Deane Brothers with a distinct midcentury style, most of which are still original. "We like to drive through that neighborhood for inspiration."
Happy hour: The Bungalow — "We go here for date night, which we do once a week."
Place to experience art and culture: Downtown LA Art Walk — "We like to go up to LA and explore downtown."
When we have visitors, we take them to: Pacific City; Laguna Beach; Belmont Shores in Long Beach