Hunker may earn compensation through affiliate links in this story. Learn more about our affiliate and product review process
here
.
The phrase "Blue Mind" refers to the calming effect that being near the water has on the brain. If you're wondering how that translates to home design, there's an entire catalog of coastal decor ideas that can evoke a similar sensation. Characterized by natural color schemes, nautical accents, and open space, seaworthy style can instantly transform your dwelling into a zen-only zone.
Now that we've explained how it feels to make your abode emulate an endless day at the beach, here are nine coastal decor ideas to help bring that breezy experience indoors (minus the sand!).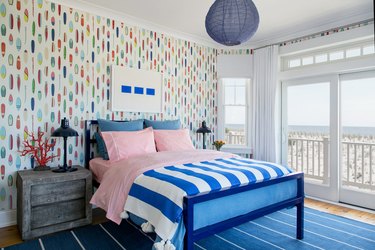 For a straightforward way to achieve the coastal aesthetic, use the color blue. In this Chango & Co. beachy bedroom, the blue-and-white throw blanket complements the bed frame, and a blue-accented piece of art pulls out the navy and turquoise shades in the wallpaper. The striped rug completes the look, creating the perfect coast-inspired space.
The white walls and ceiling in this Pacific Palisades living room give the space a breezy, open feel. Notice how the design achieves even more of an airy vibe from white-on-white layering on the sofa, decorative shelf accents, and large wall art.
3. Choose nautical wallpaper.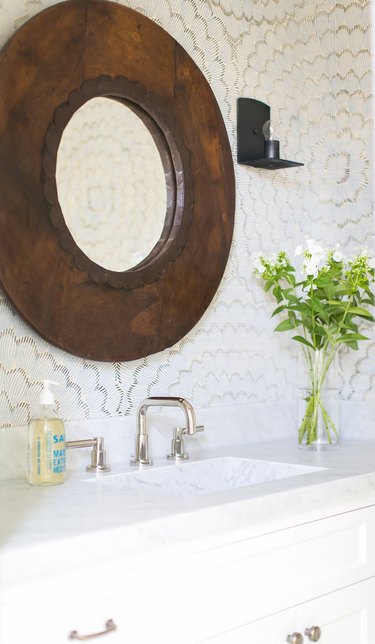 This open living and dining room layout has a simple color scheme — light wood and white with a hint of gray and silver. The inclusion of a shiplap ceiling makes the space feel cozy and warm while giving it a huge dose of character.
5. Work with natural materials.
This contemporary coastal design by Quinn Wyatt highlighted by Home Adore beautifully incorporates various natural materials to make an indoor space feel like the great outdoors. Elements like the wooden walkways, stone walls, and plenty of greenery help turn this gorgeous home into a coastal oasis.
6. Accent with beach-themed centerpieces.
There's nothing like an eye-catching centerpiece to highlight a room. A lot of wonderful things are happening in this Liz Levin living space, but you can't miss the large seashell focal point. Comfy and coastal come together perfectly thanks to the tan sofa, the lively sand dollar throw pillows, and the ocean-inspired wall art.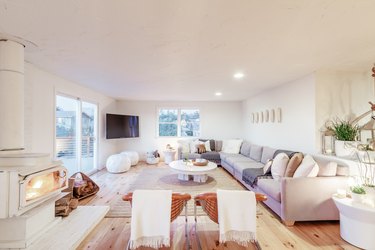 This spacious, coastal family room combines practically all of the neutral tones on the color spectrum, proving that the subtle shades are far from boring. Achieve this chic look with white wall paint and light hardwood floors. Go with a darker sofa, and keep all of the accessories. like the area rug and accent furniture, on the brighter side.
8. Try rattan or wicker — or both.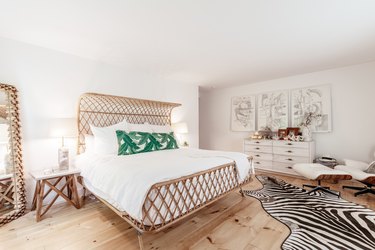 This lovely rattan bed frame plays with beautiful coastal textures. It's light and natural but strong enough to be paired with more bold decorative choices like the zebra-striped area rug. Also, because the frame is such a dynamic piece on its own, you can go with a simple white bedding set and decorative pillows to add a splash of color.
9. Install glass doors for a more spacious feel.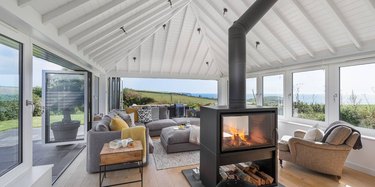 Looking for a way to virtually combine the indoors and outside? Consider installing sliding glass doors like the ones in this Woodford Architecture design spotted at Home Adore. Not only do glass doors offer the best views, but the transparent portals instantly brighten up a room and create the illusion of more space.