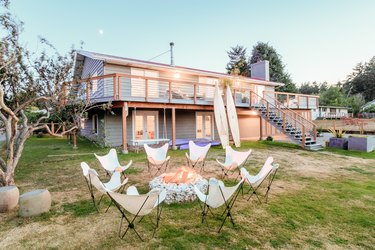 Who: Heather Pollock, interior designer and owner of Conservatory Coastal Home
Where: Port Townsend, WA
Style: Modern Beachside
Heather Pollock's life has (mostly) been a beach — after growing up in Marin County, CA, the interior design maven ultimately relocated to a beachside property in Port Townsend, WA, where she also runs a seaside-inspired lifestyle store called Conservatory Coastal Home. And her love of local terrain — which is part-ocean, part-forest — is what her home is all about. We talked to Pollock about her design style and inspiring home.
Hunker: How would you describe your style?
Heather Pollock: My style is a little "modern beach farmhouse." I appreciate the clean-lined aesthetic of modern contemporary design but I like to soften it up by adding heirlooms, vintage artifacts, art, and natural elements. At my shop, my description is "modern and vintage seaside luxe."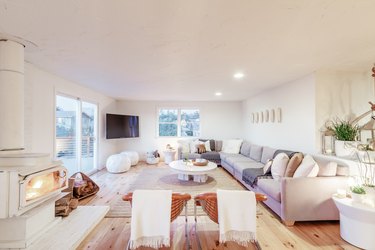 In the houses I have lived, I feel it is important to draw from your natural environment and so my design style reflects my location and surroundings. I love to bring the outdoors in and search for natural elements around me and incorporate it into my decor. Here in the Pacific Northwest, I can incorporate the unique elements of both woods and sea.
What is your favorite room in the house?
The main space is where we all seem to be a lot of the time. The kitchen flows into dining room and into living room. Sometimes the kids play their music and we have a dance party in here. Sometimes the whole kitchen is overtaken with a big craft project or the dining table is consumed by a school project We cook and have dinner parties often. In the summer, all the doors are open and we have bonfires in the big oyster shell fire pit outside.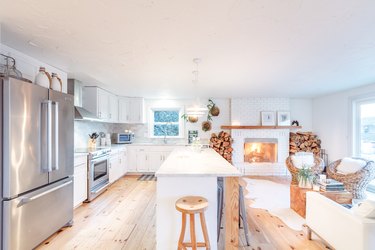 Tell us a bit about your home's surroundings.
I live in a place on the beach, but surrounded by mountains and the Olympic Rainforest. I also have chickens and my own little farm-to-table-style garden outside, so I think of myself as a bit of an urban farmer.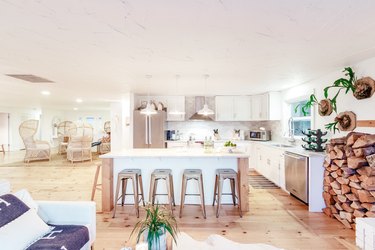 Who lives in this house?
I live here with my two teenage boys ( 13 and 15 ). We have 2 little Havanese dogs (Aggie and Bay), 12 chickens, and two rabbits that all live together in the chicken coup.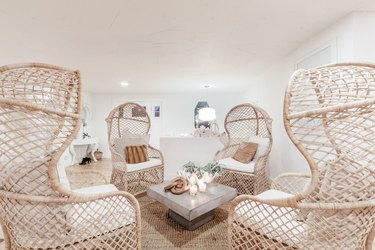 What changes did you make to the house?
The house is 4,800 square feet and needed a lot of work. A "facelift" would be an understatement. I haven't left any part of it untouched, but I saw potential through all the superficial paint and wallpaper and extra walls that could be torn down.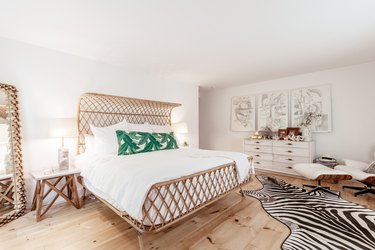 First, I took out the non-supporting walls in the main room to open it up — now, when you walk through the door, it's light and airy and you can see the water. It had been very choppy and compartmentalized. And there were a lot of paint colors. Painting everything white was so refreshing: the ultimate whitewash.
What aspect of the renovation was non-negotiable for you?
A fresh coat of paint and coordinated flowing flooring. I did the whole house in pine, which is inexpensive but still has a lot of dimension. On a budget, it was a way to afford to do a lot of square footage — it's soft though, so you have to like an increasingly rustic look.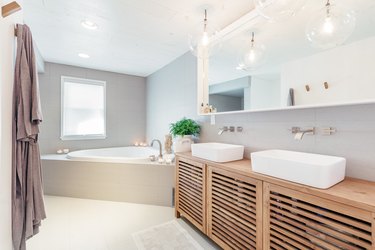 How did you go about decorating the place?
I always think of my ability to change seasonally when picking furniture and the parts that will stay year-round. I tend to go more neutral with paint and furniture and change the pillows and throws and arrangements seasonally. I would say I am drawn to minimalism but I'm finding the layers that tell a story more and more important.
I shop at my own store quite a bit and I have favorite brands that I carry. The puffer fish wallpaper in the bathroom is from my friend's company Abnormals Anonymous. In that same bathroom is a shagreen mirror from Made Goods, another brand we carry. My sectional downstairs and the leather poufs are from Cisco Brothers In L.A. I also like to work with local craftsmen to create unique elements that you can't find in the box stores. My solid wood cube side tables and coffee tables were milled at my friend's wood mill.
How does the home reflect who you are?
I am first and foremost a mother. Someone once told me the way to keep an eye on your kids and keep them safe is to make your house the house where their friends want to hang out. So, we have Apple TVs, games, and a pool table. I never wanted to have the museum-style kind of house where you can't touch anything, so I keep it kid-friendly.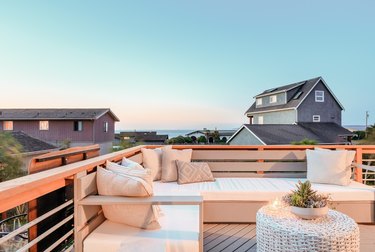 And also, I think I have a bright and cheerful personality and I think my house is a happy place.