Patio doors separating the interior of your home from the exterior are not only functional -- they brighten up the room and can become a focal point to outdoor living spaces. Most homes come equipped with patio doors made from sliding glass. These doors consist of two glass panels and a screen that glide along tracks when opened or closed. Although sliding glass doors function adequately as patio doors, they can look plain. Fortunately, several alternatives to sliding glass patio doors are available to divide the inside of your home from the patio in an unconventional way.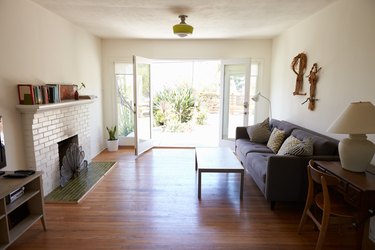 Double French Doors
Ooh-la-la! Consider replacing sliding glass patio doors with French doors that open and close on hinges. These double doors add aesthetic value to a house while encouraging air flow when both doors are kept open. French doors are also customizable and can be made to fit any height or width of door opening. Typically, French doors provide above-average insulation due to their double-glazed glass. As a result, French doors prevent heat or air conditioning from escaping the home while at the same time keeping patio noise from drifting inside. Select French doors that contain restrictor hinges to minimize slamming. Although French doors can cost more than other styles, they create an elegant way of separating your home's interior from the patio outside.
Center Swing Patio Doors
These doors closely resemble French doors, but one door remains closed while the other swings open. Center swing patio doors are a good option for those who enjoy the aesthetics of French doors but cannot afford them. These doors also save wall space near the stationary door, allowing homeowners to treat it like a large window. Placing a table, plant or seating arrangement by the fixed door allow you to take advantage of the light. Center swing patio doors can benefit homeowners who desire greater control over how much traffic moves between the house and patio. Many center swing patio door sets also come with a sliding screen that encourages air flow while keeping pests out, making these doors a suitable alternative to traditional sliding glass patio doors.
Accordion Doors
Also known as bifold or concertina doors, accordion doors contain glass panels that are connected with hinges. As with an accordion, each panel folds over the other when the doors are opened. Although accordion doors are commonly used for closets, they can provide the same ease of access when installed between the patio and house. Made from glass, accordion doors possess a flexible, vinyl seal that allows each panel to move smoothly. Because each panel folds over the other, accordion doors do not obstruct the adjacent areas. Furthermore, accordion doors stay in place once folded, decreasing the chance that someone might injure their fingers by a slamming door. An effective replacement for sliding glass patio doors, accordion doors provide easy, unobstructed access between your home's interior and patio.
High-End Options
Most glass doors can easily replace the current doors with no additional construction to the home. Glass roll-up doors require a bit of interior work, making them one of the more expensive options. Glass roll-up doors are garage style doors that often take up more room than the original door frame. They create a wall of windows that can be lifted for indoor-outdoor living. Pivoting glass panes are another option for those willing to jump into a home improvement project. Like glass roll-up doors, the doorframe will need to be altered to fit the panes. Pivoting panes open inward, pivoting the whole frame forward, and creating a solid wall of one or two windows when closed.