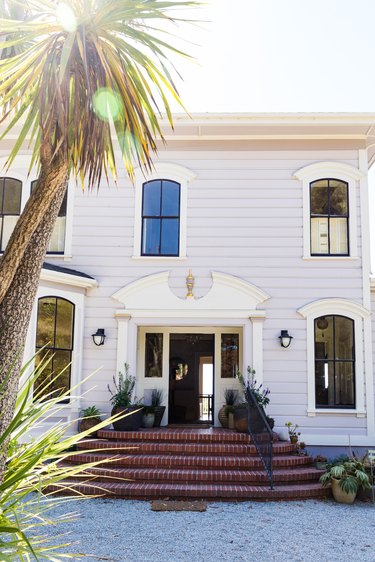 While most people would understandably shy away from snapping up a century-old home glimmering with gold valances, wall-to-wall green shag carpeting, and peeling damask wallpaper, Camille Mason and Bill Charman never flinched when they discovered their future Italianate style home in Santa Cruz, California. "It was like plantation meets high '70s," says Mason. "It had such a nice feel to it." While it's a major departure from a traditional beach cottage, the couple ran with it. "It was funky, charming, and cool. We knew we wanted to renovate and retain some of the old lady charm."
The couple named their new home The Oceanview, which they rent out for weekend getaways and events. The historic property was dubbed so for both the street where it's located and its proximity to the park at the end of the cul-de-sac.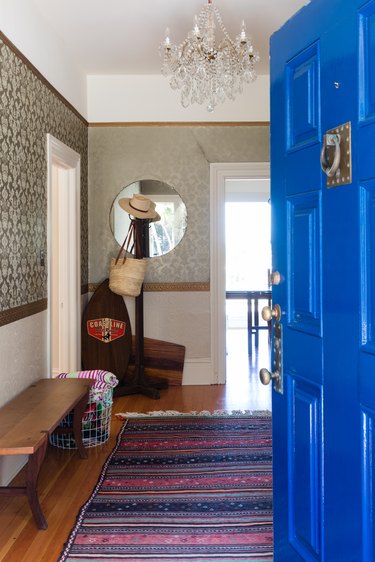 The entryway, with its bold cobalt blue door, offers a hint at the home's overall vibe: A subtle Wes Anderson nautical nod meets granny-chic. That peeling metallic damask is matched to a white embossed wallpaper, and the dining room's original ornate crystal chandelier sparkles overhead. The creaky old staircase is time's artwork, with its chipped abstract black and white paint. For all its tattered elegance, the scene is balanced by casual vignettes of flip flops, skimboards, and baskets loaded with beach towels.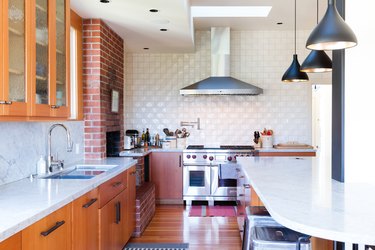 Charmed by the home, the couple wasn't eager to disrupt the original character or the floor plan. Instead they opted for minimal changes with big impact to amp up the communal, circular flow around the kitchen, dining, and back-to-back living rooms. By knocking out a wall that blocked the kitchen from the dining room, they connected the two spaces with a roomy island. In the kitchen itself, the couple tore out all but the original brick and wood burning fireplace, making room for dozens of cabinets and drawers, as well as dual dishwashers to make entertaining a cinch.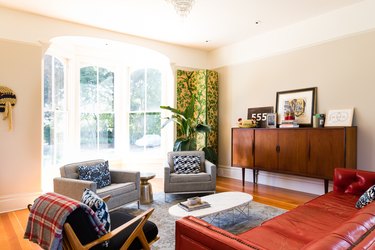 The living room features an eclectic mix of modern and midcentury pieces, including a pair of vintage club chairs that Mason purchased from a friend.
While incorporating splashes of granny charm was non-negotiable, the home's proximity to the sea called for less obvious nautical moments. These are gently woven in via white paint and tile, pops of red and blue, as well as vintage artwork and accessories. But in the cozy office niche, Mason couldn't resist a heavier hand. She curated a mini gallery of kitschy sea captian cross stitch tapestries. Also in the mix, a collection of found vintage Jacque Cousteau books that fill a shelf of the built-in floor-to-ceiling library shelves.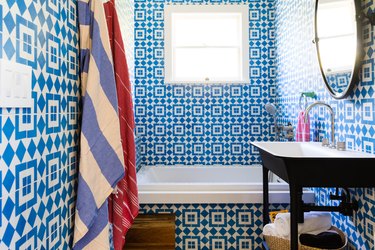 The sole first floor bathroom harkens back to the front door hue, where bright blue Moroccan tiles line the walls and a soaking tub. "I love, just love that tile," says Mason. "It's happy and beachy, a place where you can come and hang your swimsuit to drip dry." The sleek black Zucchetti Kos washbasin — a floor model she stalked at a bath shop in Oakland until it was marked down — offers a modern counterbalance to the playful tile.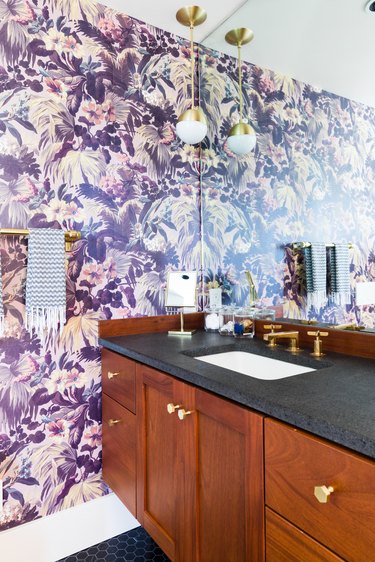 The master bathroom was treated to a dramatic leafy purple House of Hackney wallpaper, and a spacious double shower with a window that pops open to the balcony.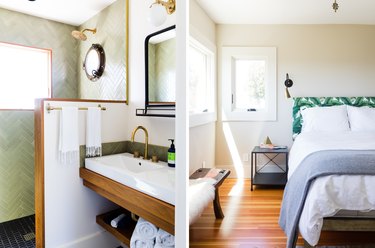 In the guest bedroom across the hall, Mason also paid tribute to her grandparents' Palm Beach home by choosing a banana leaf upholstered headboard. The adjoining bathroom is home to another magical nautical moment, where jade green tile and teak wood conjure sailboat decor. To match the brass fixtures, nothing less than a coordinating porthole wood do. Luckily, Charman scored one on eBay.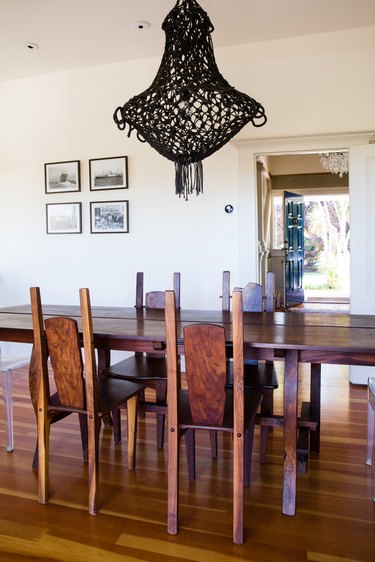 "It's never done," says Mason. "That said, every time we spend time there we feel like we accomplished what we set out to do, [which was to] create a relaxed, charming, and easy house that's curated but not fussy. When we get notes from guests who have spent meaningful time with families and friends there and tell us how the house was an integral part of their experience, we feel like they get it."