Things You'll Need
Whipped Laundry Detergent

Mixing Bowl

Blender

Water

Rags

OxiClean

White Towel
Tip
Use both methods to get the couch back to its original white if one method is not enough. Use the hand attachment for a carpet cleaner to suck up the extra soap and water in your couch. Woolite makes a whipped laundry soap and is very gentle on fabrics. It makes a good choice for cleaning white sofas.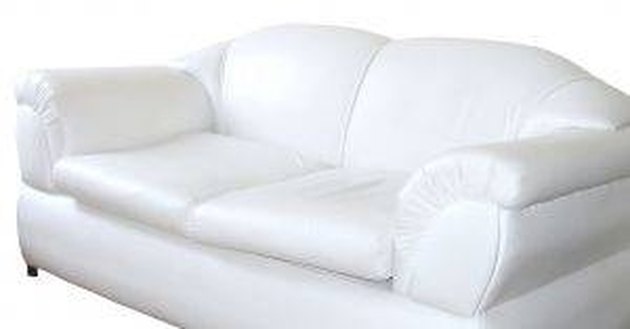 White sofas can be much harder to clean than colored sofas. This is because all of the dirt shows up on a white sofa. You can choose to have your white sofa professionally cleaned, but that costs between $100 and $200. It really isn't necessary to pay for something that you can do yourself. There are a few cheap home remedies that will remove the dirt and stains from your white sofa.
Step 1
Purchase a box of whipped laundry detergent. Use the scooper that comes with the box and place one scoop in your mixing bowl.
Step 2
Add one cup of water and mix with the blender until the mixture begins to look whipped.
Step 3
Take your bowl over to your couch and use a rag to apply some of the whipped laundry detergent to the areas of the couch that need cleaning. Rub in a circular motion.
Step 4
Take a second rag and soak it with plain water. Ring it out and begin going over the areas you used soap on to get the soap residue off.
Step 5
Dry your couch by turning on a few fans and point them at the couch.
Step 6
Buy a bottle of OxiClean Laundry Stain Removal. This is sold at almost all grocery and department stores.
Step 7
Spray the stain removal on a white towel. Don't use any other color towel as the dye in the towel can run and then give your couch a new stain.
Step 8
Gently press the towel with stain removal on to the areas of the couch you are having trouble with. Some people use it on their whole couch to get it looking like new again.
Step 9
Get a second white towel and soak it with plain water. Ring the towel out and then use it to get up any stain removal residue.
Step 10
Use some fans to dry the couch off quicker.
---

Alicia Bodine
Alicia Bodine has been a professional writer for 13 years. She has produced thousands of articles for online publications such as Demand Studios, GoBankingRates and WiseGeek. Bodine is passionate about gardening, travel, education and finance. She has received awards for being a top content producer.