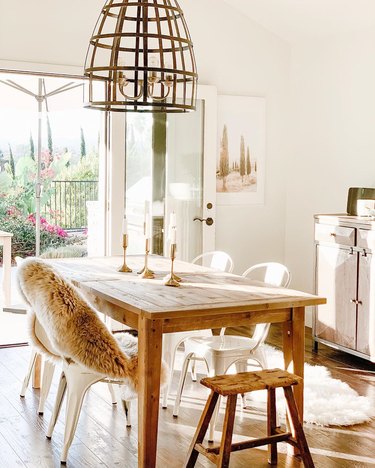 Gatherings in the dining room can conjure up some of our most special memories: holiday dinners, evenings with the book club, Sunday morning brunch ... the list goes on. While we can't always remember the exact details of what we ate or why we were all gathered in the first place, it seems that we always remember the way the evening felt: the candles glowing in dimmed light or the flower arrangement we plucked from the garden sitting amongst a group of family and friends.
1. Add color with fresh fruit.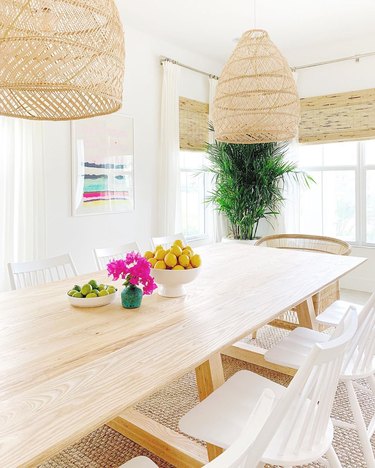 This low maintenance dining room table centerpiece by Shira Caplan is a foolproof way to add color to your neutral decor. Simply add bowls of varying heights and sizes with fresh fruit (lemons, limes, and apples often work great!), and a small bud vase for an additional pop of color.
2. Play with scale using an oversize vase.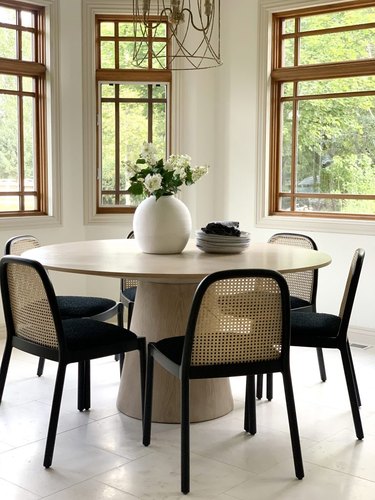 This modern dining room by the bloggers behind Chris Loves Julia is a great way to play with scale, thanks to an oversize vase and a simple flower arrangement. To bring this look into your own home, keep the vase and florals neutral for a final look that feels sleek and streamlined.
3. Use foliage in place of flowers.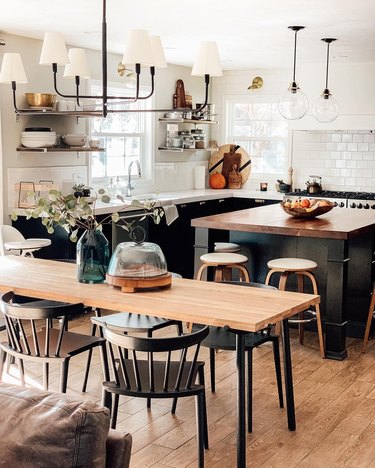 In their previous home, Chris and Julia opted for cut foliage in a colored glass vase for a slightly more relaxed, casual style. This look works great against black and wood dining room decor for added texture and color, and the branches can easily be swapped in and out depending on the time of year.
4. Give a nod to the season.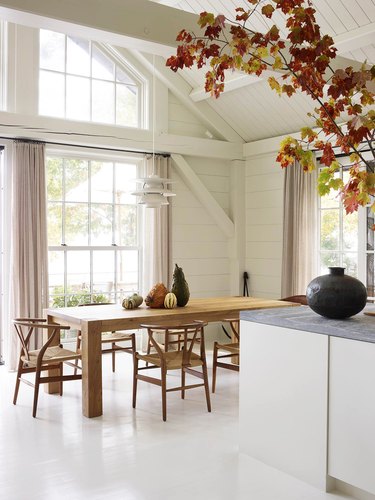 5. Keep it minimal with sculptural pieces of decor.
Dining room table centerpieces don't always require buying something new. This look by Chelsea Hing shows how to arrange everyday home decor for the table, creating a striking finished look. To recreate this idea, make sure there's a balance of varied heights and sizes, while also keeping enough in common between the pieces for the look to feel cohesive. In this case, all of the pieces are a similar, modern style, and two of them even share gold details.
6. Style in groups of three.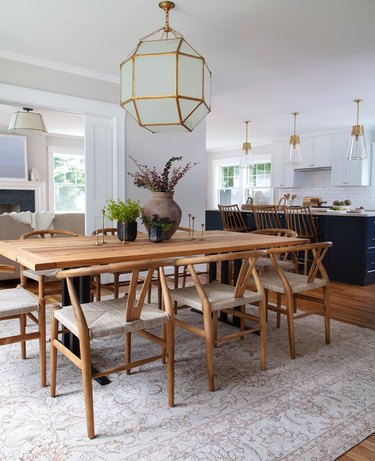 If you have a grander dining table that requires a large centerpiece, try a decor trio. Here, Meg McSherry shows us how to combine a group of three leafy arrangements to make a cohesive statement, by using a variety of vases and planters but keeping the texture and plant style consistent. Finish the look with scattered tapers for additional light and ambiance.
7. Use planted moss for a long-lasting solution.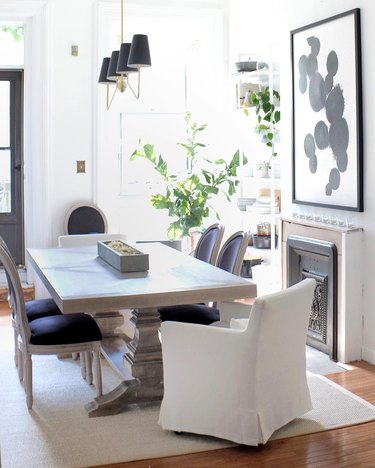 If routinely swapping out plants and flowers doesn't sound appealing, but you still want to incorporate something green into your dining room centerpiece, take a leaf out of Alaina Kaczmarski's book with an oversize moss planter. To get her dining room look for your own space, pair white, slipcovered chairs at the head of the table with black Louis style chairs for a collected style.
8. Display a mixed floral arrangement.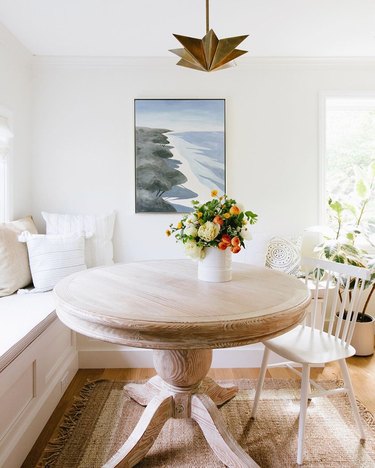 Cassandra Lavalle reminds us to get back to the basics with this simple, seasonal floral arrangement in her sunny dining room nook. Choose a variety of warm, colorful blooms to brighten up otherwise neutral dining room decor.
9. Keep it simple with long tapers.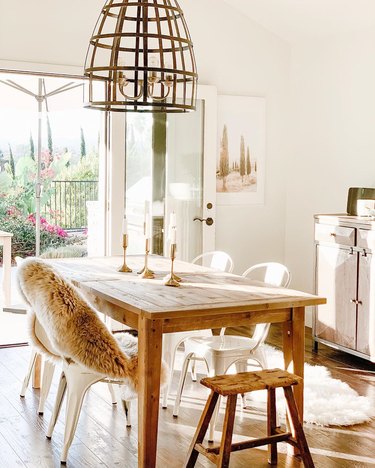 This pared down dining room table centerpiece from Michelle Janeen is a perfect example of "less is more." A group of simple, gold tapers elevates a minimal space just enough to make it cozy and inviting. To recreate, pair a rustic wood table with white metal farmhouse chairs and a warm sheepskin for added texture.
---
Caitlin is the former social media manager and staff writer of TheEverygirl.com in Chicago, now working as a freelance writer from her laptop in New Zealand. She loves soulful, collected interior design that feels like a warm hug, English Breakfast tea, and trips to the theatre.