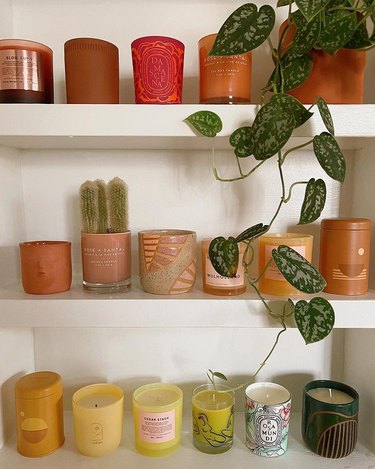 It's no secret that scents can transport us to a specific moment in time or help us escape (if only temporarily). There's a science behind the power of scents, too. According to research, one of the quickest ways to boost your mood is through your senses.
And as we continue to stay put at home amid an ongoing global pandemic, candles — from scented to taper, pillar, votive, or tea light varieties — have become a staple in our homes. Whether you use them to create a cozy ambiance or as decor, candles are having a ​moment​.
We've rounded up a few different ways that people are using them to style different parts of their home. Happy decorating (but don't forget to never leave lit candles unattended)!
1. Make them part of your WFH setup.
For starters, @thishouse5000 is showing us that you can elevate your desk space to the next level with the simple addition of pillar candles. They're not just centerpieces for your dining room table — you can also incorporate them into other corners of your home. The squiggly white candleholders paired with black pillar candles here are simple yet a perfect touch to a minimally styled workspace.
2. Get creative with color.
If you're not a fan of neutral shades, you can absolutely style bold and bright candles around your home. Alexandra Berrocal proves that bright-colored candles and abstract candleholders just ​go together​. (More on the rise of uniquely shaped candleholders here). Berrocal's candle styling tricks also illustrate how easily you can add a pop of color to your space without going overboard or committing to a larger piece of furniture or decor.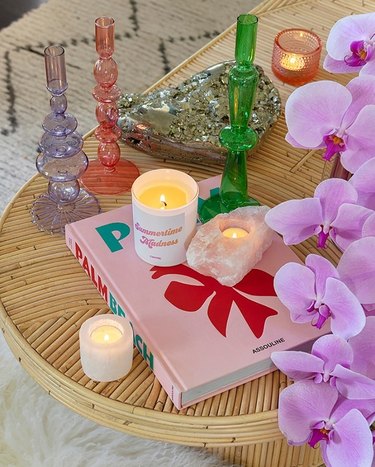 We love how @empirehomewares grouped these complementary decor pieces together. We're totally here for the various sizes, shapes, and textures of tea light candleholders — and yes, we're especially swooning over the one shaped like a crystal. It adds the perfect touch to this coffee table setup.
4. Give color coordinating a spin.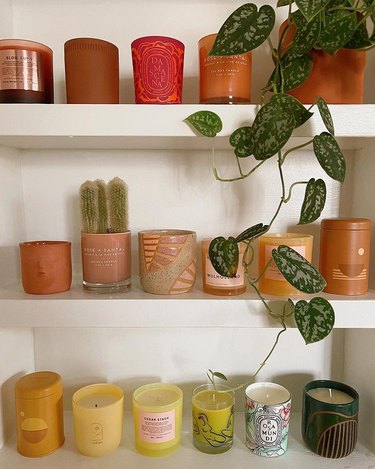 If you still want to add a pop of color to a room with a more muted color palette, take notes from @ashleyhosmer. "I saw this built-in cubby and immediately envisioned a color-coordinated display of my candles," Hosmer writes in an Instagram post. Don't be afraid to try this out in other parts of your home such as your bookshelves, a kitchen windowsill, or a decorative tray.
5. Elevate your reading nook.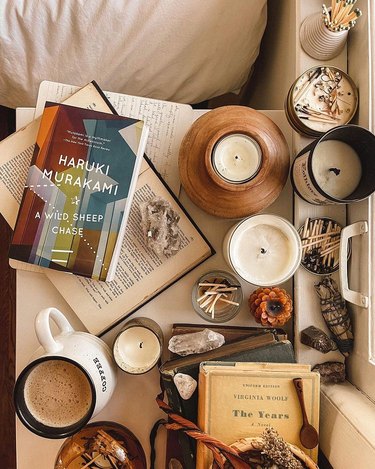 This one goes out to all the bibliophiles who love to cozy up with a good book and a good candle. @devourerofstories is the queen of book flat lays using candles, matches, and other bookish objects to style them. Incorporate some of these styling tricks to create the coziest atmosphere for your reading nook.
6. Get creative with your fireplace.
No firewood? No problem. Another great candle styling tip from Hosmer comes in the form of replacing the fire in your fireplace with some pillar candles. Adorning a non-working fireplace with plenty of candles not only elevates your space and gives it a homey and rustic decor vibe but also makes use of a corner of your home that might otherwise go ignored.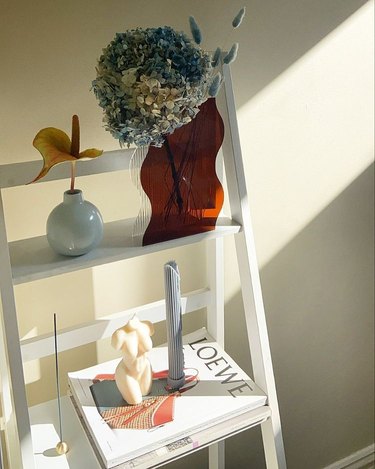 You don't have to go over your budget looking for the perfect sculptures and decorative objects to style your home with. Instead, you can just buy them in the form of candles (#lifehack). We're swooning over @jennfluri's dreamy setup of artsy candles and vases.
8. Zhuzh up your bookshelves.
If you'd rather keep it simple and only add minor styling touches using candles in your home, then look to Janea Brown for inspiration. Opt for larger candles with multiple wicks to pair with smaller ones and add variety to your shelves.
9. Don't forget about your bathroom.
At this point, it's safe to say that @thishouse5000 is a pro at styling candles. Not only are the candleholders used here swoon-worthy, but they're perfectly clustered together without distracting us from the rest of the decor used in the bathroom. Next time you run out of counter space for candles in your bathroom, give the lid of your toilet tank a little extra ​oomph.​