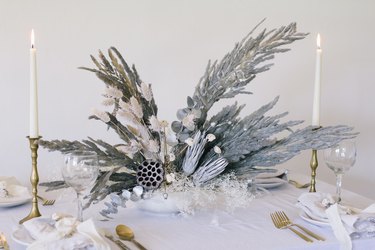 Pampas grass being the "it" plant of the internet, we simply had to work it into our holiday decor this season. We took things up a notch by painting our plumes silver to make them oh-so-sparkly. Paired with an assortment of other dried florals (also painted), we created a stunning centerpiece that shimmers beneath the glow of candlelight. It's a far cry from the traditional red and green or plaid motifs that we see this time of year, but the metallic palette works beautifully for either your holiday table or New Year's bash — and because nothing requires water, it can certainly pull double duty for both occasions.
Step 1
Lay your assorted flowers on top of a drop cloth or newspaper and spray paint them. We gave the bunny tails two coats of white paint, and everything else got two coats of metallic silver paint followed by two coats of silver glitter paint. Be sure to paint both sides, and allow at least 10 to 15 minutes of drying time between coats.
Note: We didn't paint the sola flowers or baby's breath.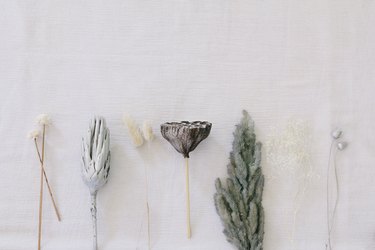 Step 2
While your flowers are drying, use wire cutters to cut a small piece of chicken wire (about the size of a sheet of printer paper), and then shape it into a loose ball. Place it inside your vase or bowl, and then secure it in place with tape. We prefer chicken wire over floral foam because it's reusable and more environmentally-friendly.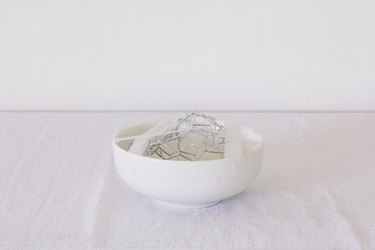 Step 3
Start by placing your pampas grass stems into the chicken wire to create the overall shape and outline of the centerpiece. To give it movement, we cut some stems shorter than others and placed them asymmetrically to vary the heights.
Step 4
Add your "bunny tails" next, concentrating them on the left side of the arrangement. Since the stems are so thin, they'll wilt to the side, but that's the exact kind of organic movement we're going for here.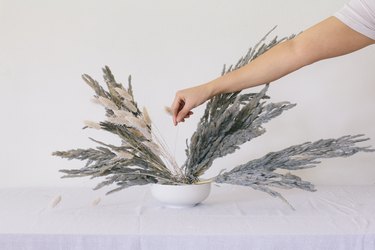 Step 5
Next, place two protea flowers on the right side and one lotus pod on the left side, cutting the stems short so they'll sit low in the vase.
Step 6
Cut one eucalyptus stem short and place it so that it drapes over the left side of the vase. Leave the other eucalyptus stem longer and place it vertically in the center so that it drapes toward the right side.
Step 7
Place short bunches of baby's breath all throughout the bottom of the vase to cover up the chicken wire, and to add volume and depth in the center of the arrangement. Allow it to drape organically over the sides.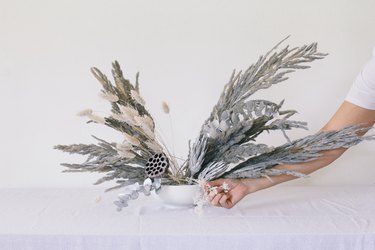 Step 8
For some extra sparkle, add tiny centaura pods throughout the arrangement, hanging some low over the sides of the vase and placing some vertically. Allow them to bend and curve naturally.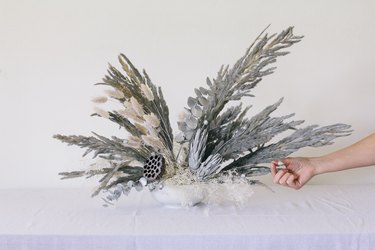 Step 9
Finish off the arrangement by cutting the stems short on a few sola flowers and placing them to fill any gaps in the center.
You're all set to enjoy your sparkly pampas grass centerpiece all holiday season long! Don't forget to 'gram it, obvs, and please tag us @hunkerhome.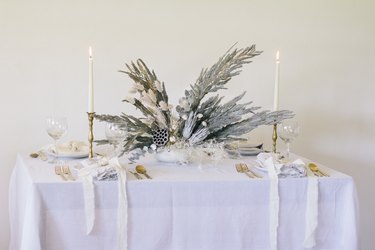 Pssst ... as a sweet little bonus, tie a few leftover stems with ribbon and place them on top of each place setting for an extra special touch.