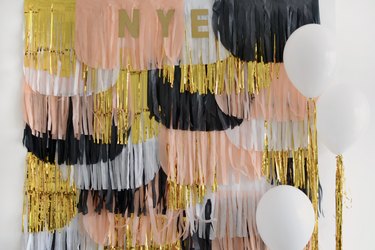 We believe that every memorable New Year's Eve party contains two essential ingredients: sparkly decorations (the bigger, the better) and a festive spot for staging those ubiquitous Instagram selfies.
This do-it-yourself tissue paper backdrop is fun to make for any occasion, but when you add in some metallic elements, it's perfect for a NYE celebration. Be ready for your guests to continue snapping away long after the countdown. Would it be so wrong to leave it up all year long?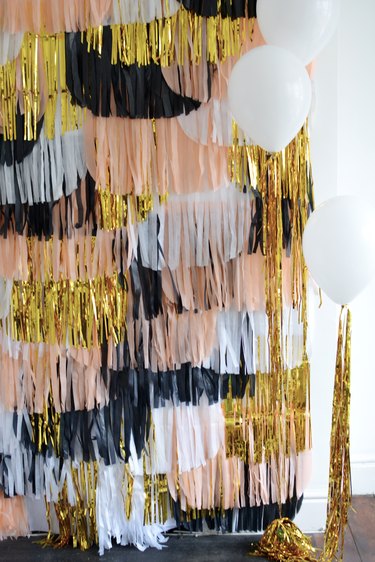 Things You'll Need
Tissue paper ( 20 sheets of each color )

Scissors
Tip: We found using four or more tissue paper colors works best for this type of backdrop.
Step 1
Fold the tissue paper sheets in half, from top to bottom, and then from left to right.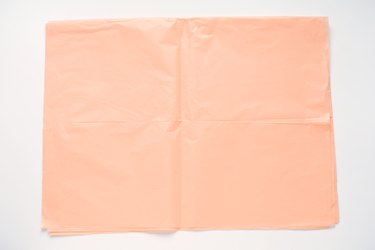 Step 2
Curve the bottom edge by trimming it with scissors (when it's unfolded it will become a scalloped shape.)
Step 3
To create the fringing, cut long strips into the paper. Cut from the bottom curve upwards and stop roughly one inch from the top.
Step 4
Unfold the tissue paper to reveal the scalloped fringe.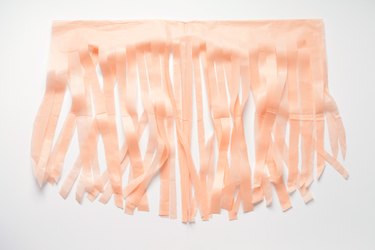 TIP: Tissue paper is so thin you can stack together five to 10 sheets at a time rather than cutting them individually. Just remember to separate them after cutting.
Step 5
For the sparkly metallic shapes, we cut sections of gold party fringe into the same shape as the tissue paper.
Step 6
Start building the backdrop by attaching the fringe onto the wall in overlapping rows using the Blu-Tack. (Tissue paper is so light Blu-Tack works perfectly and won't damage any paintwork.) Start from the bottom of the wall and work your way upwards, layering one row over another.
Alternate the color placement in each row to avoid creating big blocks of similar colors.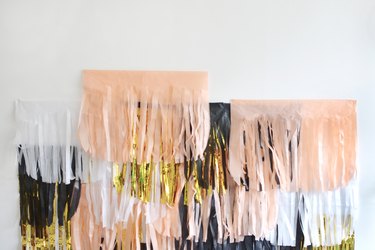 Keep adding rows until you reach the height you want. The backdrop in this tutorial is eight feet high.
For some extra NYE shimmer, decorate balloons with surplus gold fringing and hang a New Year's Eve banner (buy one or simply make one from glitter cardstock.)
2020, it's gonna be a good year!