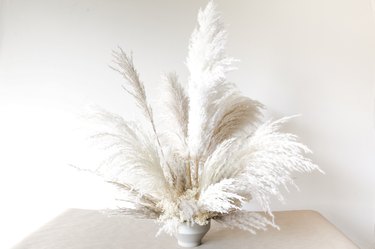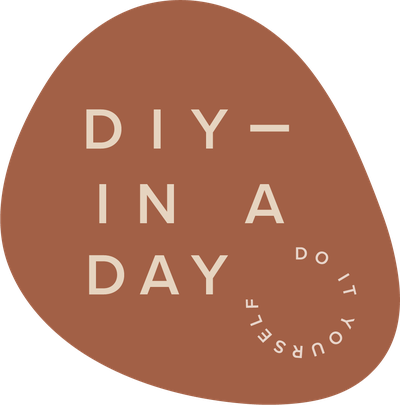 DIY in a Day brings you step-by-step instructions for easy projects that will spruce up your space — within 24 hours (or less!).
Pampas grass has been creating quite a splash in the flower and design world for years now. Whether you've seen it featured in an editorial spread or on Instagram, one thing's for certain: nothing gives off that effervescent flair quite like pampas. If you want to give your space a breezy boho vibe, here's how you can create a stunning statement arrangement featuring a variety of grasses (with some other dried bits, too). The best part? There's no water needed in working with these materials, so this beauty will last you forever.
Step 1
Prep your vase by cutting a piece of chicken wire and shaping it into a ball. Make sure to leave it stretched enough to allow the thick stems of pampas grass to be inserted. Using clear tape, create an "X" over your ball of chicken wire to secure the wire in place.
Step 2
Now, start adding your pampas grass. I used three different varieties to give this piece lots of movement and texture: a light-hued and fluffy variety, a bleached variety, and a taupe-colored kind. Starting with the fluffiest kind first, place your stems to outline the desired shape of your arrangement.
Step 3
Next, take your second variety (I used the bleached stems next) and add them to your vase. To get the most out of your stems, take a long stem and cut it halfway down. Now you have two short pieces that will give your arrangement more dimension.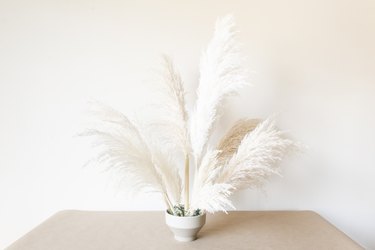 Step 4
Then take your last variety of pampas (in my case, the beige-toned) and fill in. Focus the darkest variety mostly down, toward the center to draw your eye into looking at the piece as a whole.
Step 5
Finally, add your dried baby's breath. We found two preserved varieties at our local craft store ... but if you can't, don't sweat! You can buy a bunch of baby's breath and hang it up to dry yourself! Keeping your stems short, concentrate the baby's breath low to help cover up your mechanics.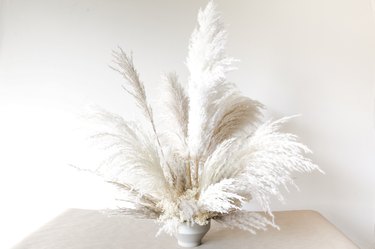 Step 6
Finish off your arrangement with a spritz of hairspray — the hairspray will keep the pampas intact and from shedding. Add this beauty to your living room or make a pair and place along your stairs to create a striking moment.