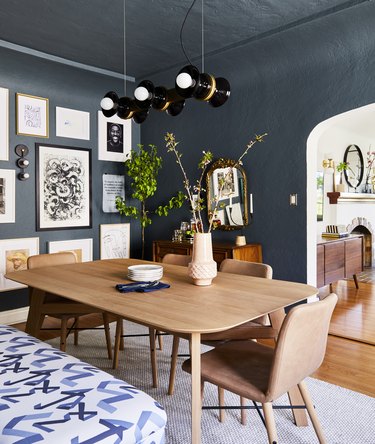 If you enjoy hosting people in your home for dinner during the week or a lazy Sunday brunch, the dining room can be an especially important space. And with so many possible styles, it can feel overwhelming to even figure out where to start. Plus, if you're anything like us, you want a space that feels comfortable yet chic (that's not too much to ask, right?!).
Fortunately, there are a few small ways that you can switch up (or decorate) a space to make it look both inviting and upscale. Here are six dining room decor ideas to take your space from standard to sophisticated:
1. Choose a Statement Light Fixture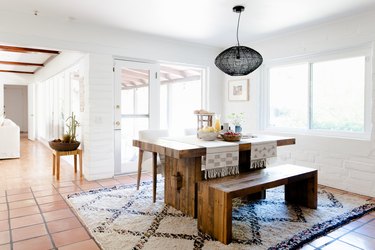 While you might be spending a lot of time selecting dinnerware and the perfect dining table, don't forget about your lighting. Finding that perfect statement fixture can really up the ante of your dining room decor. Pro tip: Go for a piece that can easily adapt to your aesthetic throughout the seasons.
2. Use a Luxe Wallpaper Pattern
When it comes to dining room decor ideas, wallpaper can make a huge difference — especially if you're renting and don't want to paint the walls. Look for luxe patterns to create a classy atmosphere in your space. If you can paint, consider using wallpaper on the upper half of the walls and paint for the wainscoting below — as seen in this elegant dining room.
3. Paint Your Walls and Ceiling the Same Hue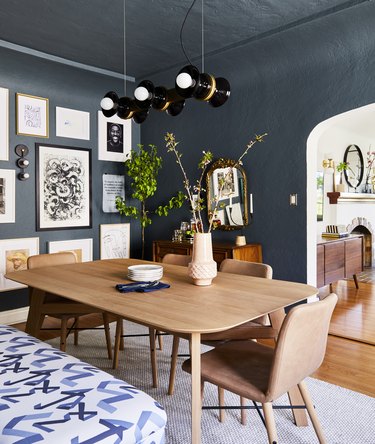 There's something about jewel tone dining room decor ideas that instantly make us feel fancy (well, it's kind of in the name). Go for deep hues when it comes to your dining room paint color. And if you're really feeling like switching things up, paint both the walls and ceiling the same color like this blue refuge by Emily Henderson for a cohesive look that says "you are now entering a very sophisticated space."
4. Choose Velvet Chairs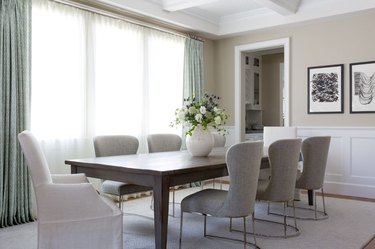 In any dining room decor idea, the chairs are one of the most important pieces. Opt for velvet dining chairs to elevate the look of your table. This space designed by Amy Sklar opted for these wingback-inspired seats in a neutral color, but dark velvet can also make for a bold statement.
5. Try Black-and-White Minimalism
6. Find Furniture in Natural Materials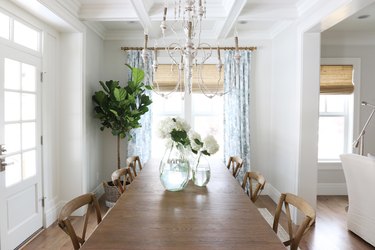 Something about the pared-back look of natural dining room decor and furniture makes for a more elegant vibe. Try finding a dining table and chairs in materials like rattan or repurposed wood. Add fresh flowers and window coverings in light colors to complete the look, like this design by Shea from Studio McGee.