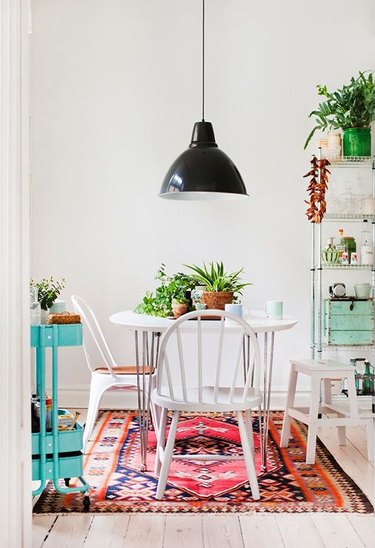 One for the beatniks and the nonconformists, the term bohemian literally means to be unconventional. Typically associated with the arts, a bohemian lifestyle is all about living a life full of freedom and creativity — something that we could all use a little bit more of. And to that end we suggest following musician Lou Reed's lead, taking a walk on the wild side with these 11 bohemian dining rooms.
1. A Midcentury Bohemia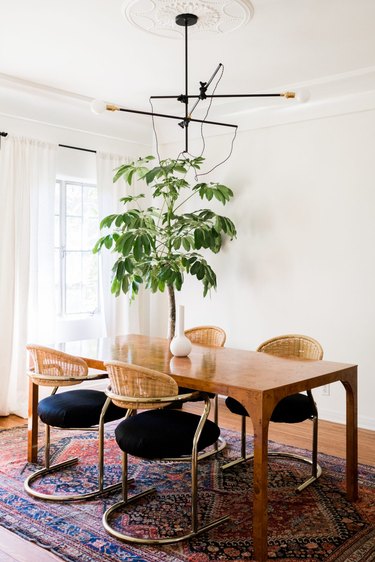 These cane cantilever chairs are the stars of this bohemian abode, adding a midcentury element while fusing the contemporary look of the linear Workstead light fixture with the Persian-style rug. Gauzy white drapery and a large tree set the scene for a fine dining experience suitable for any design savvy guest.
2. A Neutral Oasis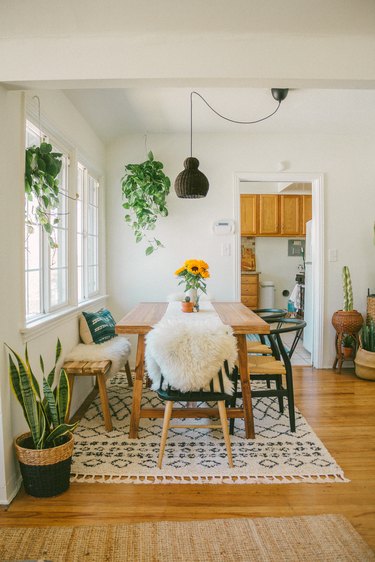 This neutral color palette only needs a pop of greenery to complete the look. The Wishbone dining chairs and wooden farmhouse table create a rustic feel while the woven pendant light, sheepskin throws, and jute and Moroccan style rugs add texture for a homey finish.
3. A Pop of Color
Geometry is key in this simple dining room with a striped area rug, semi-circular frameless mirror, and a pair of bell-shaped jute pendants. The final touches — a pop of color from the turquoise Muuto dining chairs and a sprawling palm tree, set against bright white walls and a snake wall tapestry to boot.
4. A Retro Hangout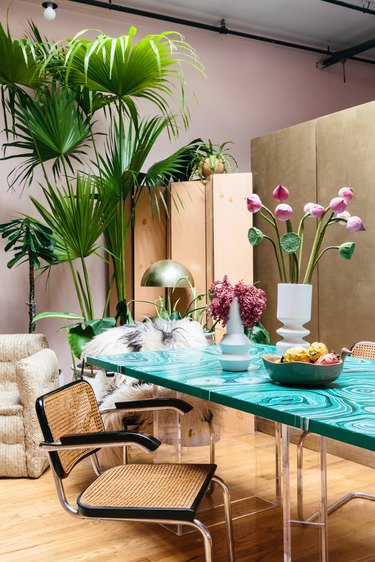 This retro dining room is bringing the seventies back: clashing textures, colors, and materials for an eclectic finish. The malachite tabletop is perfectly complemented by the greenery of the oversize palm fronds, and yet again we see a nod to cane and cantilever with the vintage Cesca dining chairs.
5. A Global Hideaway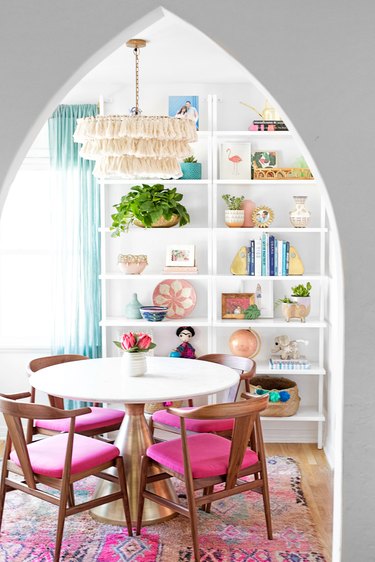 6. A Rustic Residence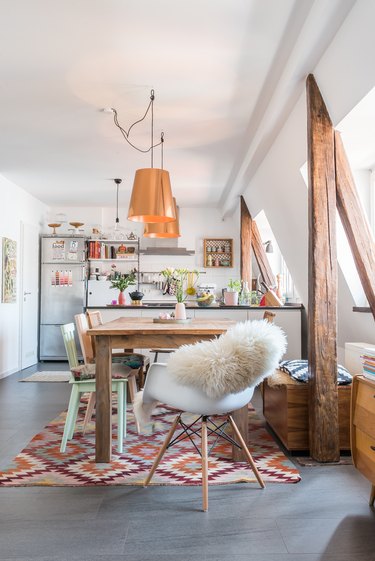 This eclectic take on an open-plan kitchen and dining room features mix and match furniture, exposed wood columns, copper lighting, and a colorful area rug. It's the perfect set-up for a young, growing family to eat or bicker over breakfast.
7. A Minimalist's Take
Wooden textures take the focus in this dining room with a uniform approach to styling. Two jute pendant lights hang above the table with simple foliage added throughout the room for natural ambience. The result: a stylish, cozy, relaxing retreat — even the dog thinks so!
8. A Mix and Match Aesthetic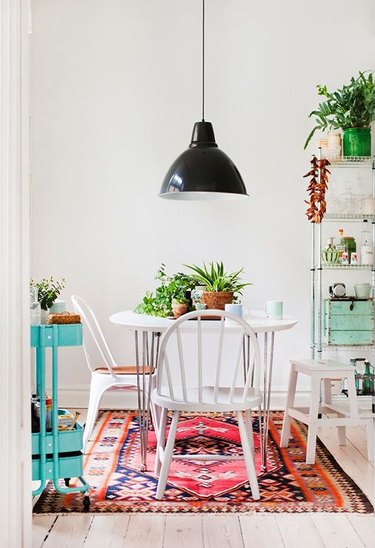 Open shelving and an industrial pendant light give a warehouse vibe in this dining area fit for any creative soul. The mix of white furniture brings the look together in a cohesive manner, but proves that collecting items can be fun. A final burst of color from the vintage rug adds a playful element.
9. A Lesson in Layering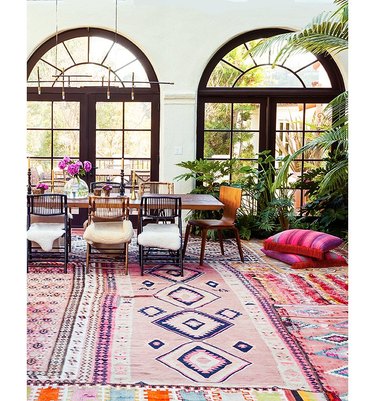 Can you ever have too many rugs? This large layered dining room says no. Pattern and color bring a lot of interest to this room and cover any flooring imperfections, while floor cushions are great for loosening your belt after the main event. And we're dreaming of those large arched windows for our own homes. Swoon!
10. A Dose of Drama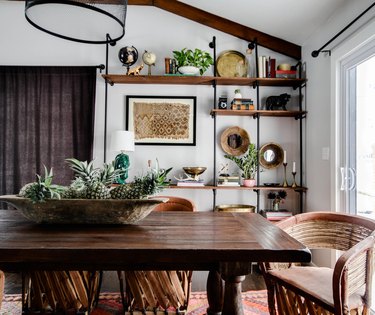 This dining room, belonging to Veronica from Semikah Textiles, is bursting with drama thanks to rich wood finishes, Mexican equipale chairs, and open shelving showcasing worldly treasures. The rest of the room is kept simple and bright.
11. A Traveler's Guide to Dining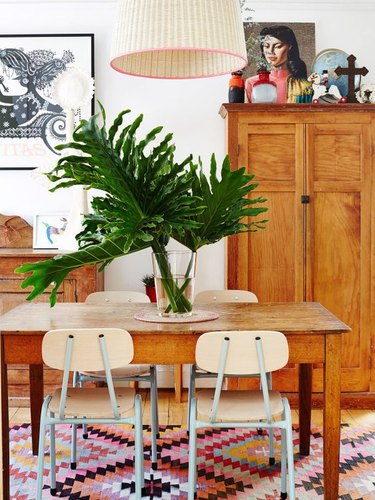 Botanical centerpieces, like these these large palm leaves, are a special treat and add to the overall wow-factor. Color, pattern, folk art, Mexican-inspired motifs, and religious iconography fill the rest of this globally-inspired space, bringing bohemian flair in the truest sense of the word.