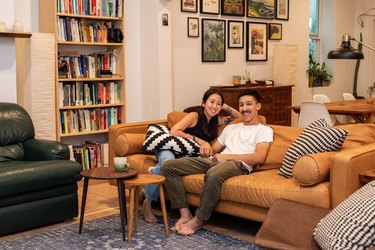 Who: John Geating and Gina Kim
Where: Kensington in Philadelphia, Pennsylvania
Style: Treehouse chic
John Geating and Gina Kim, the husband-and-wife team behind the small-batch furniture and homeware company Leeward, spent three-and-a-half months transforming a modest, dated house on Howard Street in the Kensington neighborhood of Philadelphia into a home for their new business — and baby.
It was a lot of transformation, all at once.
"Initially the home was very '70s, with wood paneling covering all the walls, some weird popcorn ceilings, and carpet covering everything but the kitchen. Now, we jokingly describe it as 'treehouse-chic,'" says Kim,.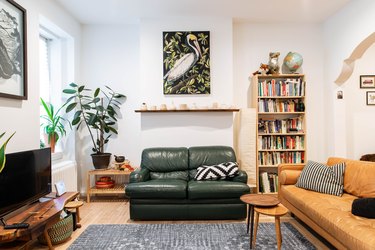 Tearing out carpeting and wood paneling was a must, not just for aesthetics but also for the sake of their new baby. "We just wanted to make sure we removed anything that could have remnants of lead paint or dust," Kim shares. And time was of the essence. Geating was tiling the kitchen and installing shelves up to the day Kim went into labor.
Now, baby Miki is nine months old, and the couple has settled in. Their home is filled with a casual, modern mix of Leeward custom designs, found furniture, and affordable basics. "We don't really have a set look we aspire to — [we] mostly just try to find the best possible uses for things we already have or find," says Kim.
And yet, if you look close, there's a sense of understated craftsmanship. "Neither of us are very flashy people," says Kim.