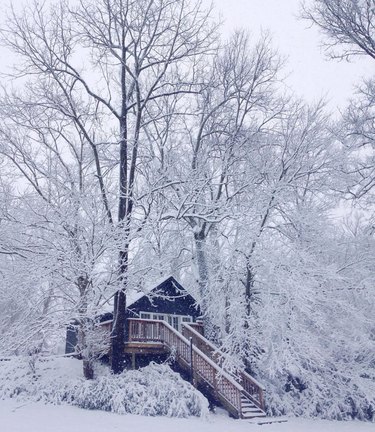 While many people move to the country for more space, Jessie Pickren and Tristan Warner found their ideal retreat in a 400-square-foot cottage. But when the couple and their three cats, Donnie, Tina and Pinch, moved south from Brooklyn to the home on the Cumberland River in Madison, Tennessee, just north of Nashville, it was in need of some major TLC. Warner is a general contractor and carpenter and Pickren is an illustrator and runs the design firm Hew and Company, so they were well equipped to tackle the project themselves. "We let the simple gable-end building guide us with typical farmhouse style trim outside and some craftsman style treatments inside," says Pickren.
The cottage had to do double duty as their home and Pickren's design studio, so storage — and the ability to hide the bed away — was essential. "I needed to be able to have clients over and them not know they were in our bedroom," Pickren says. Warner designed a wall of storage that conceals the Murphy bed and the shower and makes the space feel polished. Warner also reframed the exterior walls to accommodate architectural salvaged windows and doors, including French doors from Pickren's grandparents home in Atlanta. The process was not without challenges — Pickren notes that they didn't have power for the first year — but the end product was certainly worth all the hard work.
---
Elizabeth Stamp is a freelance writer in Los Angeles. Her work has appeared in Architectural Digest, Elle Decor, and CNN Style.