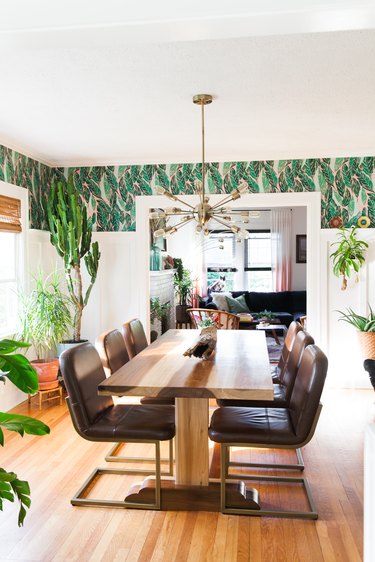 For some people, closing on a house two days before your wedding might sound crazy, but for photographer, blogger, and designer Jessica Brigham, and her soon-to-be husband Christopher, it just felt right. It's that same adventurous spirit that guided Brigham as she decorated over the past five years. The house, a 1934 Craftsman bungalow in New Haven, Connecticut, was spotted by Brigham's mother, a realtor, and had everything the couple was looking for, including lots of land and period details. "We knew before we stepped foot in the house that it was ours," says Brigham. "We looked at one other house for good measure (and only because my Mom insisted!)"
When it came to decorating the house, Brigham went for bold colors and graphic prints. (She describes the style as "modern eclectic glamazon.") "I'm an avid thrifter who collects statement pieces (and plenty of tchotchkes, too!) in which I'll design an entire space around," she says. "It takes time to build a home on vintage finds, but I love the process and the unique stories each piece tells." She scoured local estate sales and online sources — including Craigslist, Facebook Marketplace, estatesales.net, Letgo, and eBay — to find just the right pieces. While there's still work to be done — Brigham sees a kitchen and basement renovation in her future — it's all part of the home's gradual evolution. Fortunately, these homeowners enjoy the process as much as the results.
---
Elizabeth Stamp is a freelance writer in Los Angeles. Her work has appeared in Architectural Digest, Elle Decor, and CNN Style.