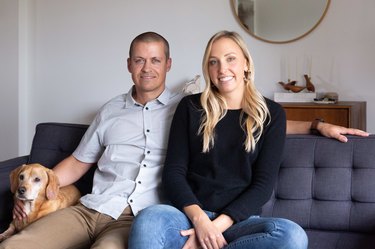 Who: Carina and Tyler Swain
Where: Shorewood, West Seattle, WA
Style: Updated midcentury modern
Love is blind, right? That definitely came to mind for Carina and Tyler Swain when they first laid eyes on their home. The house in Seattle's Shorewood neighborhood was built in 1953, so it is a true midcentury space. What's not to love? Well, for starters, try a mint green exterior color with brown trim. Add to that the wall-to-wall green carpet that adorned most of the interior. Then top it off with the bubble gum pink bathroom. Questionable cosmetic choices aside, "It stuck out to us because it had great bones and hadn't been touched by a flipper," Carina shares. "We were looking for something we could potentially put our own touch on, so this worked out great."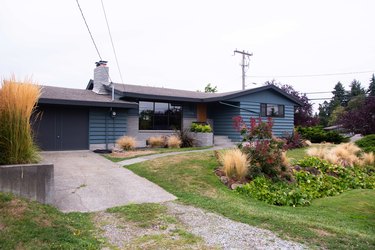 That was a little over three years ago. Since then, the couple has done some extensive remodeling to the three bedroom, one bath home that's a little over 2,000 square feet. It was important to them to keep the overall look era appropriate, and still modernize while adding more sources of natural light. The goal was to keep it minimal, yet warm and inviting.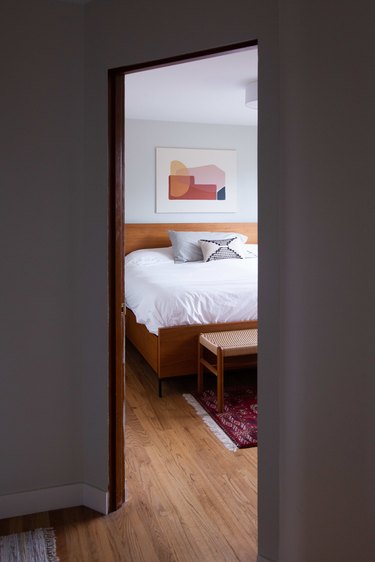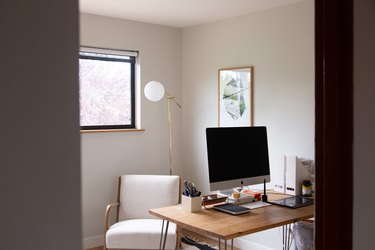 The biggest work was opening up the kitchen into the living and dining rooms. "I remember having to turn the lights on even during the day to see what I was doing in the kitchen," Carina says.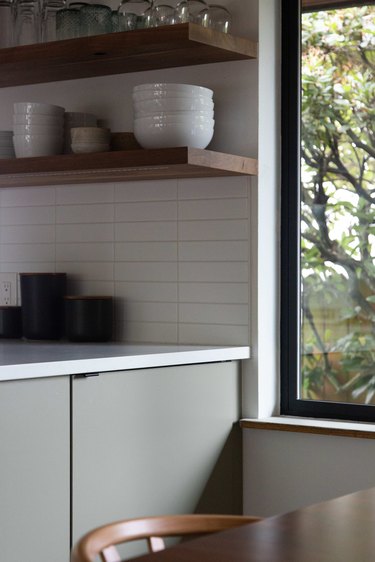 Carina, a photographer, and Tyler, a design engineer, did most of the work themselves. "We did 90% of the labor ourselves," Carina shares. This included everything from demo to splicing in new hardwood, installing cabinets, replacing windows, and hanging drywall. And when it came to materials, they did their research big time. For cabinets, they turned to IKEA and added Semihandmade slab fronts painted in Behr's Dusty Olive.
The white quartz counters are from Granite & Marble Specialities. Their red oak floors are from Lumber Liquidators and the windows are Milgaard aluminum. Pretty impressive for two people who have day jobs. "Granted, this also led to cooking out of our laundry room for six months, as we tackled things during weekends and evenings after work," says Carina. "If we hired a contractor, we could have easily spent double what we did."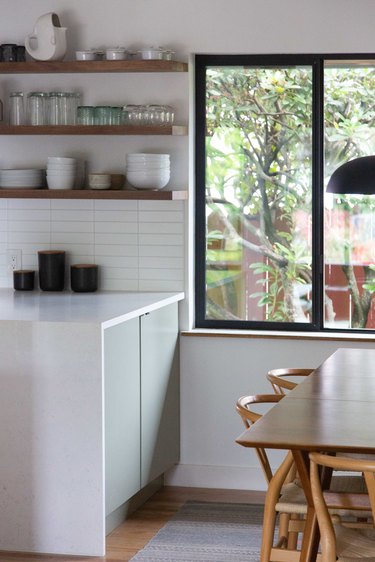 However, the Swains did some splurging on practical things like hiring out for electrical to "make sure it was done correctly and efficiently," and increasing the the size of the kitchen counters to get "the space and the feel" they needed. In fact, Carina's favorite big ticket purchase is the waterfall countertop. They completed the work in about seven months. "As most people who do renovations know, it's never truly done," Carina says. Their to-do list, like most anyone's, is infinitely evolving.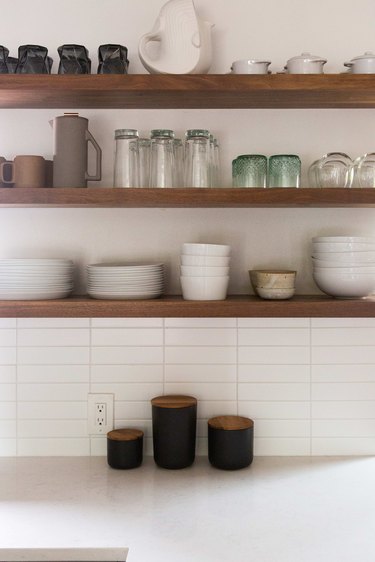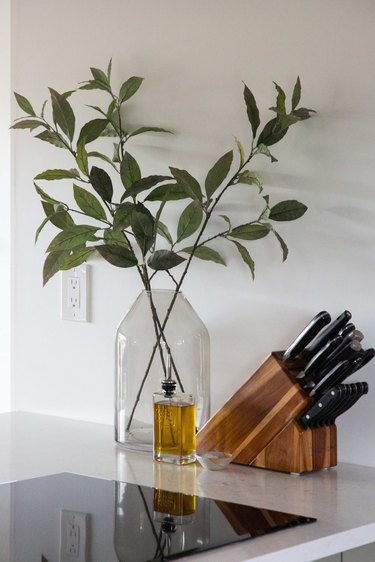 After all their impressive DIY work, the results bring them both tons of joy. The breakfast bar attracts everyone who stops by and provides a place to gather. "We love to entertain, so nothing makes us happier than seeing it filled with people," Carina shares. And although she says they still wanted the house to feel midcentury, they got real when adding personal touches. "For shopping and furniture, we're all over the map. We've thrifted a few things, done West Elm, scoured design blogs, shopped sales at Target. We appreciate longevity in design choices but often our budget was a little bit lower, so we just found what suited our taste and budget best."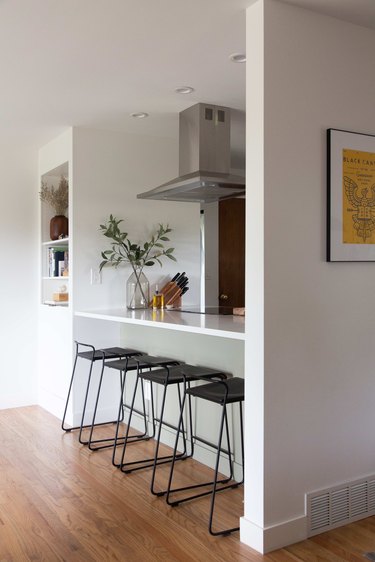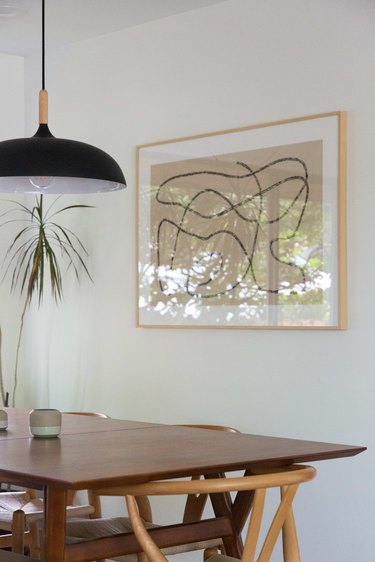 All in all, things worked out perfectly for the pair and their dog Rosco. The house is near the ferry dock where Tyler commutes to work each day on Vashon Island. West Seattle is a charming neighborhood, filled with shops and restaurants they love. Settled in their love-at-first-sight abode, Tyler relaxes in his favorite Eames lounger purchased from a friend, while Carina reflects on what makes it feel really like home: "Rosco claiming his corner of every room."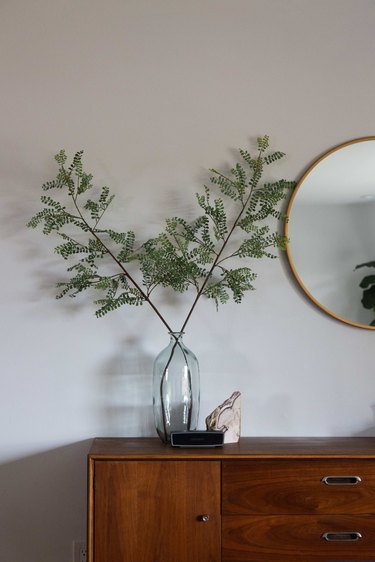 Locals Know Best:
Favorite piece of architecture or design in your neighborhood, town or city: Carina says, "There are some really cool old houses in Seattle. You just have to look for them. I can't say there is one piece of architecture we're in love with specifically, but there have been some beautiful residences that have come out of this city. Go out and explore any neighborhood and you'll find them."
Thrift store finds, antiques, or flea markets: Craigslist. "We found our true midcentury credenza on there for a whopping $150!" | Sodo Flea Market
Happy Hour: "Our kitchen bar. But really, in Seattle we love The Westy and Beer Star."
Cheap and cheerful restaurant: Azuma Sushi or taco trucks in White Center