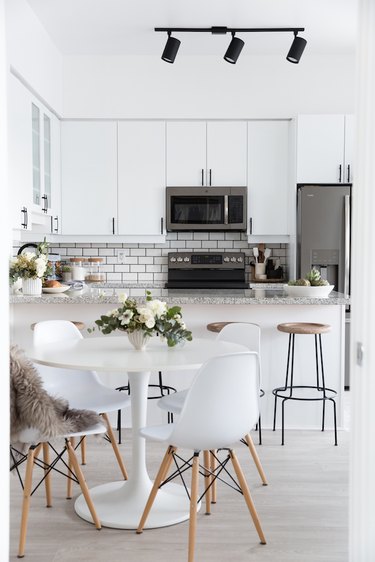 1. Put your own stamp on things.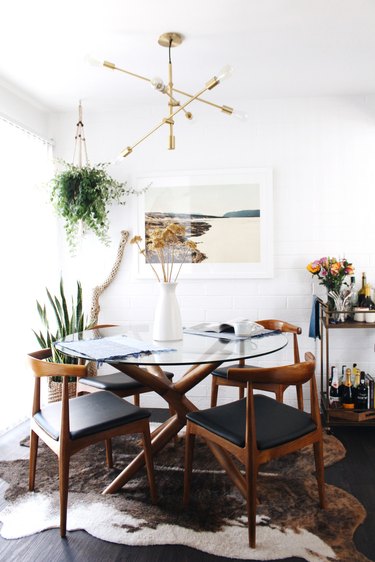 Round tables work really well in tight quarters. Layer in earthy tones and inviting accents (such as a cowhide rug, modern chandelier, and retro chairs) à la Robert and Christina from New Darlings for an effortless desert-meets-midcentury vibe.
2. Utilize every square inch.
Just because you live in a studio apartment doesn't mean you have to eat on the couch or in bed. A compact bistro set will fit neatly against the wall, and the chairs usually tuck under when not in use.
3. Mix up the seating.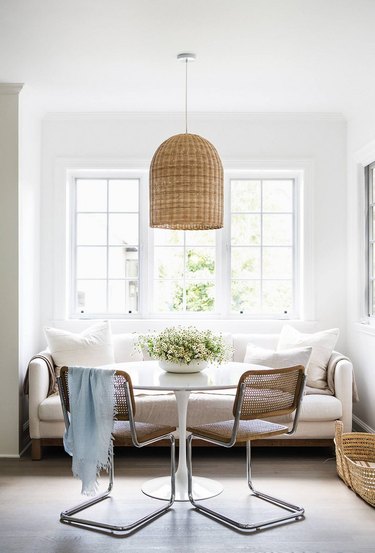 Ok, so we know that we just said you shouldn't have to chow down on your sofa, but that doesn't mean that you can't. This hybrid situation in Erin Fetherston's Hollywood abode is so smart! The picture windows, neutral hues, and rattan pendant lend a refined yet relaxed feel.
4. Use an area rug to define the space.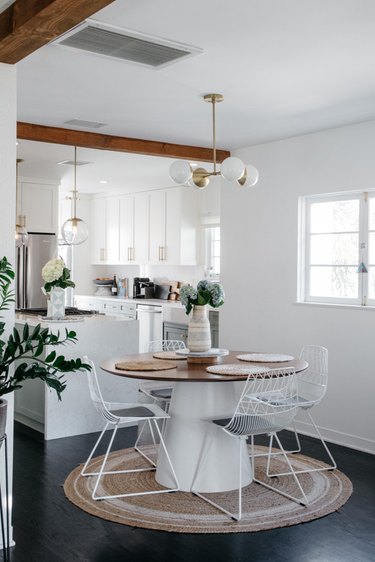 How do you add a dining space into a floor plan that doesn't at-first-glance allow for one? Take a cue from Create & Cultivate founder Jaclyn Johnson's light-filled home and use a rug to distinguish the eating area.
5. Punch up the color.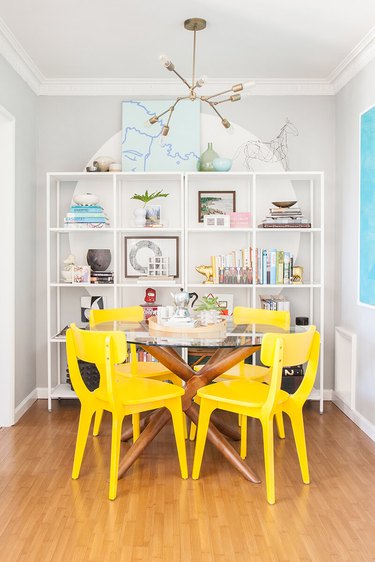 The gray walls and wood floors in Homepolish West Coast Creative Director Orlando Soria's cool digs make the perfect blank canvas for bright colorful accents. Sunshine yellow chairs instantly enliven this dining nook, coupled with a well-styled modular shelving unit and graphic art.
6. Make furniture do double duty.
An open concept is awesome, though it does come with its own challenges — notably the boundaries get blurred. In this A-frame home, a trim rectangular table helps Carrie from Dream Green DIY separate the living and dining areas. Plus, it provides plenty of extra seating for friends and family.
7. Don't skimp on accessories.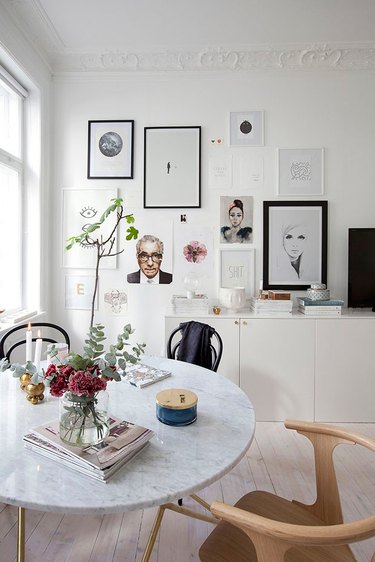 Just because your pad is short on square footage, doesn't mean you should settle for drab. Punch up the pizzazz like blogger Ema Bihor did in her Norwegian posh dining nook! A gallery wall, flowers, and tiny trinkets inject personality without feeling cluttered or cramped.
8. Or, keep it simple.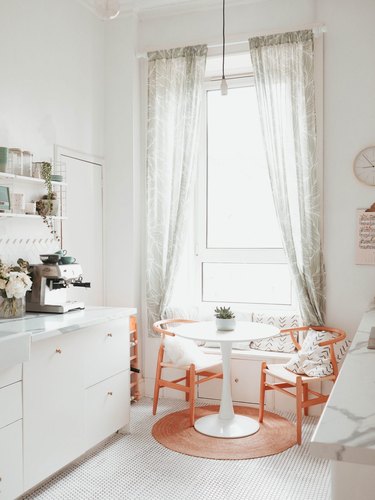 A crisp palette and a less-is-more approach to accoutrements — the lovely setup in blogger Kate La Vie's apartment is a lesson in simplicity. The gracefully curved dining table exudes Scandinavian charm, while a duo of Wishbone chairs extend the airy aesthetic.
9. Invite good energy with plants.
Want to transform a barren corner into a bohemian breakfast nook? Invite good energy with tons of lush plants and southwestern decor (such as artfully crafted planters and a woven area rug) like singer/songwriter Katie Zamprioli did in her California home.
10. Anchor with art.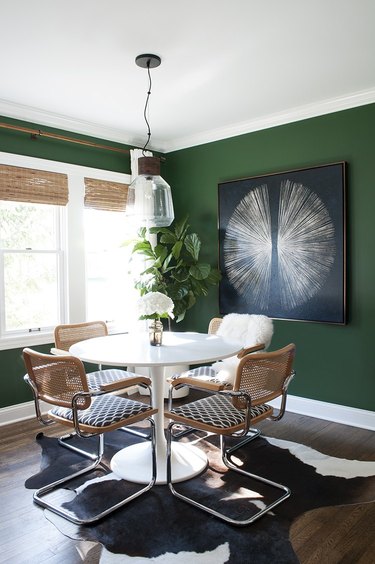 Take notes from Sarah over at Room for Tuesday: A well-placed painting or photograph can really help define an area — especially in an open-plan abode — not to mention add visual interest and cohesion.
11. Skip the set.
Don't get us wrong: There are lovely prefab dining sets. But why limit yourself when you can mix and match? This cheerful alcove from Mila over at Jest Cafe is a great example of how thinking outside the box can really pay off. The wraparound bench offers lots of seating and storage without taking up much space.
12. Install a built-in booth.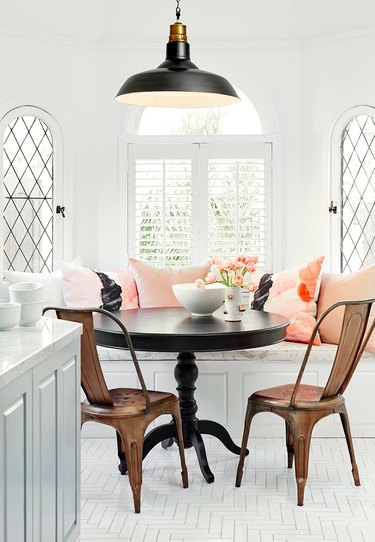 The recipe for success in this gorgeous eat-in kitchen designed by Consort Design? A built-in booth, round table, pendant light, and pair of antique copper chairs.