Article originally appeared on Lonny.
Love the look of a breakfast nook, but don't have that lovely built-in niche in your space? No worries! If you want a breakfast nook, you can have a breakfast nook. With a bit of styling, you can create the perfect spot to nosh with a more casual and intimate ambiance. Don't know how to pull it off? We rounded up 15 different faux nooks that will show you how it's done. Click ahead to get decorating.
1. Lovely Seat
Place a loveseat against a window to get that cozy nook lighting without having to do a reno.
2. Mix it Up
Even if you want a round table, we still think a traditional sofa is a lovely pairing.
3. So Elevated
This blend between a breakfast nook and kitchen island is still a great design feat.
4. Up The Wall
Placing a table against the wall is not only a great small space solution, but it also creates a nice nook-like intimacy in your home.
5. Boxed In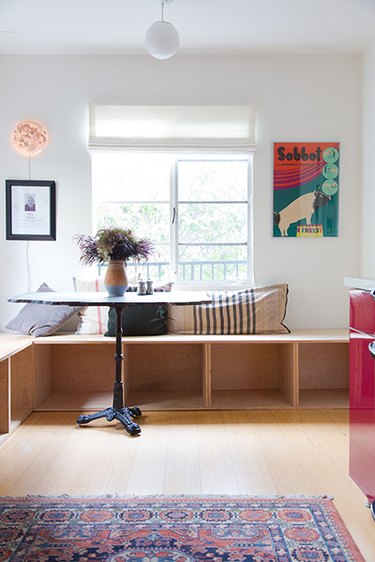 Hack a bench with a bunch of storage boxes to create a nice seating area (that you can also stow items in!).
6. Go Long
Even if you have a long dining table, placing it in the kitchen with a bench or couch will still give you breakfast nook vibes. It's also perfect for a larger family.
7. Work The Window
Have a window seat? Just pull up a table and your nook will be fully formed.
8. Diner Vibes
Love a retro diner booth? Stick a more modern version in a corner for a ready-to-go dining area.
9. Select Your Seating
While this table might not look like your typical breakfast nook, adding in one larger chair or bench helps it channel those vibes.
10. Glassy Approach
With wall-to-wall windows, this dining area definitely could double as a breakfast nook in our books.
11. Decor Matters
Placing in a table, pendant, and chairs is all that was needed to make this window seat into a beautiful light-filled nook.
12. Petite & Sweet
When you don't need a huge amount of seating, adding a few cozy chairs next to a window is an easy way to make dining feel more intimate.
13. Measure Up
Be sure to take measurements so your dining bench can mirror your window length.
14. All In
If you really want to commit to making a nook, try finding or even designing benches that truly blend in with the architecture.