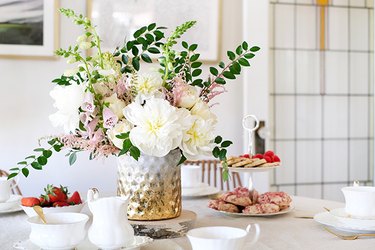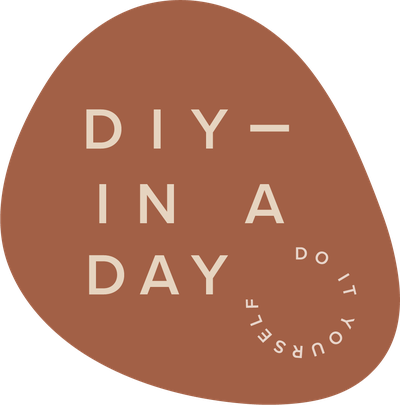 DIY in a Day brings you step-by-step instructions for easy projects that will spruce up your space — within 24 hours (or less!).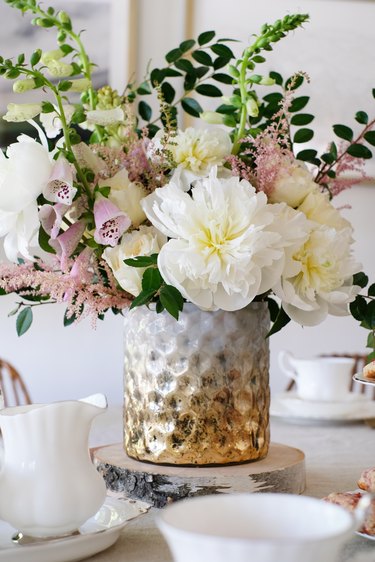 So, with as much of a royal touch as I could emulate, I created a centerpiece using several of these elements. Meghan's choices feel very English garden-like, so I kept the arrangement wild and a little untamed. And royal wedding aside, this could be perfect for your own nuptials, a baby shower, or a birthday celebration. (Or really just to brighten your home on any day of the week.)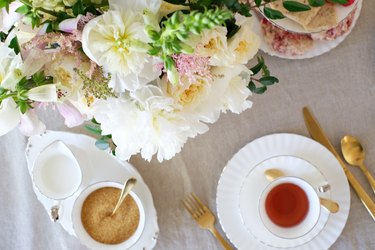 Tip: If you're not an expert florist, I always suggest creating your arrangements in a more free-form, wild, and organic style. I like to add a lot of different textures and greenery — it's a forgiving look that actually makes you look highly skilled in the floral department.
Things You'll Need
5-inch diameter vase (wide and low)

Floral oasis

Peonies, ( 6 )


White garden roses, ( 6 )


Pink Astilbe, ( 6 stems )


Huckleberry branches

Foxglove, ( 3 to 4 stems )


6-inch round piece of birch


Floral food, 1 package


Water

Floral Snips/Shears
Step 1
Add water and floral food to your selected vase. I chose a mercury glass container because I felt like it complemented a royal wedding-themed arrangement.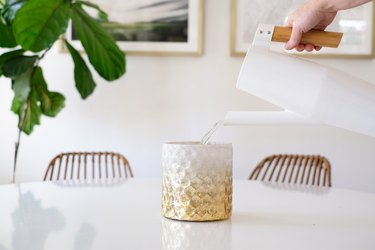 Step 2
Cut a piece of floral oasis to the size of the vase and immerse in the water.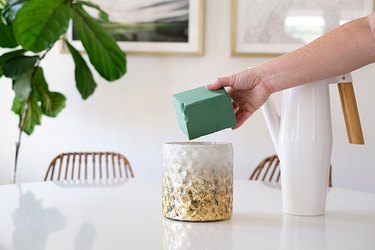 Step 3
Start by adding the greenery first. I used huckleberry branches. They are a nice hearty branch and I love the deep shade of green. These branches will create the basic shape, width, and height of the arrangement. While you do want to have a little bit of height, for the most part we're going to keep this shape wide and quite low. But in order to get that wild, carefree look, keep one side of the arrangement a little heavier and higher — this will be featured on the left side of this DIY.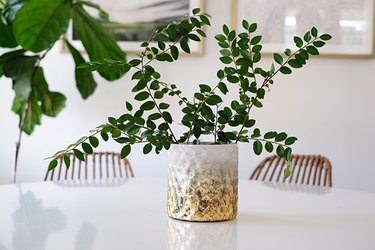 Step 4
Foxglove comes in a variety of pastel colors and usually have a pretty speckled flower. I chose this pale lavender color. These stems will be the tallest part of the arrangement, so I kept these weighted more on the left hand side of the arrangement.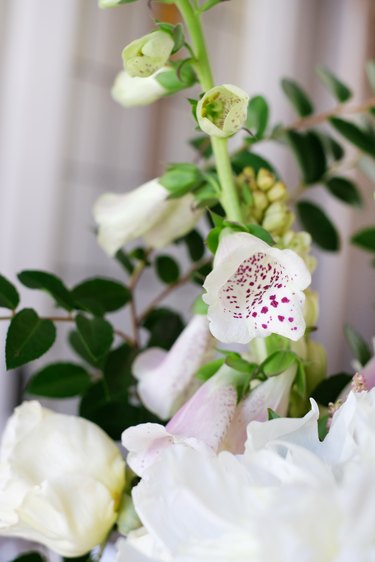 Step 5
Next I added the white garden roses. I kept these lower and closer the rim of the vase. Because the foxgloves are on the left hand side, I kept more of the roses to the right hand side of the vase.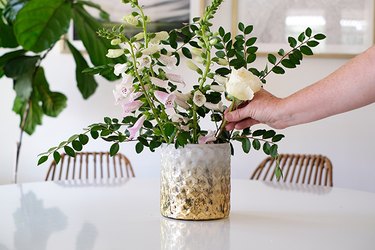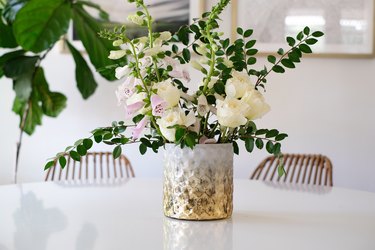 Step 6
I like to save the best for last, and peonies are definitely the star of the show. These are also the biggest blooms and will fill in any holes that are left in the arrangement. I kept most of these stems at about the same height as the roses, except for a couple that sit a couple inches higher on the left hand side of the arrangement.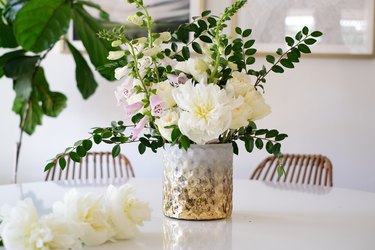 Step 7
Astilbe is this very pretty delicate pink sprig. It's the perfect shade of blush and adds some texture to the arrangement. There shouldn't be any holes left at this point, but if there is a little gap, a sprig of astilbe can fill that in.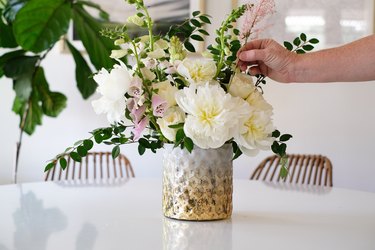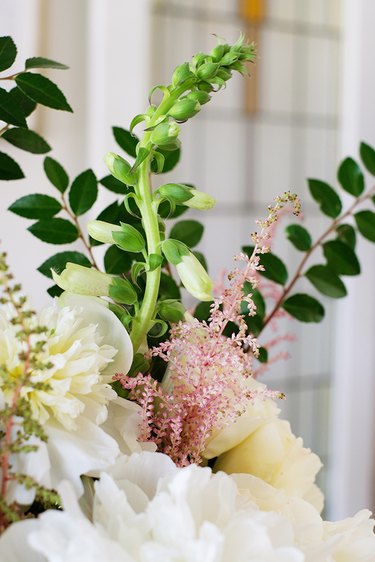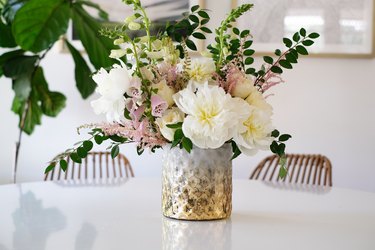 And there you have it! Turn the vase around to make sure there are no holes or empty spaces. For an extra touch, you can place the vase on top of a round piece of birch.
And if you are going to watch the royal wedding, then a proper British tea party with scones, shortbread, fruit, and tea are a must.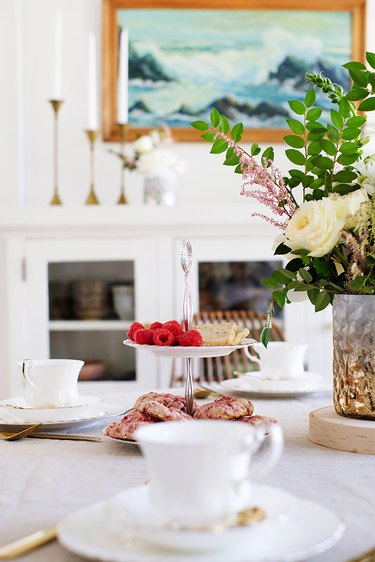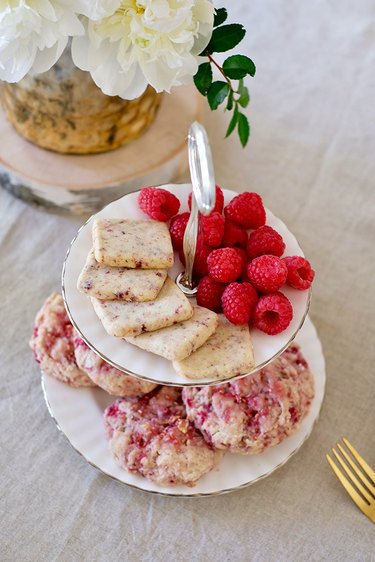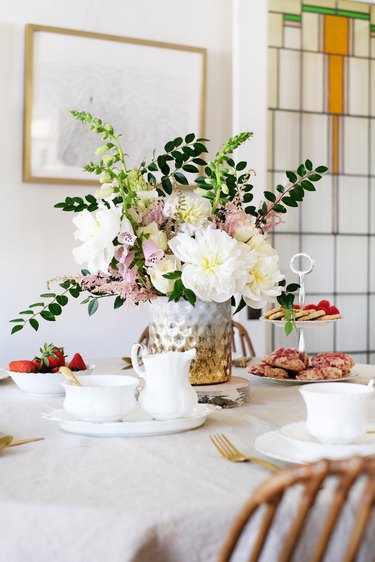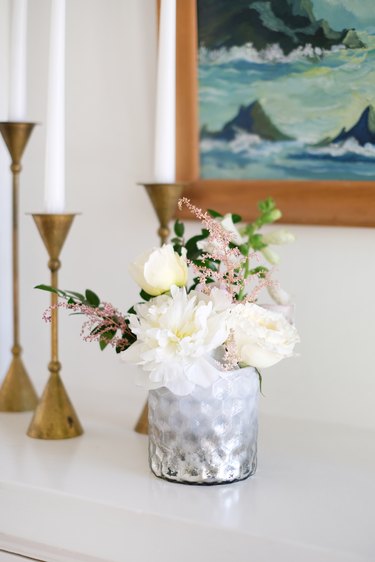 Bonus tip: If you're making a centerpiece, you'll probably have some leftover blooms, so feel free to follow the same basic steps to create a mini-arrangement. After all, you really can't have too many flowers.