ICYMI there are quite a few colors making their way through current trends. Deep greens are appearing in kitchens, pink is stealing the show in bathrooms, and even black is a hue du jour in bedrooms. But there are a few shades that remain timeless classics, and won't go out of style anytime soon.
One such color is gray. People tend to think of it as a moody or unhappy option, but we're here to tell you that the right shade can actually brighten up any space. This especially rings true in a dining room, providing a neutral background so you can switch out decorative pieces with ease.
Still not a believer? Here are six gorgeous gray dining room ideas that effortlessly prove our point.
1. Opt for a two-tone backdrop.
Now here's a gray dining room idea that combines the best of both worlds. Lauren from Bless'er House opted to give her walls the two-tone treatment with dark gray on top and white wainscoting on the bottom. And the end result is a bright space dripping in sophistication.
2. Embrace wall moldings.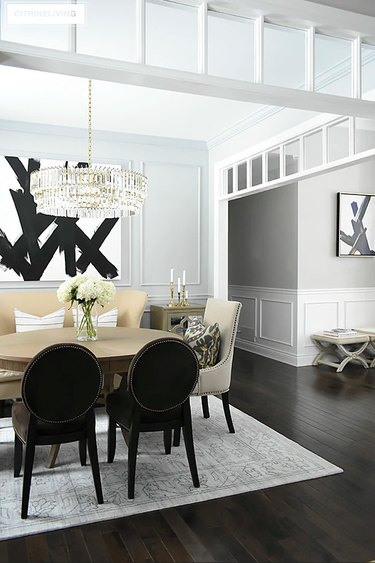 As you peruse gray dining room ideas, you'll no doubt notice that nearly every design style can live in harmony with slate walls. Punctuated with a crystal chandelier, modern artwork, and classic furniture, this chic gray space belonging to Tamara of CITRINELIVING flawlessly showcases an artful mix of decor.
3. Amp up the drama.
Follow the lead of Jessica and Ryan of Stanton Schwartz Design and dial things up a notch with gray wallpaper. The combination of light and dark hues in this swirling cloud print make you feel as if you're soaring through a churning sky. Complete the look with gray wainscoting and decadent velvet chairs in royal blue.
4. Keep it simple.
If the dizzying shades of gray are giving you pause, keep it simple with a barely-there hint of gray. It's an easy way to dip your toe into the pool without overwhelming yourself. Plus, it looks AHH-MAZ-ING as you can see from this dining room belonging to Robyn from House of Us.
5. Incorporate texture.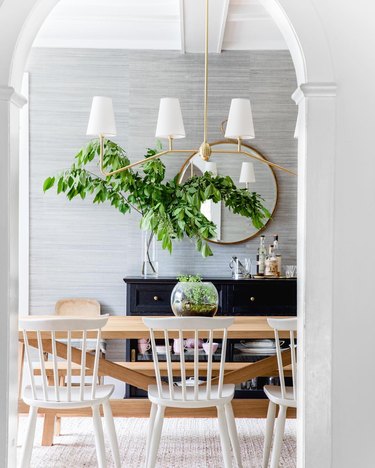 Looking for a bit of extra visual interest in your dining room? Gray walls don't have to be flat and matte. In fact, they can spotlight stylish texture with the right wallpaper choice. A sisal selection is a great way to achieve this look, as witnessed in this transitional dining space designed by the team at Heidi Lachapelle Interiors.
6. Craft a soothing space.
Gray is a hue that instantly promotes feelings of peace and tranquility (a vibe that should be captured in most any home if you ask us). Needless to say, if you love to host low-key gatherings in your dining room, a lighter shade is the perfect color solution. For example, in this space styled by Erin of Sunny Circle Studio, the silvery walls mesh beautifully with green houseplants, white wainscoting, wood furniture, and a dreamy area rug, resulting in a serene nook that you could spend hours in.