If you're anything like us, you probably like more than just one style of design. While this is great for inspiration, it can make things a little challenging when deciding how to style your own space. Luckily, like flavors of ice cream, many design styles blend well with one another so you don't have to feel tied to one look for the rest of your life.
In fact, mixing and matching two of your faves can result in something even better, like modern farmhouse. From contemporary light fixtures to distressed finishes, there's no denying that on-trend decor pairs beautifully with a warm aesthetic. But don't take our word for it, here are 10 modern dining room ideas that look decidedly farmhouse.
1. Incorporate farmhouse staples.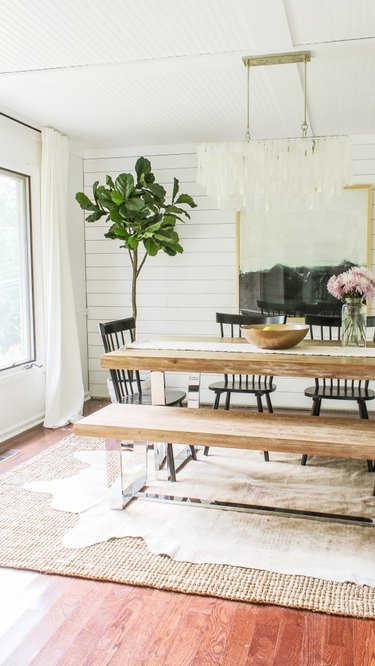 Erica of Designing Vibes paired her dining room's abstract artwork and contemporary chandelier with classic farmhouse must-haves — shiplap, hardwood flooring, houseplants, and a neutral palette. The result: warm, inviting, and beautiful.
2. Embrace clean, neutral hues.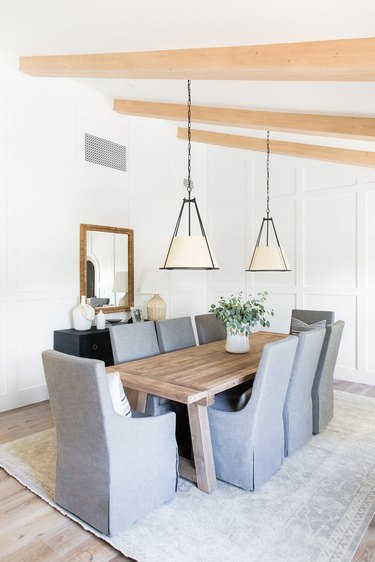 Shea from Studio McGee has this modern farmhouse thing down pat, which you can clearly see in this elegant dining room. Follow her lead and select fresh, neutral pieces like a whitewashed area rug, a light wood dining table, and gray upholstery.
3. Keep it casual.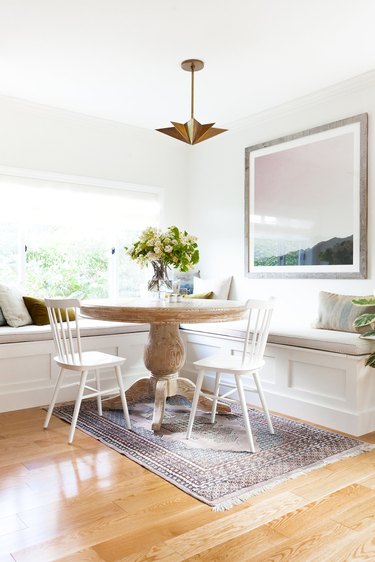 Why not use a cozy nook in the kitchen as your main dining area? You could install window seating, bring in some throw pillows, and hang a chic light fixture. That's exactly what Cassandra from Coco Kelley did in this space and the result is casual yet sophisticated.
4. Bring in vintage-inspired pieces.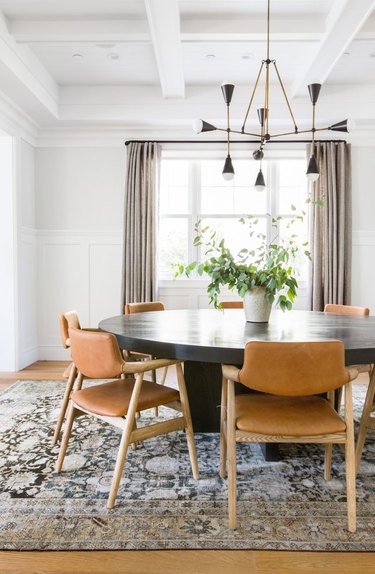 5. Simplicity is key.
This modern farmhouse dining room designed by Sita Montgomery is lovely and uncomplicated with a hint of boho thanks to a woven bell-shaped light fixture, natural materials, a patterned area rug, and a live edge dining table. It can be effective to decorate with accents that are as simple as they come.
6. Accent with on-trend decor.
7. Mix materials and finishes.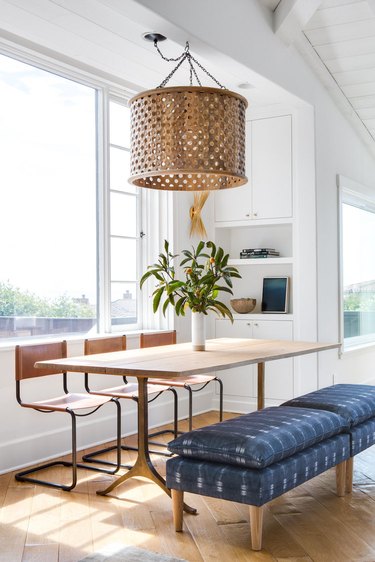 Don't be afraid to incorporate a variety of finishes and materials in your dining room. This space captured by photographer Chad Mellon does just that with a bronze light fixture, black steel-frame chairs, and a shibori bench with wooden legs.
8. Display sleek lines.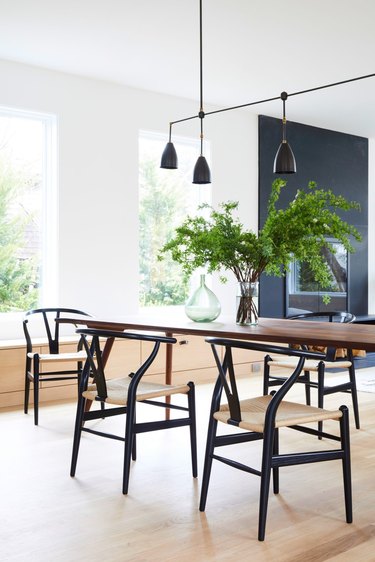 Think linear when it comes to your modern dining room. This space designed by Jessica and Christina of Ronen Lev is a study in sleek lines, with its crisp black Wishbone chairs and elongated light fixture.
9. Weave in a little bohemian flair.
We love this modern dining room idea designed by Melissa Lenox, complete with boho-chic rattan chairs and a kilim rug. And yet, with a traditional light fixture and airy surroundings, the space still exudes a farmhouse spirit.
10. Hang an eye-catching light fixture.
The most essential piece in any dining room might be the light fixture. Valeria from Rebecca and Genevieve went with this brass number with glass bulbs that adds a hint of glam to her rustic and cozy space.