Although we spend a lot of time researching and reflecting on the newest design trends, we totally understand the appeal of more vintage styles. The Craftsman style, for example, is one that we still spot in charming houses and even smaller spaces with a modern twist.
If you want to highlight the history of your space, or yearn to bring in more traditional elements to your modern home, there are a few places to start. When it comes to your dining room, for example, it's all about the furniture and decor. One of the biggest investments: your dining room lighting. A Craftsman style fixture can really tie a room together, making it a cozy and chic space for entertaining.
Check out these swoon-worthy rooms for some major Craftsman style lighting dining room inspiration.
1. Try a geometric cage pendant.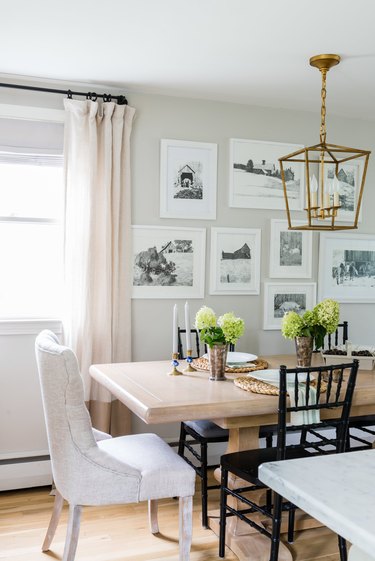 If you like the idea of a statement lighting fixture, a geometric pendant can definitely be a chic option. We love the timeless look of this style, especially when paired with minimal decor and neutral colors.
2. Opt for a traditional and minimal fixture.
This Craftsman space keeps the emphasis on the wainscoting and warm tones of the room. Look for a simple, traditional lighting fixture to achieve this particular style.
3. Go for a mission-style pick that hangs closer to the ceiling.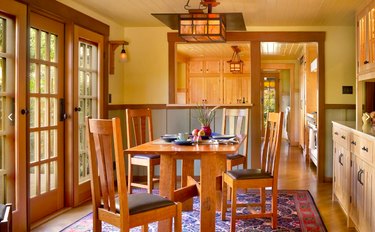 The natural materials in this room create a cozy and welcoming mood. Incorporate a mission-style lighting fixture to complete the look without distracting from the other elements too much.
4. Choose a statement chandelier with an industrial edge.
We totally understand if you find yourself called to an eye-catching chandelier. This one fits right in with the Craftsman style architecture. Look for chandeliers with pared-down decoration for a classic vibe.
5. Hang a pendant light and make it the focal point.
The pendant light, specifically ones made of colored glass, were quintessential in the arts and crafts movement. This fixture takes a more understated approach to the style, but the layout and neutral hues makes it the focal point of the space.
6. Look for a bronze lighting fixture with frosted glass.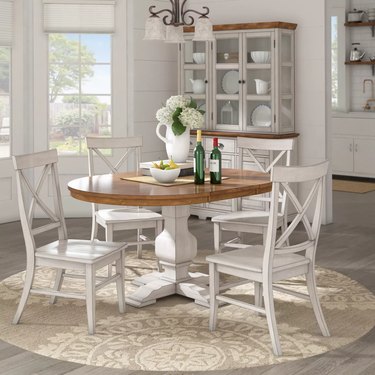 A great addition to any Craftsman space (or grandma chic room, in our opinion) is a chandelier that's just decorative enough without going overboard. This bronze and frosted glass fixture, for example, looks right at home in a dining room with rustic chairs and natural material accents.